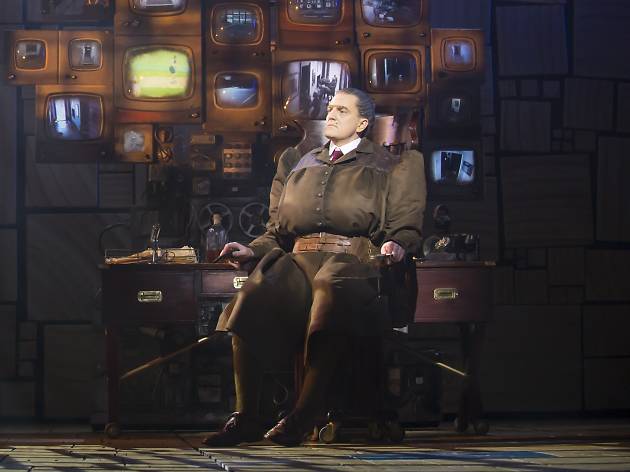 Meet Miss Trunchbull from Matilda the Musical
He may relish tossing children by their pigtails and locking them in the chokey, but there's nothing scary about James Millar when Tim Byrne steps into his office
Some musicals have helicopters and some get by on giant shoulder pads. Matilda – opening in Melbourne in March 2016 – may not be as visually spectacular as the behemoths of past decades, but it does boast the best villain. Miss Trunchbull – the Olympic hammer-thrower turned monstrous school principle of Roald Dahl's iconic novel – is played on stage by the fresh-faced James Millar, looking as far removed from monstrosity as possible, as he casually pieces together a large jigsaw puzzle in the rehearsal space of Sydney's Lyric Theatre.
"At first it felt like the costume was riding me," Millar confesses. "A hump that's up here, and a chest that's out there. You have to renegotiate yourself so that you're on top of the costume rather than it being on top of you."
It wasn't the only thing he needed to be on top of. In an industry that's lucky to have two weeks of rehearsal, Millar endured seven months of auditions. Trunchbull requires an unusual skill set, given that she tosses children by their pigtails, leaps from a vault and performs a ribbon dance. "Not many actors come with a ribbon dance in them. So there was a lot of time between each call back to learn those skills."
While casting a man as Miss Trunchbull taps into the English pantomime tradition, Millar doesn't "go out there actively playing a woman. Her attributes, particularly her aggression, are almost entirely masculine".
Of course, she meets her match in Matilda, the girl with genius behind her eyes and tricks up her tiny sleeve. Their increasingly hysterical skirmishes provide the engine of the play. "There's something liberating about seeing children overcome that unholy terror. Essentially it's about a little girl surrounded by adult bullies, coming out on top."
The rapport Millar develops with the child playing Matilda is complicated by the fact that there are four of them, on high rotation. It's a complication he relishes. "It actually makes what could feel like a repetitious week seem exciting every night. One Matilda is very sassy with me, so my Trunchbull becomes more precocious. Then there's one that is extremely tough with me, so I become more menacing. Because I spend the entire night challenging and trying to beat that child, it becomes as much a game between the two actors as between the characters."
The Melbourne season means a whole new bunch of kids for Millar to intimidate and terrorise, and no one looks happier. "It's going to be thrilling."
Best selling Time Out Offers