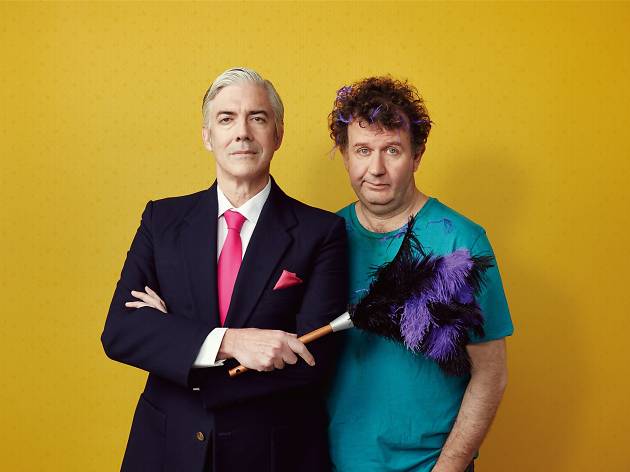 Melbourne Theatre Company 2016 season
MTC artistic director Brett Sheehy takes Time Out through his ambitious, talent-filled 2016 season
"Themes can be a straightjacket", says MTC artistic director Brett Sheehy, "and usually they are so broad they're meaningless." It's a sentiment that bears out in his 2016 program, which is so diverse and multi-faceted that a search for thematic links feels futile. "If I've tried to do anything, it's that all the work should feel contemporary. It's got to be art of our time." 


Certainly many of the plays on offer deal directly with contemporary issues. British playwright Duncan Macmillan's Lungs (Feb 5-Mar 19) is set in Ikea and concerns itself with the problem of procreation in an already over-populated world. Ayad Akhtar's Disgraced (Aug 19-Oct 1) deals with Islamophobia in upper-middle-class New York. Deborah Bruce's The Distance (Mar 5-Apr 9) tackles motherhood, in a modern iteration of Ibsen's A Doll's House.


Even the classic plays in the program, according to Sheehy, will speak directly to contemporary concerns. While it may be tempting to see the programming of David Hare's Skylight (Jun 18-Jul 23) or Neil Simon's The Odd Couple (Nov 5-Dec 17) as exercises in pure nostalgia, Sheehy is adamant that they will reflect audiences' current preoccupations.

 "I don't think it's good enough for us to say, 'Classics are valid because their themes are universal'. It has to puncture the audience's universe in a specific and deliberate way." Quite how odd couple Felix and Oscar will do this remains to be seen, although the casting of Shaun Micallef and Francis Greenslade will probably help.


One classic in the program that won't fail to ignite interest is Strindberg's Miss Julie (Apr 16- May 21). Coming off an incredibly strong year for director Kip Williams – having won a Helpmann Award for his STC production of Tennessee Williams's Suddenly Last Summer – and featuring the extraordinary Mark Leonard Winter, it should prove one of the plays of the year.


Following on from the runaway success of this year's stage adaptation of North by Northwest is local playwright Tom Holloway's take on the pivotal film noir thriller Double Indemnity (May 30-Jul 2). It's merely the latest in a slew of film-to-stage adaptations, and will give MTC associate director Sam Strong ample opportunity to stamp his mark on the season.


Adaptation is also central to the Australian plays on offer next year. The season opens with a musical version of Madeleine St John's much-loved Aussie novel, Women in Black. Set in the heady world of a '50s department store, Ladies in Black (Jan 16-Feb 27) has been adapted by Carolyn Burns and will be directed by former artistic director Simon Phillips. The music and lyrics are by none other than Tim Finn. 


Perhaps the most ambitious piece of programming next year is another adaptation of an Australian novel, Craig Silvey's seminal Jasper Jones (Aug 1-Sep 9), by playwright Kate Mulvany. No doubt hoping to emulate the success of STC's Secret River and the unforgettable stage version of Cloudstreet, this tale of interracial friendship between two boys promises to be an epic theatrical highlight.


As to criticism that novel-to-stage adaptation is a lazy way to get Australian voices on stage, Sheehy will have none of it. "We have 13 [new play] commissions running at the moment, and we're developing specific works for 2017 and 2018, but it's true that it is 'adaptation central' this year. That doesn't mean I'm trying to avoid the risk of putting on new Australian work. I think, provided we can tell stories to ourselves and about ourselves, I'm not too fussed where the narrative comes from."


Perhaps the most significant change to next year's line-up is the overhaul of the highly influential NEON Festival of Independent Theatre. Instead of five companies presenting work over a ten-week period, only one company will have a four-week season. Next year sees Sisters Grimm produce Lilith: The Jungle Girl (Sep 1-Oct 1).


In an environment that has seen serious division between independent theatre practitioners and the major companies, this could be seen as unfortunate. Sheehy disagrees. "The financial investment for NEON 2016 is exactly the same as for NEON 2015. We're tweaking the model, it's true, but we're also working with Daniel Schlusser and Nicola Gunn from the ground up on developing shows for the next two years."

 In some ways, this can be read as a maturation of NEON's aims, and fits with Sheehy's vision of a forward-looking state theatre company that engages with new audiences as much as satisfies the subscriber base.
"You can't just keep doing the same work, and hope new audiences turn up. You have to tell their stories. It is, after all, Melbourne's theatre company, and the idea of programming work that is aimed only at audiences 45 and over is just wrong, frankly."
What's on stage in Melbourne?
Let's start with the most important thing. Yes, Jemma Rix sings Elsa's mega-hit song 'Let It Go' as the barnstorming closer to act one of this musical staged version of Disney's Frozen. And yes, she absolutely goddamn nails it. The story, as any seven-year-old could tell you, is this: Princess Elsa was born with the ability to create snow and ice from her fingertips, but after accidentally wounding her sister and best friend, Anna, she is convinced to hide her powers beneath thick gloves and a frosty veneer of detachment. That strategy is bad for sororal bonding but good for the safety of the kingdom, until the demands of a glove-free and highly emotive coronation day release a literal and metaphorical storm. Details get somewhat hazy after that, with various characters going up and down the mountain that overlooks the sisters' home of Arendelle, but there's a talking snowman, an affable reindeer and various degrees of cold and winter clothing involved. The animated version of the story is focused on Elsa, whose platinum fishtail braid adorns lunchboxes the world over. But the stage version is much more centred on Anna, a kindhearted goofball played with true joy and charm by Courtney Monsma. Her singing is more than up to the task of Kristen Anderson-Lopez and Robert Lopez's music, with a voice that's Broadway-ready without going the full Ethel Merman. Her dancing is sharp and graceful, but it's her physical comedy timing and willingness to commit to slapstick that make her
Australian theatre has a tendency to churn through new works and spit them out the back end; very few of our plays get remounted compared to countries like the US or the UK, so the layers of silt required for them to become "classics" never has the chance to build. Andrew Bovell's 2008 When the Rain Stops Falling is one of the exceptions, having been restaged plenty of times both nationally and internationally since its debut in Adelaide. It isn't hard to see why: a work of shimmering humanism and pathos, it only increases in urgency as the planet tilts further towards its own destruction. Environmental destruction and intergenerational neglect are certainly prominent themes, but Bovell is far too smart a playwright to lash us with didacticism. Humanity's inability to deal with trauma on a global scale is mirrored by the characters' taciturn responses to their own grief, and the tomb-like silence that befalls them underscores their crushing sense of bewilderment. Under Briony Dunn's thoughtful direction, these people's emotional dissociation is not only credible, it's quietly compelling. The plot is complex, spanning as it does multiple generations from 1959 London to 2039 Alice Springs. We have two characters named Gabriel and one named Gabrielle. We have older and younger versions of characters existing on the same playing space. And yet, with a little adjustment and some concentration, the audience can quite easily follow the emotional journeys, which largely consist of va
More shows on Melbourne stages
Best selling Time Out Offers