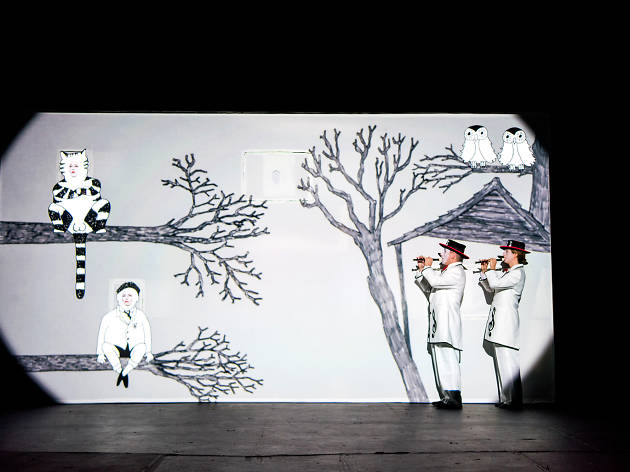 Time Out says
Quirky handcrafted animation, cinema and live performance come together in 1927's latest show
Central to any society are the stories it tells itself. These stories are written or passed down, become part of the collective consciousness, and together form a map to help us navigate the world – even if they were never crafted to do so. That's why British theatre company 1927 – known for its pioneering combination of live performance with eye-catching, hand-drawn animation – has looked to little-known folk tales and fairytales for the latest show by writer and director Suzanne Andrade, Roots.
The company has focussed on stories that are particularly bizarre or macabre, or reveal a dark underbelly to human nature. Greed is a common theme to most of the stories, but there's little that ties the narratives together. Instead this piece, billed as a collection of "folk jokes", is more of a sketch show. It's a briskly satisfying 70 minutes of theatre, with each of the stories given a different style of animation. The result is a little like taking a different children's storybook off the shelf for each scene – each with a different illustrator – and bringing their contents to life in vibrantly funny and unsettling ways.
There's the story of a very fat cat whose greed takes him to all sorts of weird and wonderful places. The story of a simple mother and father whose hunger for fish takes a dark turn. The story of the king whose need to have his every whim met destroys the life of the woman he loves. The story of an elderly husband and wife who find themselves pitted against each other, desperate to gain magical powers. The story of a laughing ogre who is outwitted by a simple villager.
There are just two actors (Genevieve Dunne and Philippa Hambly) and two musicians (Francesa Simmons and David Insua-Cao), but the performers transform entirely between characters, the musicians switch up musical styles on weird and wonderful instruments, and the animations are so eye-catching, it feels that there could be an entire ensemble present. It's a very slick production, but Andrade smartly brings the show out of a rarified space by having regular people (ie not trained actors) narrate the stories on a recorded track. It's surprisingly engrossing to hear the narrators working their way through an unfamiliar text.
The final story in the show involves two children trying to ditch their ailing mother, but something magically happens to them, tying them back to their roots. It's not too difficult to see what the company might be getting at with this show: the stories we're told by our ancestors can't be ditched or left behind. They might be difficult, unpleasant, or outdated, but we can't become unrooted from them.
Feeling hungry? Check out these offers from our Festival Feasts partners.
Details
Best selling Time Out Offers