The Gospel According to Paul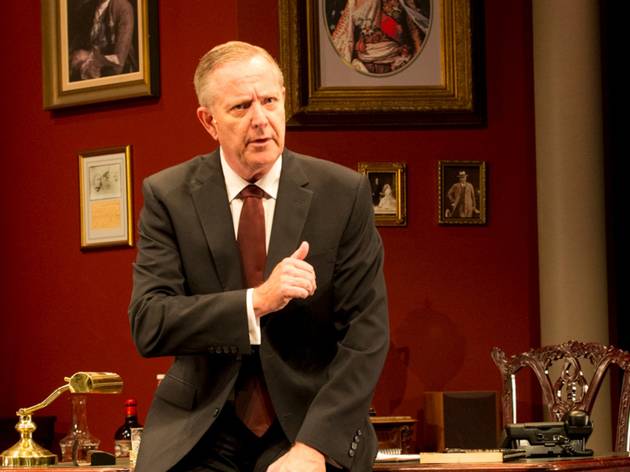 Time Out says
Jonathan Biggins brings one man, but many laughs, to Melbourne in this comedic portrayal of Paul Keating
If you've booked tickets to see comedian Jonathan Biggins' inhabitation of former prime minister Paul Keating in The Gospel According to Paul, chances are you're hankering for an unsparing delivery of the towering political figure's terribly clever insults. They're definitely in here, with Johns Hewson and Howard both getting it in the neck, as does Andrew 'the soufflé that doesn't rise twice' Peacock. There's even some friendly fire trained towards Labor comrade Kevin Rudd. But it's a moment's silence that almost steals the show.
Biggins as Keating perches on an old leather armchair in one corner of Mark Thompson's ornate set. Lit moodily by Verity Hampson, it's designed to look like the great man's study – all blood-red walls, old portraits and whiskey decanters. Taking a brief break break from rattling through 70-odd years of parliamentary infighting and personal history, he muses on discovering the untimely death of his father, laid out on a pavement outside a pub. It's the resounding silence of this witty, urbane quote-machine that speaks loudest. There's more to the show than just settling old scores.
It's also rather funny that the best put down of the night actually belongs to his unfairly deposed predecessor Gough Whitlam. Keating recalls one bloviated pollie, in full furious flow on the floor of the House of Reps, insisting boisterously, "I am a country member." And Whitlam, without missing a beat, responding, "I remember" (say it slowly).
Biggins' suit may be cut suspiciously un-Zegna-like, but what he lacks in sartorial excellence, he more than makes for with an uncanny handle on Keating's pronounced mannerisms. Nothing at all alike to look at, beyond sharing a hulking height, there were moments when, from certain angles, I could almost swear he was the spit of our most memorable political warrior of the last century. He's been doing bits on the great man as part of Sydney Theatre Company's annual The Wharf Revue show for yonks, but the endurance test of this 90-minute show proves it's more than just skin deep. He gets the man innately.
Then there's the simultaneous admittance that the Bankstown boy likes the finer things in life, but is avowedly not the arrogant man some have depicted him as. Hailing from Labor's right faction, even his most free-market thinking is here framed as a burning desire to genuinely lift up those in poverty and banish limited expectations. Whether you buy in or not – and whether or not you believe it was the recession we had to have – Keating, as depicted here, is sure that his handiwork, alongside frenemy Hawke, set us all up for a better future. Yes, there's bravado, but there's also that profoundly human need for validation. And I challenge anyone not to be electrified when he recites a snippet of the Redfern Speech.
Written by Biggins with obvious love but wise critical distance, and directed with Shakespearean flourish by Aarne Neeme, it's an engrossing hour and a half that only momentarily falters during unnecessarily hokey musical interludes. These may well be a nod to The Wharf Revue, but just like the baggy suit, they don't quite fit. Especially when one, delivered as a coda, spoils the most magnificently Keating final word. And Keating, to this day, is not a man it would be wise to upstage.
Details
Best selling Time Out Offers