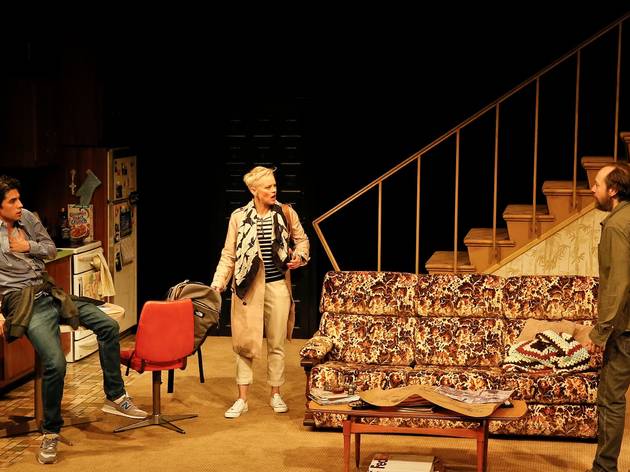 1/4
Photograph: Supplied/MTC/Jeff Busby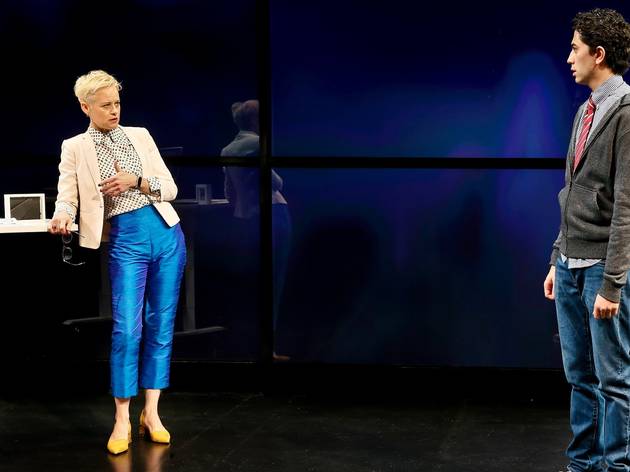 2/4
Photograph: Supplied/MTC/Jeff Busby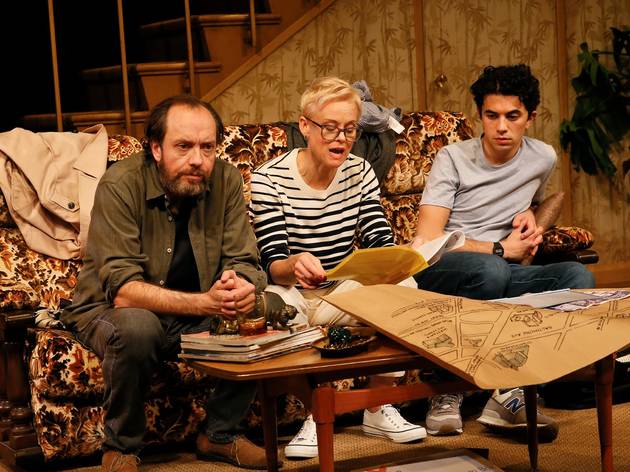 3/4
Photograph: Supplied/MTC/Jeff Busby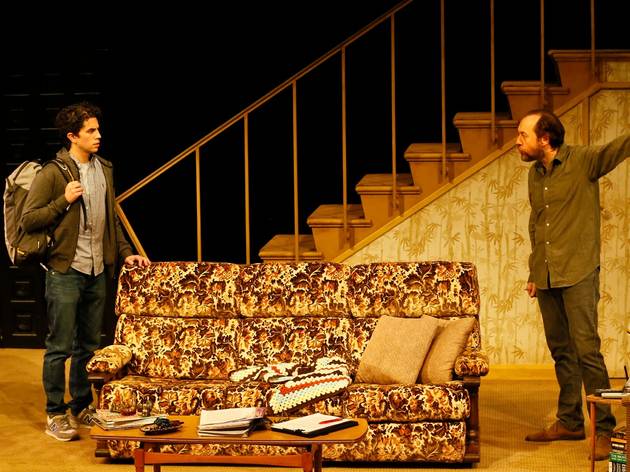 4/4
Photograph: Supplied/MTC/Jeff Busby
Time Out says
Based on a true story, The Lifespan of a Fact addresses the issue of fake news head on and with humour
When American citizens stormed their seat of government on the false basis that the election was stolen – fake news espoused by a former president who shall remain nameless – it was the terrifying result of four years of bending the truth totally out of shape to fit his malign purposes.

All of which makes the long-delayed arrival of gloriously word nerdy Broadway show The Lifespan of a Fact in Melbourne particularly timely. Based on a true story that was, in itself, based on a lie (lots of lies), it absolutely backs up the old adage that the truth is stranger than fiction. Not that this show is quite on the same scale of horror as that botched and bloody coup, but it nevertheless probes the same smudgily blurred lines.
It's complicated, but the gist is this: effervescent, physically expressive actor Karl Richmond plays young cub sub-editor Jim Fingal. He's tasked by his editor Emily Penrose (Nadine Garner) to do a basic fact check on a major feature for their magazine by star writer John D'Agata (Steve Mouzakis). D'Agata's feature is a great yarn that gets to the nub of human mortality, hooked on the tragic suicide of a teenager in Las Vegas. It's been picked to replace a boring one about congressional spouses, but Emily cautions Jim that John has been known to take occasional liberties. Setting about the task with gusto, an uber-persnickety Jim is shocked to discover just how many liberties. The more he picks at the wild inaccuracies, the more he uncovers. When he queries John, the older man is mightily unimpressed.
It's a great set up for a comedy of deliberate errors that asks that other old adage: why let the truth get in the way of a good story? What makes it all the weirder is that this really happened, and just to really underline that weirdness, Jim and John went on to write a hugely best-selling book about the imbroglio. Jeremy Kareken, David Murrell and Gordon Farrell adapted that staggering page-turner, brought to life for MTC by associate director Petra Kalive (Sexual Misconduct of the Middle Classes, Hungry Ghost) with a refreshing pep. It recalls, gorgeously, an old-fashioned type of screwball comedy, with its outrageous storyline and larger-than-life characters firing snappy dialogue at one another, ricocheting across Andrew Bailey's simple set depicting, at first, Emily's office, and then John's home in Vegas.
Richmond is a revelation who absolutely steals the show. As wonderful as he is in full eyebrow-rolling flow, increasingly smarmy in his truth-policing, his MVP status is at least in part because, as sharp as the show is, oddly it doesn't give a great Garner or, even more surprisingly, Mouzakis a lot to do. Which is a bit of a shame, because when all three are eventually holed up together, tearing out each other's hair to find a solution to the crisis as print deadline rapidly approaches, it's a firecracker.
Mouzakis' totally fair call to play John as believably world weary does also dampen things a little bit, when perhaps some gonzo Hunter S. Thompson schtick would have stuck better. It's also a bit odd that the show doesn't, in any way, refer to the afterlife of the feature, which it so easily could have done via the supertitles that signal the countdown of days. If I wondered if the very in-jokes about journalistic process would fly, the raucous laughter of the opening night audience immediately assuaged that concern.
It is, like John's wildly untrue feature, beautifully written, but while a magnificent allusion to how on Earth you would accurately record the length a coastline offers an intriguing counterargument to factuality, it does also pave the way to a bit of a wimp-out ending that smacks of said former president's "very fine people on both sides" line. Not that theatre has to deliver a neat and tidy, morally sturdy message, and lord knows momentarily mortal enemies John and Jim got over it, but it just felt a little pat in the end, after a cracking set-up. However, The Lifespan of a Fact is a whole heap of fun despite these misgivings, so have yourself a Google and you're sure to be intrigued enough by this surreal scenario to see its beginning play out on stage. And it really is an absolute hoot, especially thanks to Richmond's magnetic company.
You can read more about the show here.
Details
Best selling Time Out Offers