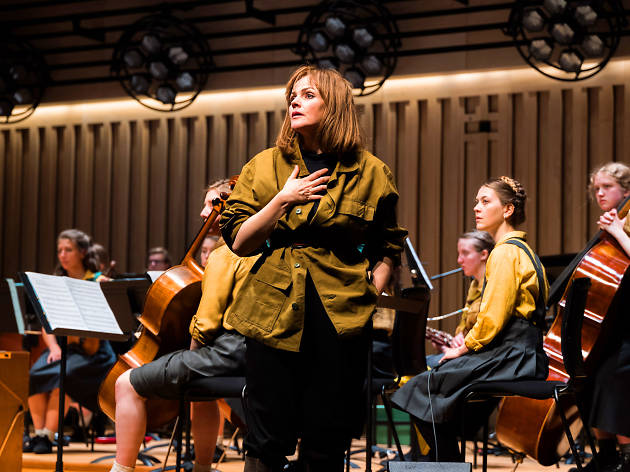 1/3
Photograph: Joseph Lynn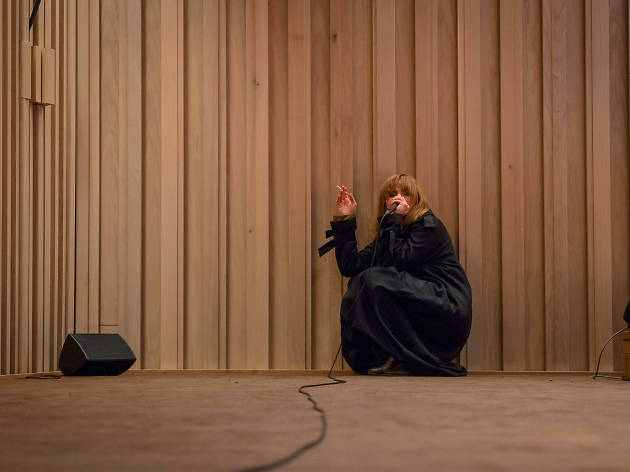 2/3
Photograph: Joseph Lynn
3/3
Photograph: Joseph Lynn
Time Out says
Acting great Maxine Peake stars as the enigmatic pop icon in this Melbourne Festival show
Given that German model, actor and chanteuse Nico, whose real name was Christa Päffgen, had the kind of career that traversed several major pop cultural movements, it's surprising she isn't more famous. She had a small role in Fellini's La Dolce Vita playing herself, and starred in Andy Warhol's Chelsea Girls. The Velvet Underground's debut album is titled The Velvet Underground and Nico. Leonard Cohen wrote a song about her, and the Cure cited her as a central influence. And yet, throughout, there was something not just enigmatic but wholly unknowable about Nico.
Acclaimed UK actor Maxine Peake tries not so much to unpick that mystery as to wrap herself in it, in a show she devised with director Sarah Frankcom. It's a solo performance but for the orchestra of young female musicians who bring a lush romanticism and occasionally accusatory presence to the actor's tortured musings. There is no biographical detail in the show at all; everything functions on the level of symbolism and suggestion. The majority of the text seems to come directly from Nico's song lyrics, discursive and sometimes ponderous.
By rights, it should be awful. The kind of experimentation that defined artists like Nico – aural, visual and musical – can seem almost painfully naive and glib now; something that also happens to the surrealists and the dadaists of the early 20th century. There's a childishness, a juvenile rejection of forms for its own sake, that pushes beyond meaning into mere solipsism, and Nico was one of its main adherents. But Peake is serious about unlocking aspects of the persona we've never seen, or at least looking at them from a different angle, and to some extent she does.
It opens with Peake entering from the auditorium, with the house lights still up. She speaks to the sound technicians, perhaps to us, mainly to herself, about the difficulty of beginning. The text is all stops and starts, but soon we realise she's communing with the spirit of Nico (not so unusual for actors: Helena Bonham Carter recently went to a psychic to ask the long-dead Princess Margaret for permission to play her in The Crown). Soon, a chair falls over and we are to understand that Nico has arrived. It's a hoary trick, impossible to take at face value. The rest of the show unfolds as a kind of tussle between Peake's selfhood and Nico's.
As a recording artist, Nico wasn't much of a singer – her partial deafness meant she was often flat – so it's something of an inspired idea to give the bulk of the singing to two young women. They sing beautifully, in eerie harmony and often in counterpoint to Peake's emotional states. The musicians are all dressed in Hitler Youth uniforms, which might be overdoing the symbolism a bit but also nods to Nico's past in Cologne. It's a reminder of the artist's well documented anti-semitism, that her desire for a persona that functioned as a tabula rasa was partly an attempt at obfuscation. A lot of darkness lay behind that mask of indifference.
It's an aspect of Nico that Peake conveys brilliantly. The harsh edges, the pouting and the inner torment, are given vivid life as the actor prowls and rages and smokes insouciantly. And it is here that The Nico Project begins to coalesce, not as a piece of biography but as an act of appropriation. Peake seems to be using the idea of Nico as a metaphor for the performance of the self, of the ways an actor constructs and deconstructs a persona from the detritus of their own psyche. If the result is strangely unsatisfying, it's likely because we are catching a glimpse of the void behind the veil.
Details
Best selling Time Out Offers