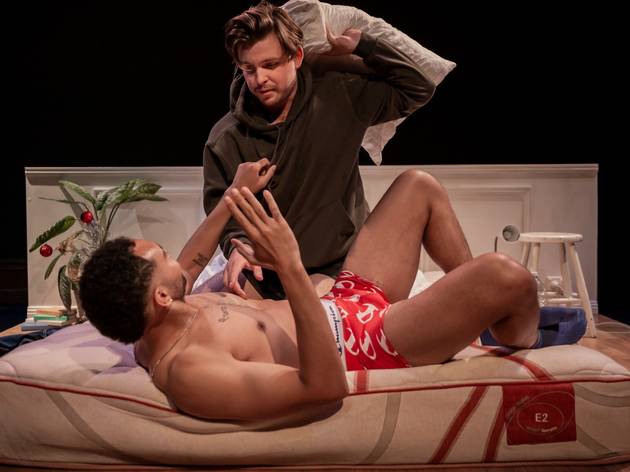 1/3
Photograph: Supplied/Darren Gill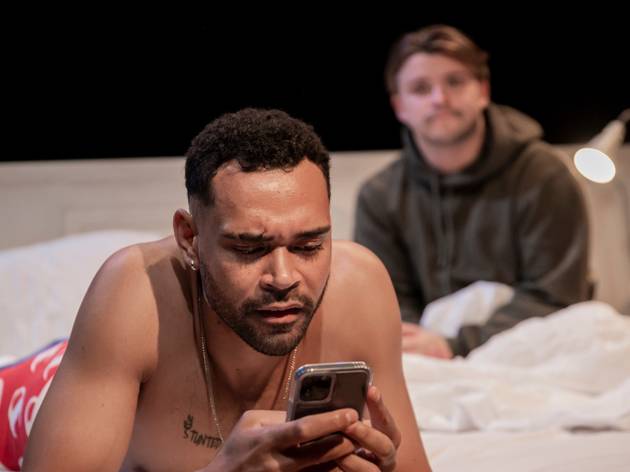 2/3
Photograph: Supplied/Darren Gill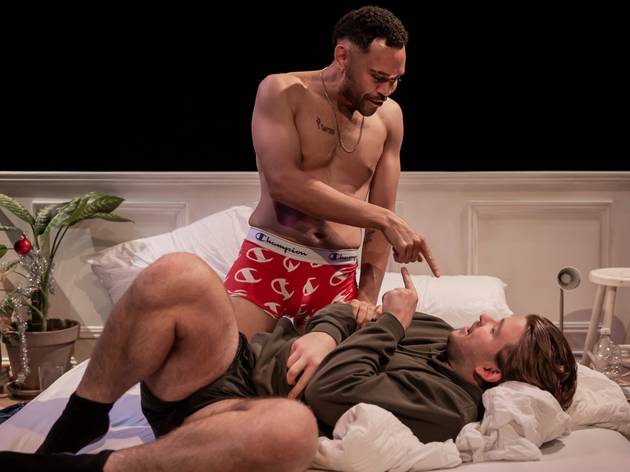 3/3
Photograph: Supplied/Darren Gill
Time Out says
This Genuine Moment unpacks the lies we tell ourselves and the connection we can find with each other
An unmistakable instant opens playwright Jacob Parker's deeply affecting debut, This Genuine Moment. It's the morning of Christmas Eve, and an insistent alarm rouses Riley (Tom Dawson). After a big night, he wakes up rotten, comically perplexed by the arm wrapped around his hirsute chest. Clumsily attempting to extricate himself from the stranger he has no memory of coming home with, he can't help but peek at the person beneath the pillow. Perhaps this is a universal experience, or maybe it's more common to gay men, but that moment's fear/thrill before the reveal is pure drama, whatever your persuasion.
Presented at La Mama Courthouse by Rock Bottom Productions, this tender play is about more than casual sex. It's more than the mystery of figuring out the name of the handsome lad lying next to Riley, as played with motor-mouthed charisma by sparky Triple J presenter Ilai Swindells. Temporarily known as "L", much to his bemused glee, he's out, but not necessarily proud. Hating the way straight people pigeonhole gay men as fabulous, he remains entirely unconvinced by Riley's plan to come out to his family tonight. Is Riley's timing poor, or is there more at play in L's mind?
Playing out entirely within the confines of the morning after bedroom, it's a deft two-hander tracing the line between a romantic brief encounter and a deeper reckoning with queer and familial identity. At first, the lads seem poles apart, with Riley's careful heart tentatively fluctuating, but there's a gentle strength in him that bubbles up. Dawson ekes subtle physical comedy from the entanglement of his phone charger, bedside lamp and the make-do stool they sit on. It's a nice beat that could so easily have been overdone, and a testament to the restrained direction of Hayden Tonazzi. The body betrays what the heart says.
Over the course of the following 75 minutes or so, these two men feel out the edges of their world views within the demarcated territory of a mattress on the floor. They're simultaneously navigating mobile phone conversations the audience is voyeuristically privy to, thanks to projections cast on the back wall of this minimal set realised by designer Kate Beere, who also nails L's rumpled club clothes on the floor and Riley's hoodie and rugby shorts.
L may present as more comfortable in his own skin, somewhat unsubtly scrolling through hook-up app Grindr while still ensconced in Riley's doona, but his distracted checking of Instagram tells a different story. Why wasn't he invited to a barbecue his ex is posting from, and why is he ignoring messages from his dad? Who, exactly, is the FUTRE HUSBND who keeps texting him? Swindells fleeting facial ripples betray a halting doubt that ask us to wonder just how comfortable L is in his own skin – or is he just using bravado as a shield? And is Riley as ready to brave a new gay world as he thinks he is? The very idea he may or may not have slept with this handsome man is enough to provoke a terrified moment, unveiling his naivety when it comes to sexual health.
The truth is, neither man is entirely honest with himself or the other. And therein lies the quiet brilliance of This Genuine Moment. Even as they come to realise this chance encounter offers a chance to unmask and feel out their hopes and fears together, one pulls closer as the other pushes away. The projections, realised by lighting and video designer Aron Murray, are a brilliant intertextual method of undercutting what is said and meant, but Tonazzi is confident enough to remove most distraction from Parker's nimble dialogue. Indeed, so stripped back is the show that when a moment's well-deployed music interjects, it tilts the audience over the play's central faultline. What presents at first as comic relief, emotionally unseats.
What is love but a moment of chance pursued? And how much courage does it take to open up to that? Are we worth it? It's the sort of play that will leave you rewriting its course long after the lights come up, and that is a magic moment of theatre.
Details
Best selling Time Out Offers