Victorian Opera 2016 season
The company ventures out into musicals, reinventions and 3D technology for its upcoming season, while presenting an impressive number of world-class performers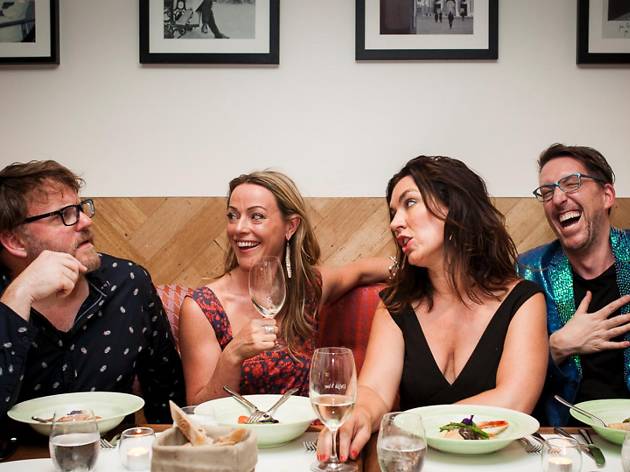 This year marks Victorian Opera's tenth anniversary, and so far, the company has offered highly successful, innovative productions alongside more traditional pieces featuring world-class performers. The VO's 2016 season – launched by artistic director Richard Mills – branches even further out into unfamiliar territory, and opera enthusiasts and lovers of the performing arts have plenty of reasons to get excited.
'Different dreams' was the theme of the launch, for good reason: the first production of the year will be Voyage to the Moon (Feb 15-19) which will see director Michael Gow blend Baroque operas into an entertaining pastiche, featuring respected Australian soprano Emma Matthews and leading mezzo Sally-Anne Russell.
A highlight is sure to be Banquet of Secrets (March 1-5), created by Australian author, screenwriter, comedian and producer Steve Vizard and celebrated composer Paul Grabowsky in tune with the Melbourne Food and Wine Festival. The show – starring the brilliant Antoinette Halloran, who stole the show in the VO's recent production of Sweeney Todd – will see four friends sharing a meal live on stage (created by chef Philippe Mouchel) and swapping secrets.
Anyone who encountered the divine voice of Jessica Pratt in the VO's staging of I Puritaniseveral months ago would need no convincing to see Lucia di Lammermoor (April 12-21), in which she'll be returning from Europe's premier opera houses to sing her defining role.
Earlier this year, the Victorian Opera filled the Palais Theatre with Wagner's dramatic Flying Dutchman, a benchmark work made contemporary with immersive 3D technology. The VO will follow up on this with a production of Laughter and Tears (Aug 13-18), created with Circus Oz with strong elements of Commedia dell'Arte, directed by Olivier Award-winning director Emil Wolk.
3D technology will appear again in 2016, with the Australian premiere of the musical Four Saint in Three Acts (Sep 30-Oct 1) by Virgil Thomson and Gertrude Stein, performed 82 years after it premiered in Broadway. Staged as a youth opera, the piece will tell the story of Spanish saints in the 16th century. Fifty special guests will also have the opportunity to have dinner with 'Gertrude Stein' and her muse Toklas – brought to life by Australian arts innovator Robyn Archer and soprano Merlyn Quaife.
Artistic director Richard Mills has written a new opera for children – The Pied Piper (Jul 28-29)– which will be the next touring project after the success of this year's Remembrance and 2013's The Magic Pudding: the Opera. Families are also invited to a retelling of Cinderella (Jul 16).
Says Richard Mills: "2016, a year of different dreams, new operas from old music, new work on traditional themes, gastronomic subjects, evenings of musical nonsense assisted by cutting-edge technologies, blood, murder, laughter and tears: all the ingredients that give our art form a grand and rich power."
What's on stage in Melbourne?
Priscilla, Queen of the Desert is the crowning achievement of Australian commercial musical theatre. When the stage version of Stephan Elliott's 1994 film premiered back in 2006 it was expected to have broad appeal, but few would have anticipated its ongoing success. Eleven years later, the musical has played every major theatre market around the world, including Broadway and the West End, and continues to tour. This return Australian tour is a victory lap of sorts for this beloved show, capturing all of the joy of that premiere production. A few changes have been made to the song list – 'It's Raining Men' takes the place of former opening number 'Downtown' – and the show is a little slicker in its storytelling and execution. If there's any criticism to be made it's that the show is maybe now a little too slick for this sprawling and unruly story. Whether you've seen the film or not – and if not, what have you even been doing for the last two decades? – the stage version stands on its own two feet as a funny and surprisingly touching jukebox musical, packed with camp disco classics. The plot follows that of the film closely: Sydney drag queens, Tick (David Harris) and Felicia (Euan Doidge), and an older transgender performer, Bernadette (Tony Sheldon), travel in a ramshackle bus to Alice Springs, where they've been booked for a show. It's a typical fish-out-of-water tale as the trio encounter the outback and its inhabitants. But it goes deeper than that – Tick is secretly t
Buy tickets
Read more
Few pop songwriters have catalogues packed with as many hits as Carole King. From her early years churning out hits for popstars – she even penned 'The Loco-motion' decades before Kylie got her hands on it – through to her record-smashing solo album Tapestry, King's songs have endured. Beautiful takes a look at how King, a precocious young musician, rose to the top of her industry and finally found her voice. The slick Australian production of the Broadway hit is blessed with Helpmann Award winner Esther Hannaford in the leading role. She unleashes her killer voice on all of King's most memorable songs, including 'I Feel the Earth Move' and '(You Make Me Feel Like) A Natural Woman'. Read Time Out Sydney's four-star review.
Buy tickets
Read more
More shows on Melbourne stages