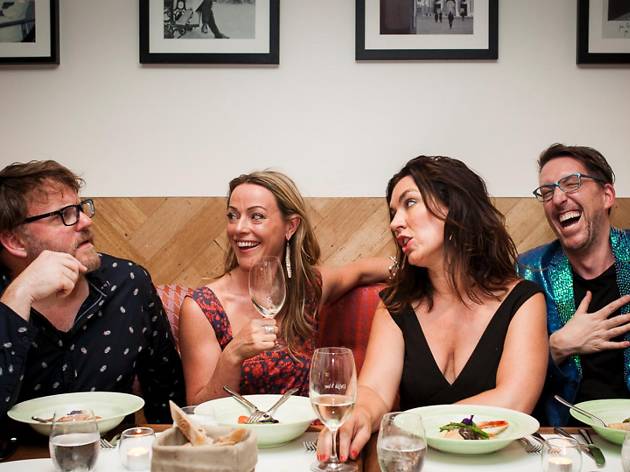 Victorian Opera 2016 season
The company ventures out into musicals, reinventions and 3D technology for its upcoming season, while presenting an impressive number of world-class performers
This year marks Victorian Opera's tenth anniversary, and so far, the company has offered highly successful, innovative productions alongside more traditional pieces featuring world-class performers. The VO's 2016 season – launched by artistic director Richard Mills – branches even further out into unfamiliar territory, and opera enthusiasts and lovers of the performing arts have plenty of reasons to get excited.
'Different dreams' was the theme of the launch, for good reason: the first production of the year will be Voyage to the Moon (Feb 15-19) which will see director Michael Gow blend Baroque operas into an entertaining pastiche, featuring respected Australian soprano Emma Matthews and leading mezzo Sally-Anne Russell.
A highlight is sure to be Banquet of Secrets (March 1-5), created by Australian author, screenwriter, comedian and producer Steve Vizard and celebrated composer Paul Grabowsky in tune with the Melbourne Food and Wine Festival. The show – starring the brilliant Antoinette Halloran, who stole the show in the VO's recent production of Sweeney Todd – will see four friends sharing a meal live on stage (created by chef Philippe Mouchel) and swapping secrets.
Anyone who encountered the divine voice of Jessica Pratt in the VO's staging of I Puritaniseveral months ago would need no convincing to see Lucia di Lammermoor (April 12-21), in which she'll be returning from Europe's premier opera houses to sing her defining role.
Earlier this year, the Victorian Opera filled the Palais Theatre with Wagner's dramatic Flying Dutchman, a benchmark work made contemporary with immersive 3D technology. The VO will follow up on this with a production of Laughter and Tears (Aug 13-18), created with Circus Oz with strong elements of Commedia dell'Arte, directed by Olivier Award-winning director Emil Wolk.
3D technology will appear again in 2016, with the Australian premiere of the musical Four Saint in Three Acts (Sep 30-Oct 1) by Virgil Thomson and Gertrude Stein, performed 82 years after it premiered in Broadway. Staged as a youth opera, the piece will tell the story of Spanish saints in the 16th century. Fifty special guests will also have the opportunity to have dinner with 'Gertrude Stein' and her muse Toklas – brought to life by Australian arts innovator Robyn Archer and soprano Merlyn Quaife.
Artistic director Richard Mills has written a new opera for children – The Pied Piper (Jul 28-29)– which will be the next touring project after the success of this year's Remembrance and 2013's The Magic Pudding: the Opera. Families are also invited to a retelling of Cinderella (Jul 16).
Says Richard Mills: "2016, a year of different dreams, new operas from old music, new work on traditional themes, gastronomic subjects, evenings of musical nonsense assisted by cutting-edge technologies, blood, murder, laughter and tears: all the ingredients that give our art form a grand and rich power."
What's on stage in Melbourne?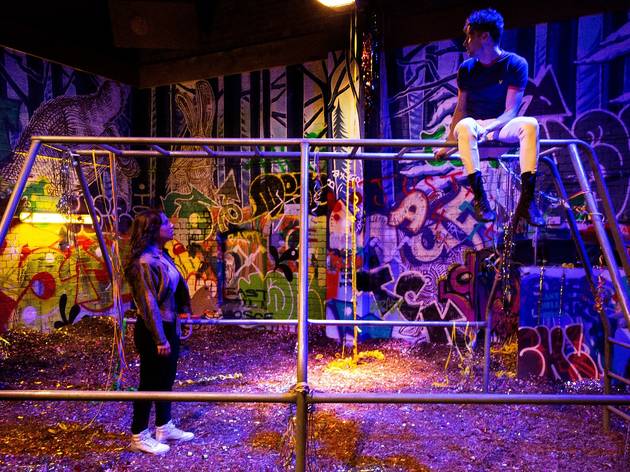 Update 28/07/21: Performances of Because the Night resume July 28 following Victoria's fifth lockdown. There's been a lot of hype about Because the Night, Malthouse Theatre's new production where the audience can freely explore an immersive set while the cast perform around them. "Immersive" really is the word here, and for once the oft overused term doesn't feel like a gimmick – nor does the intensely detailed open set undermine the integrity of the production. Because the Night is undeniably a work of theatre, but one that approaches the art with a bolt of inspiration that will attract new audiences to the discipline. It's apparent from the get go that Because the Night is unlike any production Australian audiences have seen before. The audience are split into three groups, each entering the performance from a different location. Ushers provide each person with a dark robe and Donnie Darko-style black rabbit mask to cover their face – apart from serving to differentiate audience from cast, the costume immediately puts visitors in the right headspace; goodbye Melbourne, hello Elsinore. If you've seen Melbourne's 2019 season of A Midnight Visit or even been lucky enough to attend Punch Drunk's Sleep No More in New York, you'll get the drill. The cast of six – which when we attended was Keegan Joyce (Hamlet), Nicole Nabout (Claudia), Syd Brisbane (Polonius), Ras-Samuel Welda'abzgi (Laertes), Jen Vuletic (Gertrude) and Artemis Ioannides (Ophelia) – are oblivious to the audie
There's something lurking in the darkness beneath Melbourne and it's emerging into the light this spring. Monsters is a new work created in collaboration between Malthouse Theatre and Stephanie Lake, bridging the space between theatre and dance in a gothic performance that will leave you chilled. Stage and screen actress Pamela Rabe (Wentworth, The Testament of Mary) stars as a woman whose sister has disappeared beneath a sinkhole in Melbourne. As she delves deeper and deeper, she encounters monsters – both figurative and literal – with dancers Olivia McPherson, Jessie Oshodi and Jame Vu Anh Pham portraying the creatures that go bump in the dark. Monsters is a joint project between Malthouse artistic director Matthew Lutton, choreographer Stephanie Lake and Sydney-based writer Emme Hoy. The production is two years in the making, with the trio intending to create a story that feels like a dream (or possibly a nightmare). Speaking on the work, Lutton says: "We want to welcome audiences back to a live experience that causes the hair to lift on the back of your neck, and the joy of imagining what you see in the dark when the lights are turned off." With performances of Because the Night still taking place across Malthouse's main building, Monsters will be presented inside the theatre company's construction workshop, which is being converted especially for this production. Monsters runs from August 30 to September 12. Tickets are available to the public from 9am, August 3, with
More shows on Melbourne stages
Best selling Time Out Offers