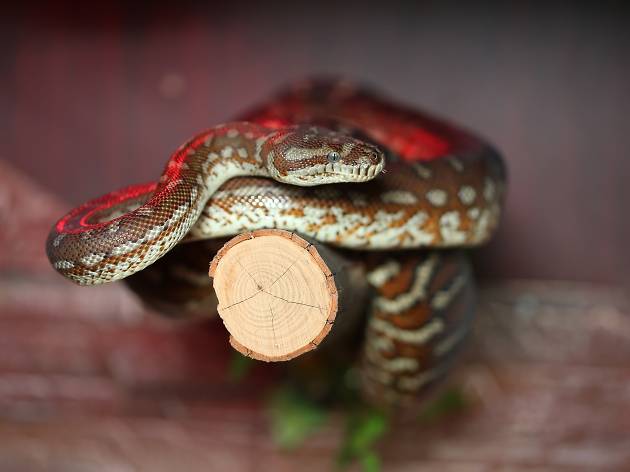 Abigail and Memphis
"People think that dogs and cats are the only creatures that like a scratch"
Abigail and Memphis live with their owner, Johl Hargreaves, in Coburg. Living in a custom-made multilevel snake penthouse complete with fake leaves, vines, sticks and logs, the pythons have distinctly different personalities.
What are you favourite things to do?
Abigail: I like hiding, especially under the couch. I also like a good scratch under the chin. People often think that dogs and cats are the only creatures that like a scratch, but I have needs too! I also like hanging out with Johl while he cooks. It's good to just hang on his shoulders while he wanders around the house.
Do you ever leave the house?
Abigail: Sometimes Johl takes me for a wander out to the petrol station or to the park. I kinda like it but sometimes other people get scared of me. They don't know that I'm a sweet, shy girl. They shouldn't be afraid of me, but that's just what happens when you're a snake. People just freak right out. I blame the Bible for demonising my kind. It's either that or those terrible Anaconda and Snakes on a Plane movies.
What's something that many people might not know about you?
Memphis: I am pretty clumsy. It's embarrassing to admit, but because I'm just a baby, I haven't quite got the hang of being a snake yet, so sometimes I do silly things like fall off my log. Johl laughs at me when I do this, but I don't take it to heart because I know he loves me.
Read more about the Secret life of Melbourne Pets.
Best selling Time Out Offers