Amy Winehouse: A Family Portrait
1/5
Photographer unknown © The Winehouse family
2/5
Records and guitar © The Jewish Museum
3/5
Wardrobe installation © The Jewish Museum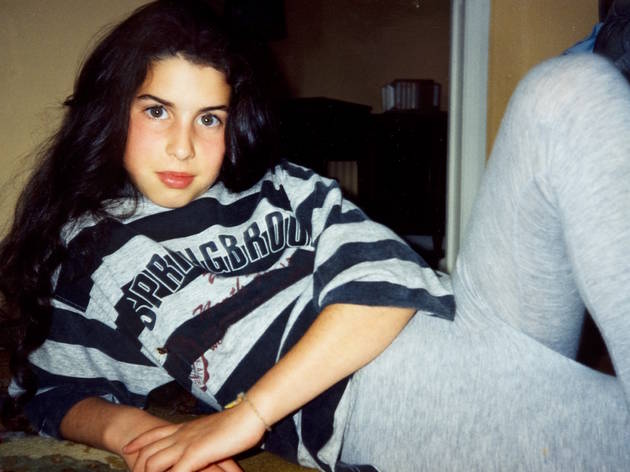 4/5
Photographer unknown © The Winehouse family
5/5
Festival passes, various dates © The Jewish Museum
The Jewish Museum of Australia presents an intimate portrait of the London singer's short life and her close connection to her family and heritage
When you think of Amy Winehouse, what is the first thing that comes to mind? A towering beehive and winged eyeliner; a deep, expressive voice lamenting that 'Love is a Losing Game'; a paparazzi shot of a woman in the grips of addiction? Winehouse (1983-2011) burst into public consciousness in 2003 with her 2003 album Frank, and captivated the world with her immense talent, her raw and deeply personal lyrics and, towards the end of her life, her struggles with drug and alcohol addiction.
But there's another story to Amy; a story that the Winehouse family is eager to tell the world. Amy Winehouse: A Family Portrait is a collaboration between the Jewish Museum in London and Amy's brother Alex and her sister-in-law, Riva. Together, they curated an exhibition that would explore Amy's early family life, her hunger to create music, and her ongoing connection to her Jewish roots.
"Generally, the exhibition is showing an untold story of Amy," says Juliette Hanson, the curator responsible for bringing the exhibition to Melbourne. "Everybody, particularly towards the end of her life, saw this negative picture of her… so the family wanted to show this absolute other side to her personality and her values, in a really respectful way."
At the time of the exhibition's opening in London in 2013, Alex Winehouse described it as "a snapshot of a girl who was, to her deepest core, simply a little Jewish kid from North London with a big talent who, more than anything, just wanted to be true to her heritage."
The majority of objects in the exhibition are donated from the Winehouse family; a secular Jewish family whose ancestors immigrated to London from Belarus in 1890. Little has been written about Amy's Jewish identity, and yet, it played a big role in her life up until her death. She was often photographed wearing a gold Star of David pendant around her neck, and her family celebrated traditional Friday dinners. In an interview, she said that "being Jewish to me is about being together as a real family".
Photographs of Amy's early life reveal this side to the singer; one shows nine-year-old Amy celebrating her brother's bar mitzvah. There's also a Jewish cookery book given to Amy by her brother because she wanted to learn how to make chicken soup (which she's rumoured to have cooked for her bodyguards). Other objects – including her clothing, records and books – are arranged within the themes of London, music, fashion, fame, and legacy.
In bringing the exhibition to Melbourne, Hanson was struck, more than anything, by Amy's pure and unbinding passion for music. "Music was her absolute life and soul," she says. "She wasn't about trying to be a celebrity, and in fact, she really disliked that side of things; it was the pressure of that, that possibly led to her difficulties in the end. [The exhibition] shows how young she was when she first decided that she was going to make music her entire life. The talent she developed is a testament to that, which makes the whole thing a lot more tragic."
Perhaps the most poignant insight into Amy's deep connection to music is an application letter that she wrote to a performing arts school as a young teenager. Quotes from this letter are interspersed throughout the exhibition, finishing with a reminder of the thing she craved above all: "I want people to hear my voice' [and remember] me… for just being me".