Heads up! We're working hard to be accurate – but these are unusual times, so please always check before heading out.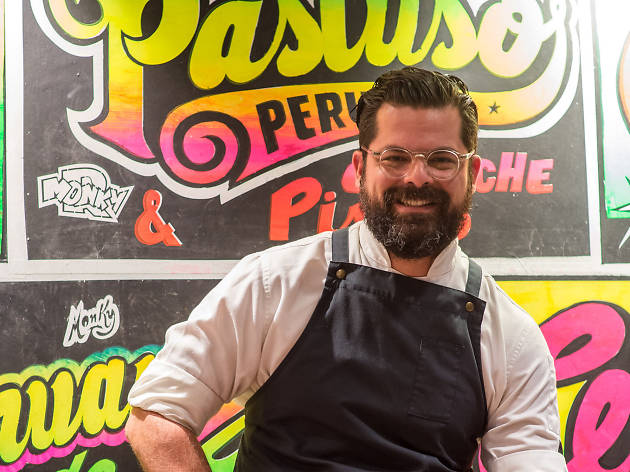 Behind the scenes at the AO Chef Series with Alejandro Saravia
This year the Australian Open is courting top chefs for a smashing food and sport experience
The Australian Open will feature more than just tennis this January. As world famous tennis players take to the courts, world famous chefs will be taking to pop-up kitchens to bring sports fans and gourmands some exclusive food experiences.
Time Out spoke to Alejandro Saravia of Peruvian laneway restaurant Pastuso, who will be firing up the burners as part of the Australian Open Chef Series. Alejandro will be showcasing his new culinary venture Farmer's Daughters, a concept restaurant inspired by the produce of Gippsland.
What is Farmer's Daughters?
Farmer's Daughters was an epiphany I had after several trips to Gippsland. I got to meet with the producers and discover the vast rural area of Gippsland and its people. Finally I had found the connection between Gippsland and Peru's highlands: two beautiful and rich parts of the world blessed with the perfect conditions and surrounded by passionate and generous people.
What inspires you about the project?
Gippsland's stunning landscapes, fertile land, livestock, beautiful produce and even the smell of wet grass inspired me to change the way I thought about ingredients and sourcing food. It took me back to why I love to cook: the connection between land and people.
Focusing on a 'farm to plate' approach I think it's essential to strip back modern food culture to understand where our food comes from and celebrate its connection to farmers and the land.
I want to share all the amazing stories that Gippsland producers share with me every time I visit.
What can guests look forward to?
Guests can expect fresh, seasonal produce, country grown meats, raw, fermented and cured home-made elements and a great local wine list from the Gippsland region in a rustic yet elegant location.
After experiencing Farmer's Daughters people can start planning their next getaway to the region.
How did you get involved with Gippsland produce?
I was lucky enough to meet Paul Crock from Gippsland Natural Meats who insisted I take some time out for a farm trip. This was an eye opener as a chef but also a turning point for me personally.
I rediscovered why I decided to drop everything to become a chef and how excited I am when discovering new ingredients and chatting with producers. Since then it has become a personal mission for me to communicate what these amazing farmers and producers do in Gippsland
Earlier this year I had the pleasure of being appointed Gippsland Food Ambassador which has helped me meet more people passionate about the region.
What sets Gippsland producers apart from the rest?
Gippsland is a slice of heaven on Earth. The diversity of the region and its microclimates means Gippsland can grow almost every fruit and vegetable. At the same time it has the right conditions to breed the best pasture fed livestock, is the most important dairy region in Australia and one of the major ports in Victoria (at Lake Entrance).
What are the menu highlights at the AO Chef Series?
A highlight is definitely the fact that we are sourcing 100 per cent of our ingredients from Gippsland. We're also focusing on traditional cooking techniques like open fire cooking. We have a custom made portable pit which we'll use to slow cook a whole grass fed lamb from Gippsland Natural Meats for ten hours.
Our wine has been carefully selected and represents the old and new wave of winemaking in Gippsland. Guests will enjoy wines from Bass Phillips (their pinot noir is one of the finest in Australia) and William Downie among others.
You can join Alejandro for a six course Farmer's Daughters dinner from January 18-20 as part of the AO Chef Series. The series also features meals presented by Angela Hartnett, Jake Nicolson and Peter Gilmore. Tickets are on sale now.