Chillout Travel Yarra Valley Winery Tour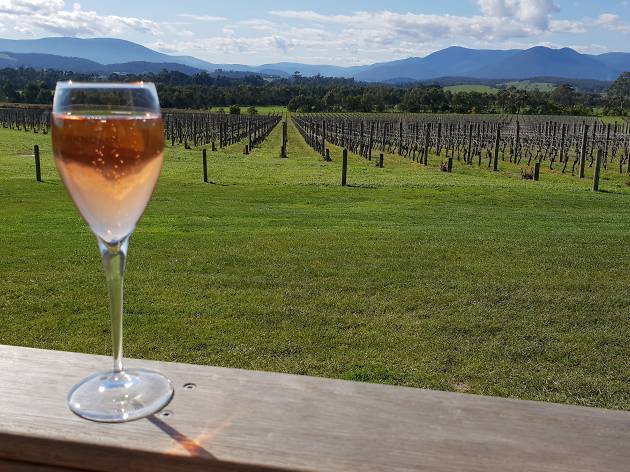 Time Out says
Visit four of the Yarra Valley's favourite wineries, and leave the driving to the professionals
A trip to the Yarra Valley is always an excellent day out – for everyone except the poor schmuck who draws the short straw and can't partake because they're driving. So why not take a tour to the Yarra Valley, allowing everyone to enjoy the fruits of someone else's labours?
Chillout Tours runs small tours of up to 11 people (or up to 25 for privately booked tours), and the bus picks up eager wine tasters in the centre of Melbourne, outside St Paul's Cathedral.
The first stop is the world-famous Domaine Chandon winery, owned by Moët and Chandon and purveyors of some of Australia's favourite sparkling wine. The views are stunning at Domaine Chandon, with panoramic vistas over the vines and softly rolling hills, and best enjoyed with a glass of sparkling in hand. Luckily that's just what's on offer at this first stop. A staff member explains four different sparklings (the brut, Cygnet rosé, sparkling pinot shiraz and sweet cuvée riche), and you get a full glass of whichever one of the four you choose. You have a bit of time at Chandon, so if you want to do a full tasting ($12 for about six tastes) or order a second glass, go for it.
The second stop is at small winery Soumah, which is an abbreviation for South of the Maroondah Highway. It sells Yarra Valley stalwarts chardonnay and pinot noir, but it also specialises in northern Italian varietals like nebbiolo, brachetto, pinot grigio and savagnin, which the winery has renamed 'Savarro'. After the tasting and a chat with Soumah's friendly staff, it's time for lunch, with a glass of wine, of course. The first course is a shared charcuterie platter, and there is a choice of main. Tea and coffee follow, and the dining room has lovely views over the vines to enjoy as you dine.
Then it's on to the valley's largest, producer, De Bortoli. It's a huge vineyard, producing everything from everyday quaffers to special occasion drops and Australia's most awarded dessert wine, Noble One. There's a traditional tasting here, but why have wine alone when you can have wine with cheese? At this tasting you can try seven different wines and pair them with four different cheeses – the Noble One is best friends with the sharp blue, trust us on that one.
The last stop of the day is at boutique winery Yering Farm. The chardonnay and late harvest dessert wine are particular standouts here, and there is also zesty, fizzy pink lady apple cider on offer. We dare you to walk out without buying at least one of the delightful drops on offer.
Chillout will then bring you back to Melbourne, perhaps a little more full and a little more unstable on your feet than you were all those hours ago. Sit back, relax, enjoy the sound of clanking bottles, and be glad you don't have to drive yourself.
Details
Best selling Time Out Offers