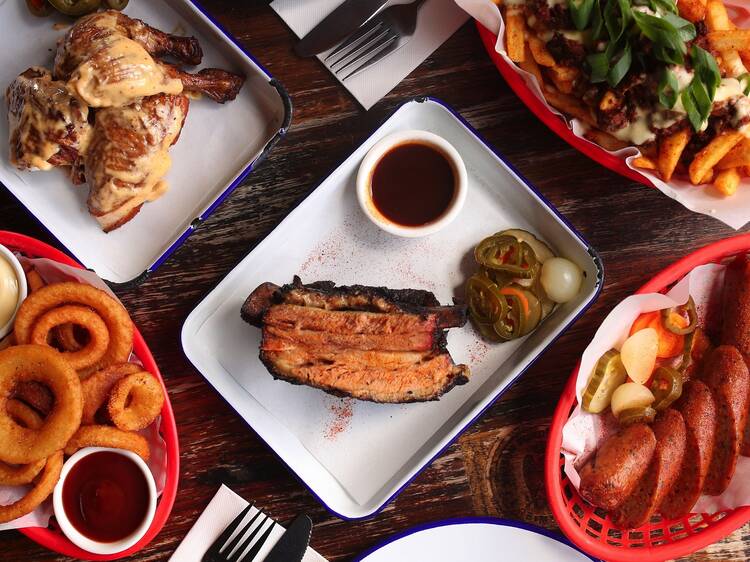 Photograph: Graham Denholm
When it comes to pizza, Lazerpig (9-11 Peel St) knocks it out of the park. Topped with portobello and shimeji mushrooms, confit garlic, and taleggio cheese, the Fun Guy is a must-order menu item at this popular pizza parlour.
Wholesome, vegetarian lunch bowls made with organic, seasonal veg is the name of the game at Friends of the Earth (312 Smith St). As a food co-op and café focussed on reducing waste, you can also stock up on bulk foods and sustainable items for the kitchen and home.
You'd be forgiven for thinking that a burger joint found inside decommissioned Hitachi rail carriages perched on a rooftop is nothing more than a gimmick, but Easey's (48 Easey St) nails all the elements required for a good night out: big, juicy burgers loaded with extras and a worthy selection of local brews on tap.
Follow the heady smell of woodsmoke to Le Bon Ton (51 Gipps St), the home of pit-smoked meats, strong cocktails and late-night (well… early morning) eats. Inspired by USA's Deep South, moderation isn't something Le Bon Ton does well. Come for the brisket, stay for the absinthe.
Owner and chef Moshe Ittah brings a slice of North Africa and the Middle East to Collingwood at New Jaffa (32 Stanley St) where flavoursome favourites like falafel, fattoush and spiced Moroccan curry deliver the goods in a relaxed setting.
Join the (physically distanced) queue at no-nonsense Vietnamese bakery N. Lee Bakery (220 Smith St) to order the highly recommended crispy pork belly banh mi. Vegetarian? The marinated tofu banh mi (hold the pate) laced with fresh chilli will hit the spot. All the old-school Aussie bakery classics are also represented here so why not pick up a cheeky jam doughnut or custard tart too?
For a dinner to remember, put your faith in chef Peter Gunn. As the culinary mastermind behind IDES (92 Smith St), Gunn runs a fine dining restaurant that doesn't feel pretentious. Friendly service, a warm ambience and an inventive menu make IDES a top spot for diners who want adventurous fare, without the posturing.