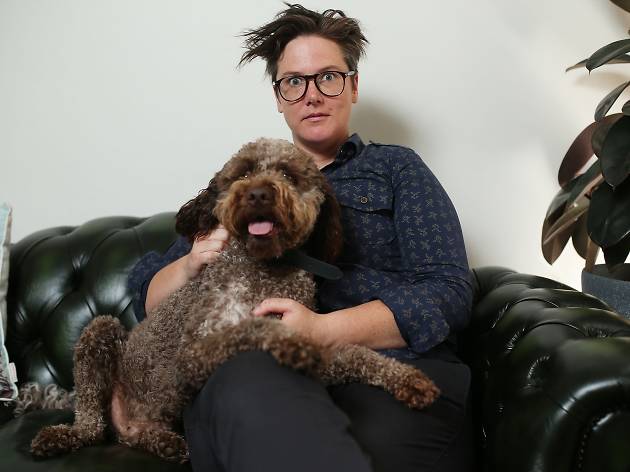 Douglas
"Every night I bring my owner a sock as a present"
Douglas is a young Lagotto Romagnolo (or to put it simply a brown, white and curly bundle of energy) whose mum happens to be much-loved comedian Hannah Gadsby. Earlier this year, Douglas got a glimpse of fame when he appeared on Hannah's poster for her show at the Melbourne International Comedy Festival. But really, he's more the down-to-earth type.
Douglas, can you describe your relationship with Hannah?
Oh, I love Hannah! I'm happiest when she's around. Even if she's just popped out for a few minutes, when she comes home I can't help my tail from wagging and my voice from quivering a little bit. Every night, I bring her a sock as a present, and then she lets me sleep at the end of her bed.
You must miss her when she goes on tour...
I do, but when Hannah goes away I get to visit my sister Frieda, who lives in Ballarat with Hannah's best friend. We have the best time together. One time we dug up the garden together and Hannah called me a hoodlum. Frieda put me up to it though, I swear!
Do you have any special skills?
Sure do! I have a very sensitive sense of smell, so Hannah taught me to sniff out truffles. I'm very proud of myself, although one day I found some truffle that happened to be inside nearly half a kilo of dark chocolate – and chocolate makes me sick. Hannah got worried about me and took me to the vet. They made me throw up, but I was smiling the entire time, which made Hannah laugh a lot!
Read more about the Secret life of Melbourne Pets.
Best selling Time Out Offers