Need a break from the hustle and bustle? We've got just the spot. In Melbourne's northwest, roughly 15km from the city centre, sits Hume City – easily accessible for those living in or visiting the Victorian capital. The region's roots date back 40,000 years, when the Gunung-Willam-Balluk clan of Aboriginal peoples first inhabited the area. Nowadays Hume City is a vibrant destination that houses a multicultural community of over 250,000 people, where residents and visitors alike enjoy amenities, a rich cultural history, and lush outdoor spaces.
From a surfing break to the closest wineries to Melbourne's centre, historic homesteads, multicultural eats, markets and more, here's what you need to know about Hume City and why it's sure to top your list of convenient getaways from Melbourne.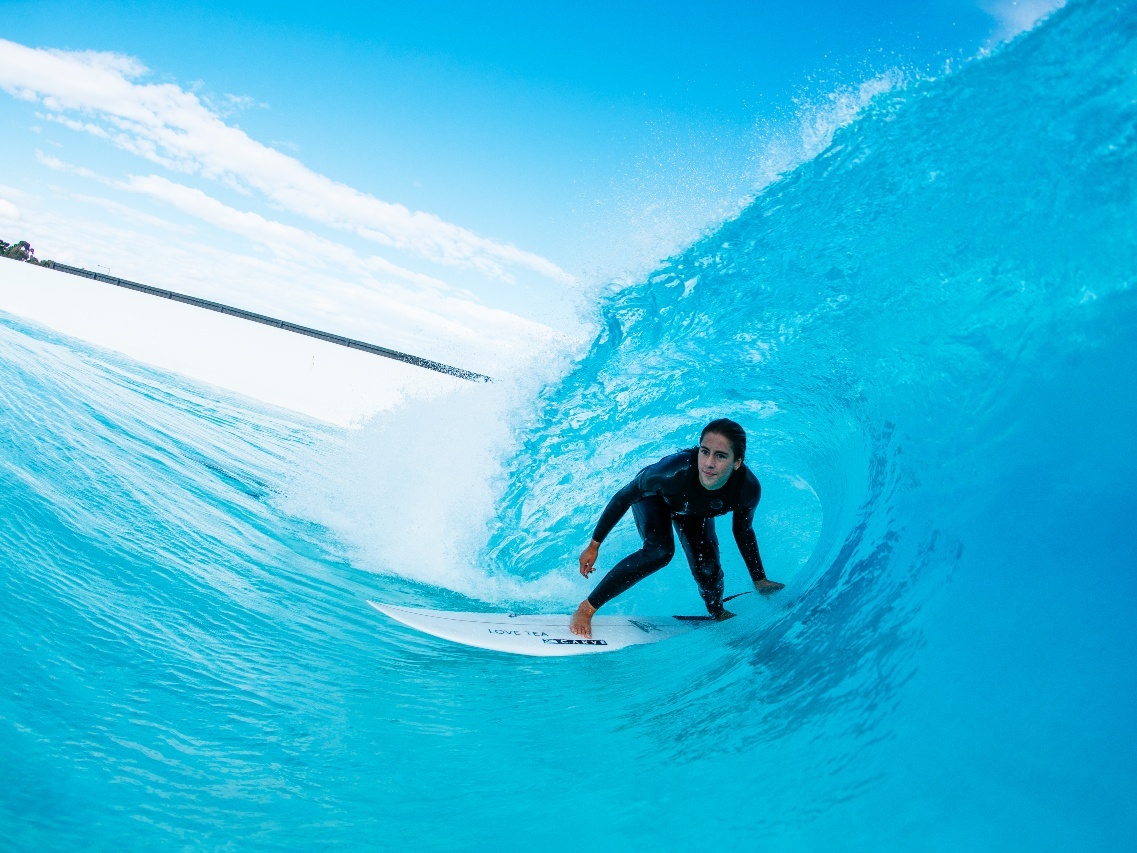 Photograph: Supplied
1. Urbnsurf & Three Blue Ducks, Tullamarine
Urbnsurf is Australia's first all-inclusive, year-round surf park, serving up perfect ocean-sized waves every time. Not a pro surfer? No worries! Urbnsurf has options to suit every price point and every skill level, from swimming in the tranquil bays to catching big, barrelling waves. Afterwards, there's no better way to wind down and warm up than by hitting the venue's hot tubs.
Finish your day by checking out Three Blue Ducks, the on-site restaurant co-owned by chefs Darren Robertson, Andy Allen (MasterChef) and Mark Labrooy. Featuring indoor and alfresco areas and beautiful views of the lagoon, the Ducks is a unique spot to enjoy a post-surf meal or celebrate a special occasion. Treat yourself to the smoky flavours of the kitchen's pizza oven, rotisserie and charcoal pit. No time for a sit-down meal? The Ducks also offers grab-and-go options, available from the takeaway window.
Photograph: Supplied
2. Hume wineries
Wineries in Hume City are the closest in proximity to Melbourne's CBD and include Marnong Estate, Arundel Farm Estate, Craiglee Vineyard and Goona Warra Vineyard.
Home to Cucina 3064, Caffè Vista, the Farm Shop, and the newly launched La Vètta, Marnong Estate in Mickleham is an unmissable highlight of Hume City. Here, you can sample the Estate's delicious wines while overlooking the stunning views of the vineyard. If a day trip isn't enough (spoiler alert: it rarely is), stay overnight at one of the Estate's modern cabins for a taste of rural luxury. Of these experiences, Cucina 3064 is no doubt one of the most unusual. Inspired by the neighbourhood kitchens of Italy, Cucina 3064 offers a friendly, warm, and relaxed environment with a menu to match. The expertly curated dishes blend flavours from the past and present, bringing the perfect balance to every meal.
Seated on 300+ acres of land in Keilor is Arundel Farm Estate, a family-owned winery and event space. With private dining rooms, traditional Italian cuisine, and rolling vineyards, Arundel is the chosen backdrop for occasions of all kinds, from intimate dinners to extravagant weddings. Visit the Estate's cellar door to enjoy a complimentary pre-dinner wine tasting from the comfort of your own table. Whether you sit inside or outside, you'll have no trouble soaking up stunning landscape views as you sip to your heart's content. All of the Estate's wines are grown on the property and handcrafted to perfectly match the signature flavours of the restaurant dishes.
Goona Warra Vineyard is an award-winning Sunbury winery and a popular destination for weddings and events. Currently closed for renovation, they are continuing to sell their wines online. Also in Sunbury, Craiglee Vineyard can trace its vine growing history back to 1863. The current winery has been in operation since 1979 and specialises in cool-climate shiraz and chardonnay.
Photograph: Supplied
3. Woodlands Historic Park, Living Legends & Woodlands Homestead, Greenvale
Interested in Victoria's cultural heritage? You'll love Woodlands Historic Park, a preserved state parkland that plays a key role in the story of the Wurundjeri Peoples. With scarred trees scattered about, the area is an important reminder of the land that existed prior to European settlement. Now, the area is widely considered an excellent walking and cycling spot. Tackle any of its circuits and you'll be treated to breathtaking views of the Melbourne cityscape and will likely encounter kangaroos and varied birdlife.
The park is also home to Living Legends, a Victorian Tourism Award Winner that offers a unique opportunity to meet equine royalty. The resident legends are retired champion racehorses who have been owned, bred, and spelled here since the 1840s. Get up close and personal with these magnificent creatures through a range of tours and packages, which include meet-and-greets and photo opportunities.
Next, head to the Woodlands Homestead, another must-see element of the park. This kit house was brought to Australia from Great Britain in 1843, and it now houses an expansive collection of art and historical artefacts. The Woodlands Café is another gem nestled in the homestead, serving snacks, light meals and very popular Devonshire teas.
Photograph: Supplied
4. Markets in Hume
Hume City is a hub for charming markets where you can eat, shop, and interact with local vendors. Held at the Marnong Estate, the Marnong Market in Mickleham takes place on the fourth Saturday of every month from 9am to 1.30pm. Here, you can explore the stalls and buy from some of the region's best farmers, artisans, and producers.
The Bohemian Bulla Market is another popular market that's hosted every third Sunday of the month (excluding January, June, and July) from 9am to 3pm. Featuring colourful stalls, psychic readings, and handmade local products, it's ideal for those seeking a market that's off the beaten path.
Taking place on November 12 and December 10 from 9am to 2pm, the Sunbury Village Market showcases goods of all kinds, including bric-a-brac, jewellery, and plants. While there, you can also indulge in some tasty barbecue snacks and coffee. The best part? You'll be supporting the Rotary Club of Sunbury and giving back to local community members.



For more inspiration on things to see, places stay and where to eat in Hume city, follow @discoverhume on Instagram and explore the hashtag #discoverhume
in association with