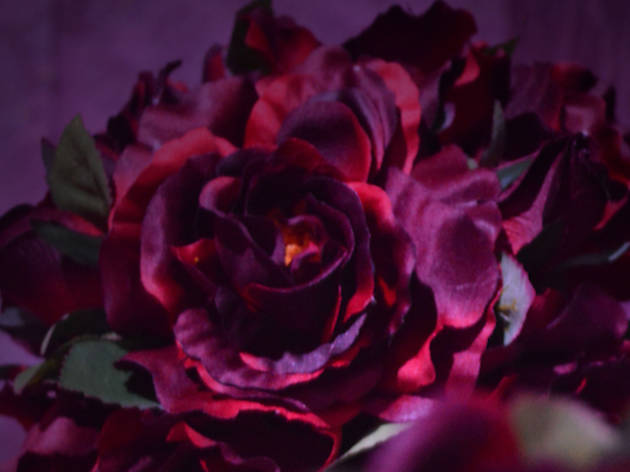 We brave the Vampire Chronicles room at one of the slickest new escape experiences in town
Malaysian company Interactive Games are taking the international escape room industry by storm, starting with Australia. In less than 12 months, they opened over 20 rooms in Malaysia, and plans are in the works to extend to the UK and South-East Asia.
They take the game seriously, and they want Melbourne to know it. Gliding off the escalator onto the first floor of a CBD mall, we're met by slick black-and-yellow branding and an army of busy, smiling staff. Posters and props spruik the six different rooms to choose from: a bandaged mummy beckons to an ancient Egypt room; a poster invites us to become insidious art thieves in the Gallery. Then, we notice the Vampire Chronicles room and our hearts beat harder. Do we dare to enter the lair of an ancient bloodsucking monster? We're told that it's a four-star rated difficulty, but hey, we're veteran escape artists, right?
Not exactly. In fact, we're stumped almost immediately. The room is a dimly lit homage to Gothic horror (no sparkly Cullens here) in a palette of purples, reds and blacks. Our erudite prince of the night has trapped us among paintings and bookshelves. Like the best Victorian vampire stories, the atmosphere here isn't one of schlocky gore or shock tactics – it's lush, eerie, pulsing dread. Slight claustrophobia sets in as we realise how small the space is. But wait a minute – what's that gap behind the bookshelf?
From here onwards, our escape from the Vampire Room becomes an emotional rollercoaster of feeling totally stumped, then unlocking some of the most brilliant surprises we've come across (one had us shrieking, dancing and laughing all at one). Satisfyingly tricky (yet solvable) puzzles make up for one or two bugs in the game, which really emphasise the importance of thoroughly testing the rooms. Ultimately, we fail because we leave a tool behind that we would've needed to solve the final clue – and really, in a game that's all about persistence and lateral thinking, one small mistake shouldn't doom the mission. But even though we're trapped like rabbits in a warren as the time runs out, we emerge feeling like we've seen what the shiniest escape rooms in Asia look like. And we want more.
Venue name:
Escape Room Australia
Contact:
Address:
Shop 9 & 10, upper ground floor
108 Bourke St
3000

Opening hours:
Daily 10.30am-11pm
Price:
$32
You may be interested in: