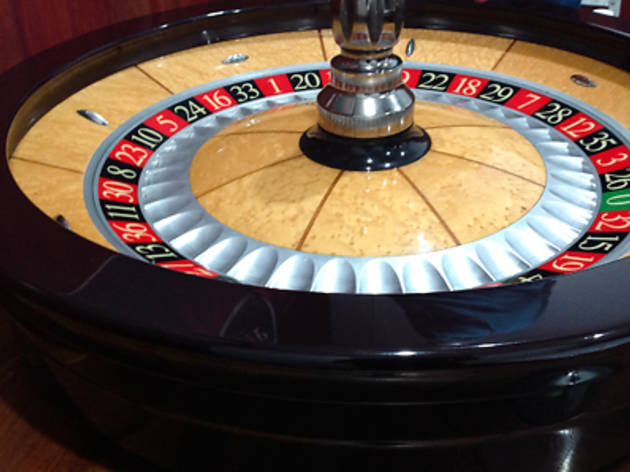 Become a CSI detective, an astronaut, a prisoner or a criminal mastermind at Melbourne's new puzzle playground
If you told us six months ago that escaping from rooms by solving puzzles would become the biggest craze since paintball in the '90s, then we would've told you to go back to whatever bizarre virtual reality world you came from.
But here we are. Race-against-the-clock puzzle rooms are firmly established in Europe, the UK and many parts of Asia, and have now made their way to Melbourne. When Flemington's Escape Room opened, whispers started circulating about a place where you could find hidden clues and break codes like the genius action hero you always knew you were.
Now, thrill-seekers are shouting a new name from the rooftops: Exitus. When team Time Out finds our way into the complex we're faced with our first decision: which of the five themed rooms to choose from. We're told that each room caters to different levels of difficulty – and all manner of phobias. The Apollo Mission room, which Exitus co-owner James Miller dubs the most difficult to figure out, begins in total darkness and runs under the terrifying assumption that oxygen will run out in 45 minutes. Of course, visitors can leave the room any time if need be, but we save that one for next time.
A more whimsical choice is the Oz-tastic Yellow Brick Road room or the Oceans Eleven-esque Casino Heist option. For lovers of gritty realism, there's the Prison Break cell.
But for team Time Out, we can't go past CSI Melbourne room. Maybe it's morbid fascination; maybe it's the chance to channel our inner David Caruso. We enter the 'lab', and for a moment, it's all blinding white light. Our eyes quickly adjust to find a covered body on a stretcher and all the test tube trappings of a laboratory. We're told that if we can't figure out who killed our fellow detective in 45 minutes, we'll suffer the same fate as he did. A model skeleton grins at us from the corner.
The glaring red timer is bleeding precious minutes. To decipher the various number-based riddles, we split up, we disagree and we shriek with glee every time we get one step closer. We quickly pinpoint our shortcoming – maths. Our tip: look for a calculator as soon as possible, unless you're some kind of times-table wizard. But while our mild numerical dyslexia slows us down, we punch in a final (and damn hard to decipher) code with seconds to spare, praying it's the right one. Against all odds, it opens! We're out, we're safe, and our hearts are about to leap from our chests. A staff member asks us if we want a victory photo taken (of course we do) and just like that, we're throwing ridiculous poses that will be forever captured on polaroid and mounted on the leader board for all to see.
Well, that is until a cleverer bunch of detective wannabees comes along and thinks they can bump us off the list. Go on, we dare you.
Venue name:
Exitus
Contact:
Address:
Strike QV
245 Little Lonsdale St
Melbourne
3000

Opening hours:
Daily 10am-late