Fourth of July at San Antone by Bludso's BBQ
1/5
Photograph: Supplied
2/5
Photograph: Supplied
3/5
4/5
Photograph: Supplied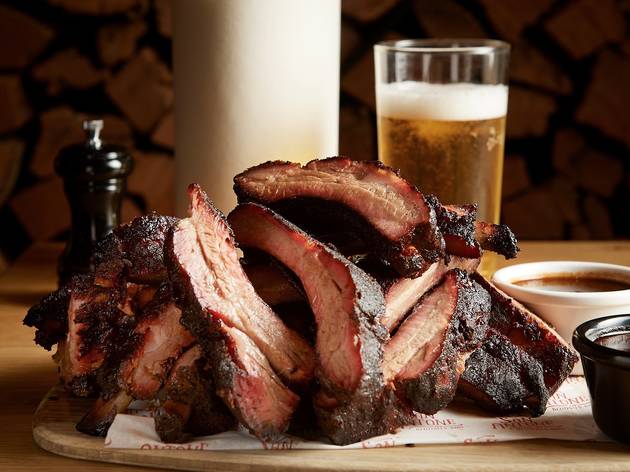 5/5
Photograph: Supplied
[Sponsored] Learn how to cook American-style barbecue with a true pitmaster
Crown Melbourne's smoky American barbecue joint San Antone by Bludso's BBQ is pulling out all the stops to celebrate the Fourth of July this year. Kevin Bludso – a third generation barbecue pitmaster originally from Compton – is flying all the way from Texas to Melbourne this July to show us how the pros barbecue.
Bludso himself is hosting two exclusive events at San Antone to get punters in the Fourth of July mood. Unleash your inner barbecue beast and learn all the tips and tricks of a pitmaster extraordinaire with Bludso's interactive 101 masterclass. If you're serious about American-style barbecue, this event is a fantastic chance to learn from someone who has barbecue sauce running through their veins. As well as learning the ins and outs of how to barbecue, guests will also get tastings, two selected drinks and a jar of Bludso's top secret barbecue pork ribs spice rub (the spice rub equivalent to Macca's secret sauce).
For those who'd rather skip right to the best part of the Fourth of July book in for Kevin Bludso's Fourth of July backyard barbecue event at San Antone. There will be, naturally, mountains of tender, smoky meat as well as live entertainment, drinks and giveaways. In the true spirit of 'Murican freedom the event will feature an all-you-can-eat buffet with plenty for even the hungriest punter. Tickets also include three drinks (get a Budweiser – they're on tap), live entertainment, prizes and a chance to meet the man himself, Kevin Bludso.
Get ready to barbecue with the best. There are two 101 masterclasses happening from July 1 to July 2, with the big barbecue happening on July 4 at San Antone. Tickets for both events can be purchased online.