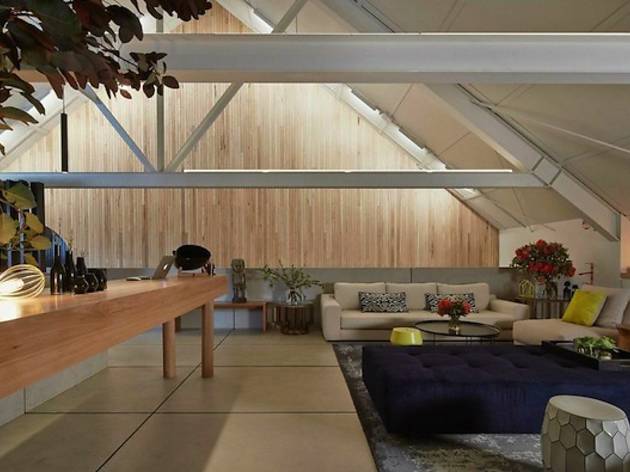 Time Out says
Do you like your yoga hot, aerial or naked? Well here's something we guarantee you haven't tried: humming yoga
The first yoga studio to vibrate as you invert is based in Prahran and now open. The room hums at a frequency of 40 hertz, which is the same as the gamma-wave frequency of your brain. Add to this a 7.83 hertz isochronic tone layer that's thought to be the resonance of the Earth, and the idea is that you'll leave the practice feeling completely balanced.
Sound a bit too much like a Throbbing Gristle gig to be relaxing? Time Out tried it and can vouch that the bassy hums make for a meditative experience. They've been oscillated into a music track by OneTwoStudios – but, in fact, you stop hearing them after the first round of positions.
This 'vibrational entrainment' theory is based on the findings of 17th-century Dutch physicist Christiaan Huygens, who observed that when the pendulum clocks he invented were hung from a common beam, the back-and-forth vibrations in the beam wound up perfectly synchronising the pendulums. It's an idea that has been embraced by the modern-day new age community, who point to its rooting in science (although beware of any such claims that use the word 'quantum', for god's sake).
Melbourne couple Chris Koch and Jackie Alexander had the idea to utilise frequencies last Valentine's Day over dinner. Previously, Koch had owned a tech company – 1Form Online – and Jackie was managing a dental practice, but it was her commitment to yoga that has resulted in creating a more meditative experience.

"Vibrational entrainment basically means everything around us is vibrating and has a frequency," says Koch over a herbal tea in the reception area. "If you bang a piano tuning fork and it's ringing, you can bring a second, still one towards it and the two don't even have to touch for the second one to start ringing."
Similarly, he says, if you feel something in your body is out of alignment, it's possible to bring it back by drenching it with the right frequency. "The guy who composed our music used the concept of binaural beats – which is putting different frequencies or beats into each ear, which then brings your brainwaves into a certain alignment – and managed to achieve that without the use of headphones."
Humming Puppy is no one-trick gimmick, however. In fact, it's the most relaxing, spa-like studio Time Out has visited, with far better showers than you're likely to have at home. The shoulders instantly loosen a notch just being surrounded by earth colours, stone and wood. Included within the class price (you choose between mellow, unified and dynamic) are coconut water, tea, shampoo, conditioner, hair ties, towels and even iPhone chargers in the lockers. The idea is that you don't need to bring anything with you – including the mats, of course. You can book your mat online, much in the same way you would select an airline seat, which means no more turning up 30 minutes early to stake your place like a German tourist.
"You get a workout but at the end of it you feel like you've been to a day spa," says Koch proudly, "so we wanted to get that look to match."
Choose from individual classes ($25), monthly membership ($195) or a two-week intro offer of unlimited classes for $50.
Details
Best selling Time Out Offers