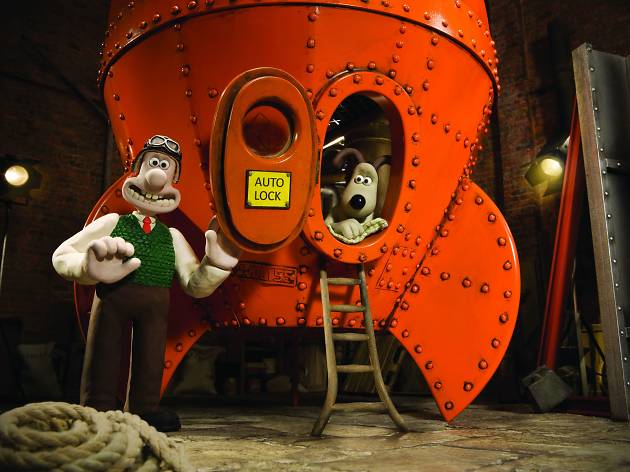 Meet your most-loved Aardman Animations characters at ACMI
It's hard not to have a soft spot for the claymation creations from this much-loved animation studio
Whether you know Aardman from Morph, Chicken Run, Wallace & Gromit or Shaun the Sheep, it's hard to deny the impact the Bristol-based studio had on the animation industry and on pop culture for children and adults alike. In an era where computer generated imagery is commonplace, Aardman have carved their own path with their quirky claymation characters and idiosyncratic humour.
This summer, you can meet all your favourite Aardman characters at ACMI's exhibition Wallace & Gromit and Friends: The Magic of Aardman, on until January 29. Here, you'll get up close to extraordinary sketches, incredibly detailed set models, and even build your own clay character and make a short stop-motion animation. It's the perfect adventure for families, with just as much wonder to be found for kids as there is for grown-ups.
Take a journey with us as we re-visit some of our favourite Aardman characters over the years...
The 5 most loved Aardman characters
Photograph: Supplied
If you have small children you likely can't read 'Shaun the Sheep' without the theme song playing in your head. The plucky young sheep first appeared in the Wallace and Gromit film A Close Shave but later went on to star in his own very successful television spin off. Mischievous, resourceful and extremely good and explaining complex instructions by bleating, Shaun is a sheep not to be messed with.
Photograph: Supplied
The intelligent, long suffering but ever loyal Gromit is the straight man (or straight dog) of the Wallace and Gromit series. Able to cook, clean, fly a plane and even knit you get the feeling that Gromit is actually looking after Wallace, not the other way around. He's every bit as intelligent as Wallace and arguably far more responsible. Whether he's walking on all fours our standing upright on two, Gromit is undeniably one of Aardman's most beloved characters.
Photograph: Supplied
The wide-eyed Morph is one of Aardman Animations's oldest claymation creatures. Child-like and with a sense of curiosity to rival a cat's, the orange-bodied Morph gets into all sorts of strange situations during his short episodes. Luckily his ability to 'morph' into practically any shape means he's pretty good at getting out of said strange situations. Morph is offset by his markedly naughtier friend Chas though they both have a soft spot for cake (don't we all).
Photograph: Supplied
Possibly the most sociopathic penguin of all time, Feathers McGraw is a nuanced villain. A bird of few words, his deliberate silence makes him an unsettling presence on screen despite his cute claymation appearance. Coupled with his manipulative behaviour and kleptomaniac desires he's a surprisingly terrifying antagonist. His most dastardly deed? Using a rubber glove to disguise himself as a chicken.
Photograph: Supplied
Soft-spoken and gentle Wendolene Ramsbottom owns our favourite (fictional) wool shop. Unexpectedly, she also owns an evil robotic dog. Wallace first meets Wendolene while washing her shop windows, and he's instantly smitten. Their love wasn't meant to be though, with their differing opinions on cheese coming between them (she doesn't even like Wensleydale).
Best selling Time Out Offers