Pop & Scott Workshop Cooperative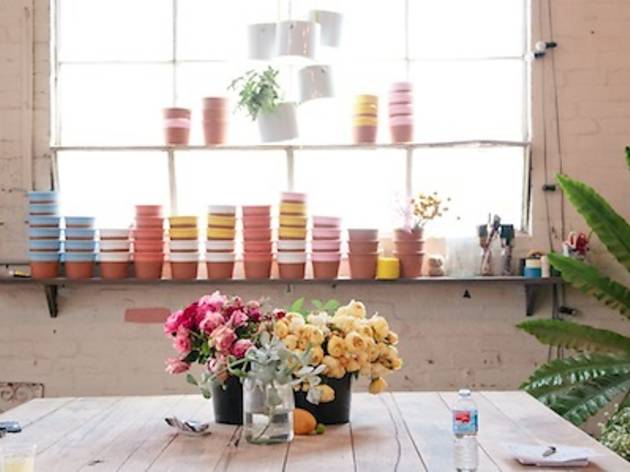 Melbourne's first cooperative workshop is a hub for creative types, says musician and craftsman Sime Nugent
Pop & Scott is workshop cooperative in downtown Northcote that is all about developing a creative space. Founded by Poppy Lane and Scott Gibson, it's warm and inviting and you can be sure there is always something exciting is happening on any given day.
"It's a wonderful facility and it's really nice to work with people who are excited about what they do, are happy, and work really hard to be good at what they do," says Sime Nugent, part-time furniture maker at Pop & Scott and band member of
Sweet Jean
. "There's a bunch of people doing a bunch of interesting things there. There are painters and potters, musos that make furniture and flat out furniture makers and Poppy's a florist."
His bandmate Alice Keath adds, "It's cool – we dropped in there the other day just to pick something up and there's a band in there getting their photographs taken and someone else is painting something in the other room and its just such a great vibrant space."
If you're up for learning a new craft, or want to brush up on your already existing skills, you can enrol in classes on a range of subjects including dying textiles, floristry and carpentry. If you're in the market for some new furniture check out the online store, but if you would like to create your own, you can rent space in the workshop for $25 an hour, $150 a day or $600 a month, which includes access to tools, machinery and work benches.
Has Nugent ever made something for Keath? "One of my favourite objects in the world is at Melbourne Museum and it's a little petrified tree with about maybe 50 finches, tiny little golf ball birds just sitting in this tree," says Nugent. "And so I made one of those, it hasn't got fifty, it has about 12 birds. But it makes me kind of happy you know, kind of calm, in that slightly scared way."
It's not all fun and games though. "Lot of stuff gets done there," say Nugent. "Everyone is very hard working and they're putting out a lot of work, which is great because there is a constant turnover in the place in terms of ideas and new things to look at. It's wonderful."
Venue name:
Pop & Scott Workshop Cooperative
Contact:
Address:
27 Hayes St
Northcote
Melbourne
3070