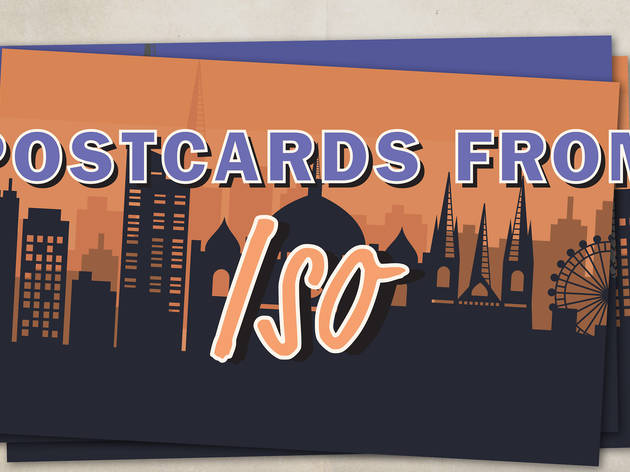 Postcards from Iso
Share what you've been up to while at home and you could win a Melbourne prize pack worth over $1,000
We miss Melbourne. We miss rooftop bars and underground music venues. We miss eating food surrounded by friends and family, and we miss chatting to people in nightclub bathrooms. We miss walking along the Princes Bridge towards the arts precinct, giddy with excitement. We miss the MCG, Flinders Street Station and the Botanic Gardens.
It's really easy to just chuck two middle fingers up to the world right now. This is obviously not how we expected to start a new decade. It's also not how we wanted to be spending the next six weeks. But if there's any fight left in you Melbourne, we're asking you to remember why we're doing this (again) – it's so we can do all those things again, and soon.
Seeing as we're going to be spending even more time online over the next few weeks, we decided to launch a new weekly segment. It's called Postcards from Iso, and it's where we'll be sharing stories, photos, silly fun facts and brilliant inspiration for the remainder of lockdown. And we want you to help us create it.
Want to tell us a story? Share a recipe? A cocktail you ordered from your favourite Melbourne bar? Maybe you saw something cool on your walk around your neighbourhood? Maybe you made a homemade version of Casper the Friendly Ghost and you think someone should see it. Maybe you made a silly TikTok video or a meme about Brett Sutton. Whatever the medium, whatever the message, we want to see it. We want to see what's keeping you busy right now, what you're doing to pass the time, and what's making you smile.
So send us your stuff! Nothing is too silly (just as long as it's PG-rated). We'll be sharing some of our favourites every week so that you can enjoy them, too. At the end of lockdown, we're going to pick our favourite submission, and they'll score a super-cool Melbourne prize pack, which features a $1,000 Cargo Crew voucher and a $200 voucher for Arbory Bar & Eatery for you to use when we're back drinking by the Yarra again.
You can submit your stuff via the button below.
THIS COMPETITION HAS NOW CLOSED.
Here are some of our favourites so far...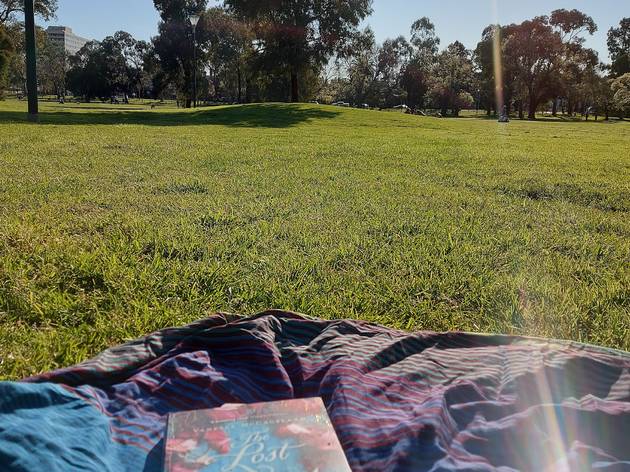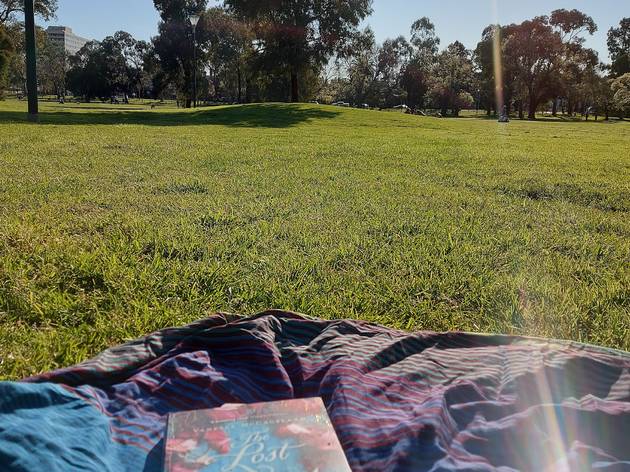 Photograph: Supplied
"I purchased a bike and I've been riding to different parks and getting through many books whilst sitting on my picnic blanket."
- Submitted by Emma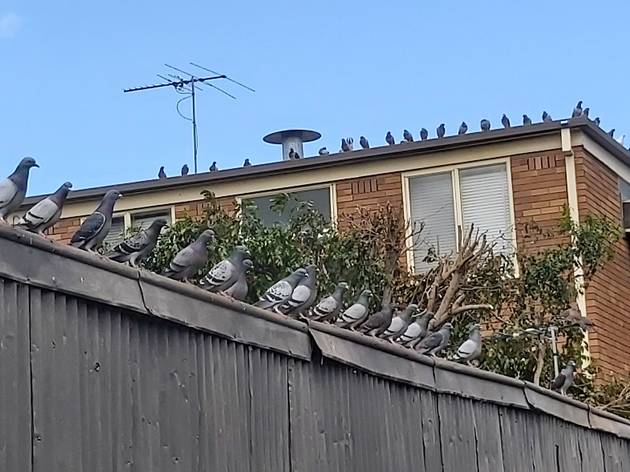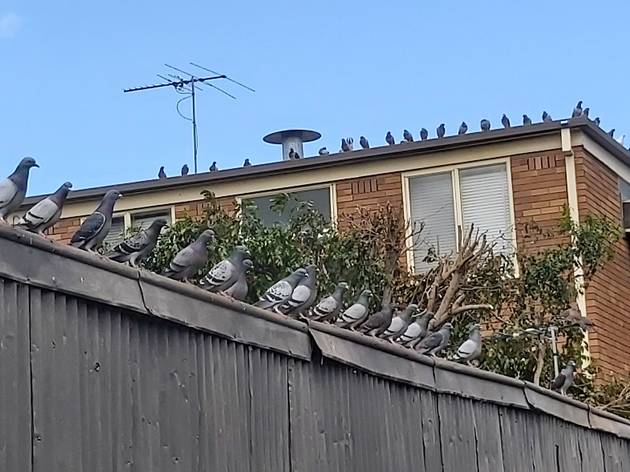 Photograph: Supplied
"I've been playing Tourist In My Own Town. By which I mean, my own 5kms. Walking, finding all the nooks and crannies, exploring down local streets, googling histories, ogling grand properties, and – because it's Melbourne – trying new coffee places. Amazing what you spot when you look up!"
- Submitted by Anita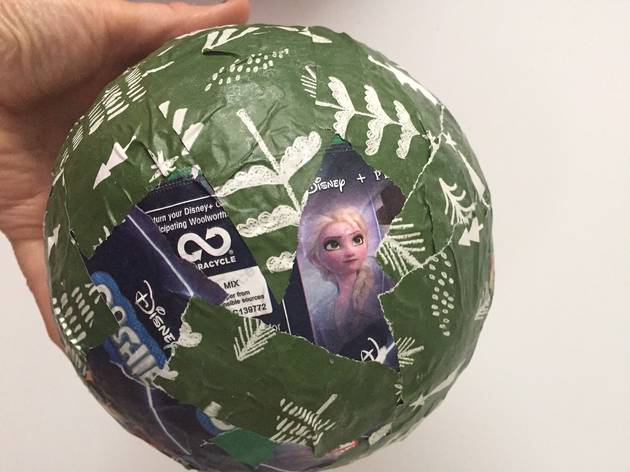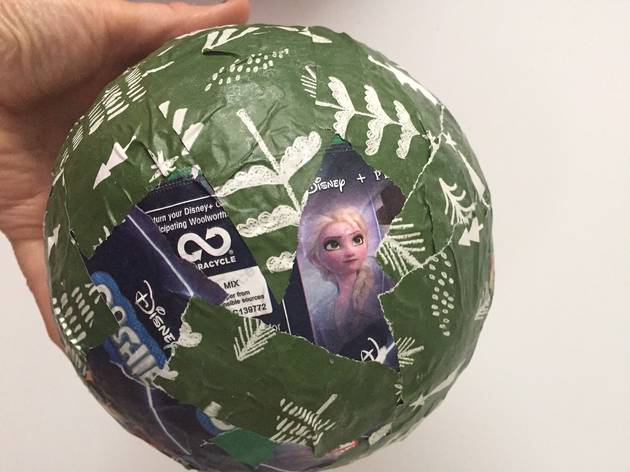 Photograph: Supplied
"I kept busy by sorting through old paperwork in my filing cabinets, such as bank deposit book stubs and tax receipts from 15 years ago! As I was tearing them into tiny pieces, I decided to turn them into a papier-mache project. I used the wrapper from the supermarket toys as well as some secondhand wrapping paper to make the outer layers more attractive. Also used up some old bottles of Clag from when we did homeschooling (by choice, long before Covid-19 lockdowns made it compulsory for everyone!) A cheap craft idea that recycled some waste paper – and I happily gave the first completed project to my niece and nephew as a soccer ball!"
- Submitted by Barbara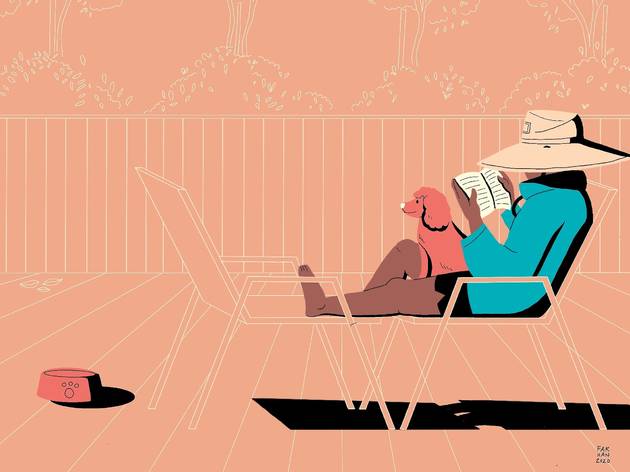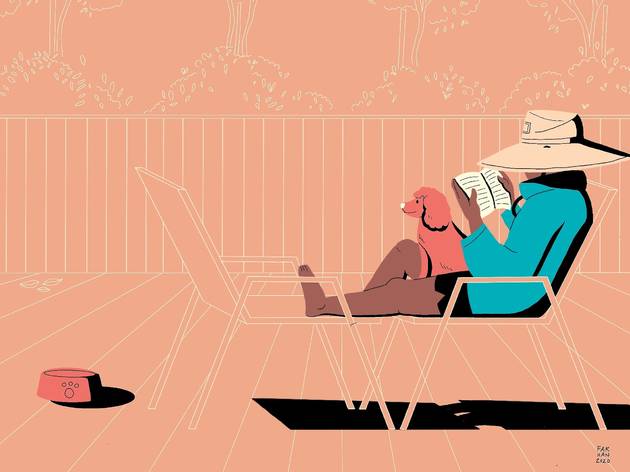 Photograph: Supplied
"Those rare moments in Melbourne when the sun is shining and all you want to do is chill at the backyard with a book and your little pal by your side."
- Submitted by Farhan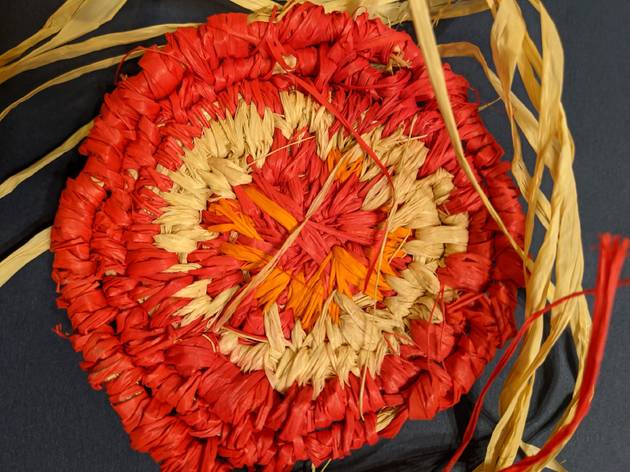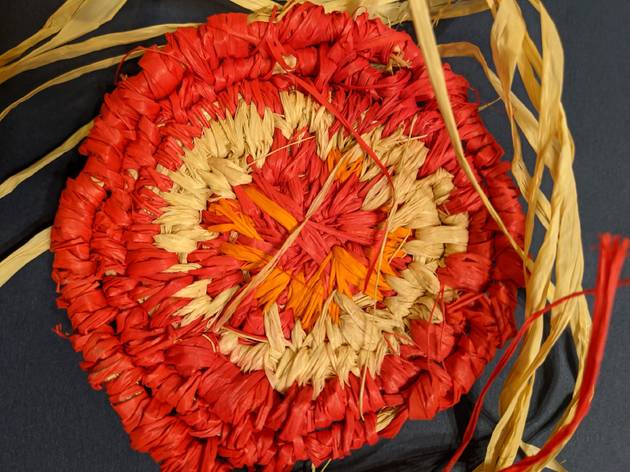 Photograph: Supplied
"I have been trying to learn basket weaving in the tradition of the Tjanpi Desert Weavers, who are an enterprise of the Ngaanyatjarra Pitjantjara Yankunytjatjara Women's Council. Their baskets, bowls and other fibre art are so skilful and beautiful. I often think about the women sitting and sharing stories as they weave. As the weather improves I am now hopeful that may be able to visit Darwin and attend one of their workshops. I'm really missing the opportunity to sit and make art and craft with other people."
- Submitted by Poppy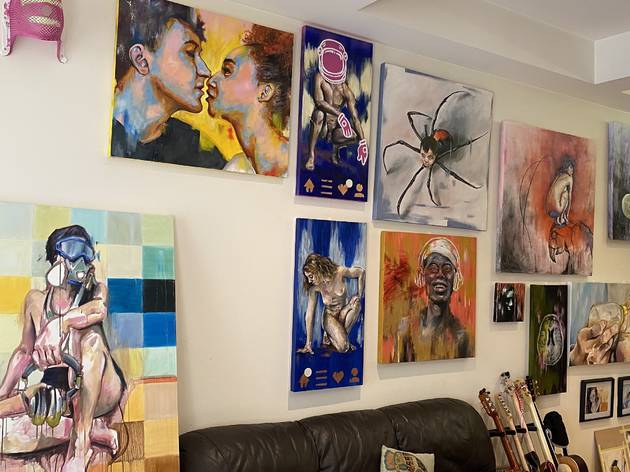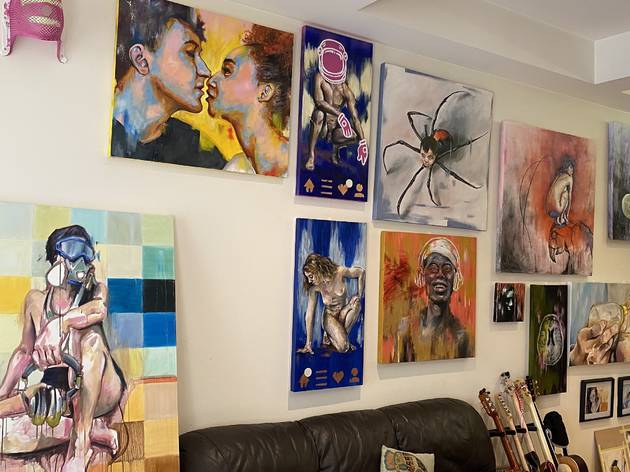 Photograph: Supplied
Getting inspired to paint
"My partner has been painting like a man possessed. He started a new series of paintings in Feb which ramped up during the lockdowns and is now temporarily covering our apartment walls completely. I don't mind at all. You can see some of the work here."
- Submitted by Liz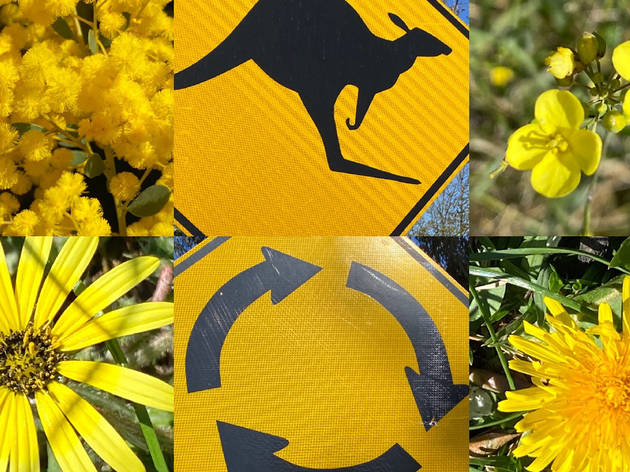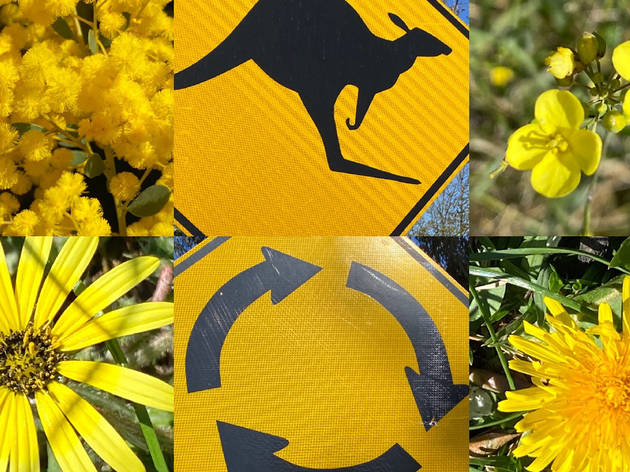 Photograph: Supplied
"Every day during this severe lockdown stage 4, we had this one hour of allowed walking time. How you can make the best of it, and how to take your mind away from the dark thoughts? My answer was a colour hunt. Lots of my friends joined me on this journey and they called it Lockdown Rainbow Challenge. That was the loveliest time to do these images - Blossoming Spring Time! How many colours! How many beauties we are passing by without noticing every day! I truly enjoyed this task I gave myself, and more than that, it definitely helped me to feel better emotionally. And how happy I was when I started receiving my friends colour boards from all around Melbourne! Amazing! Happy to share with you guys! Stay Safe and Entertained! Colour therapy at its best!"
- Submitted by Anna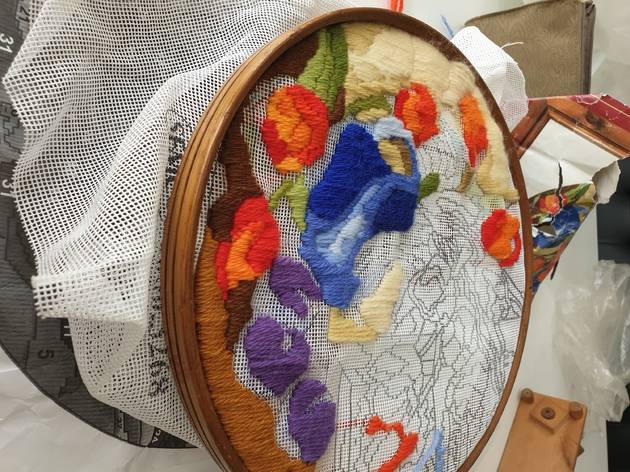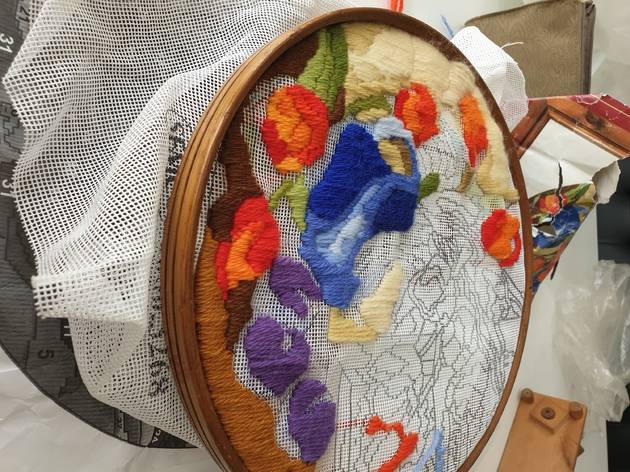 Photograph: Supplied
"I bought it 20 years ago and I have finally gotten enough time to finish it."
- Submitted by Jenny
Photograph: Supplied
"Every weekend for about 8 weeks I dressed up in wigs and different outfits pretending to be different people and taking photos of different scenarios. It made solo life in lockdown seem a bit less lonely and made me laugh."
- Submitted by Michelle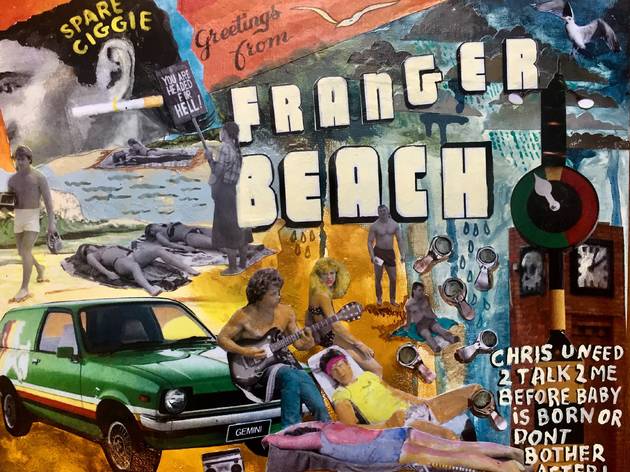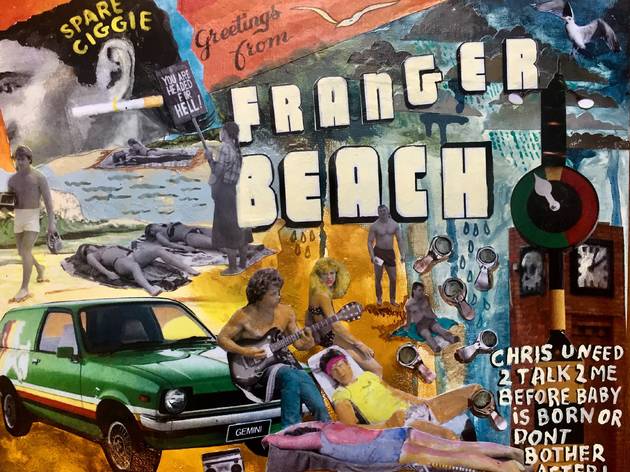 Photograph: Supplied
"Apparently nostalgia has psychological benefits in times of a pandemic crisis? (NatGeo article) Although l made this work today, l don't feel a wistful longing to go back to Frankston in the 80s..."
- Submitted by Kelly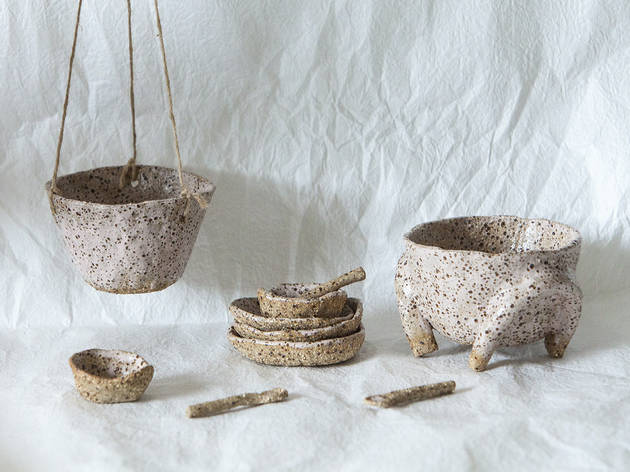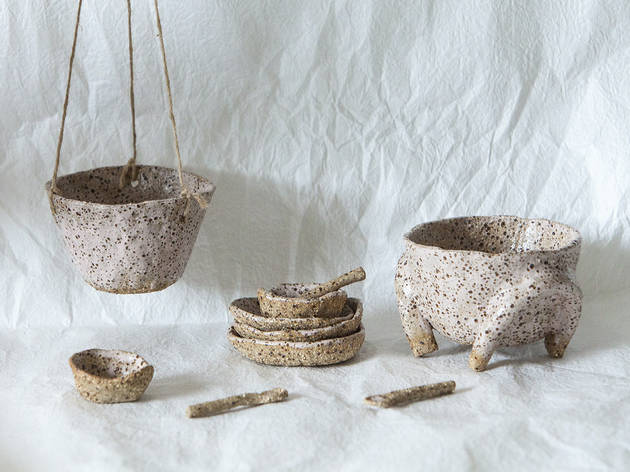 Photograph: Supplied
"I've been spending most of my time making pottery with my partner, and we started a ceramics brand called Spicy Tofu Ceramics! We hope to have a little shop open soon, but for now our Instagram is @spicytofuceramics."
- Submitted by Steph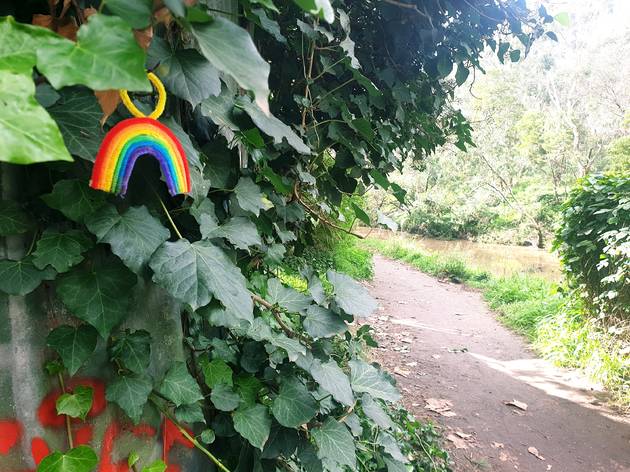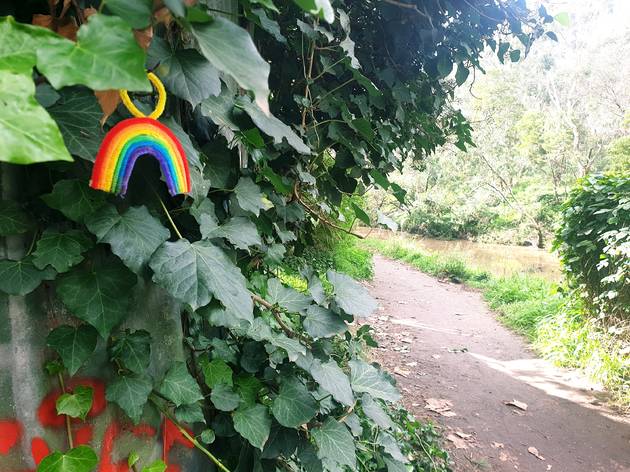 Photograph: Supplied
"At the beginning of Covid I loved all the rainbows proudly displayed in my neighbours' windows, spreading some joy on peoples daily walks. I wanted to do the same so set out to cover as much of Melbourne as I could in pipe cleaner rainbow tree decorations. I have made about 500 now but still want to make more... Maybe some Melbournites may like to join?"
- Submitted by Amy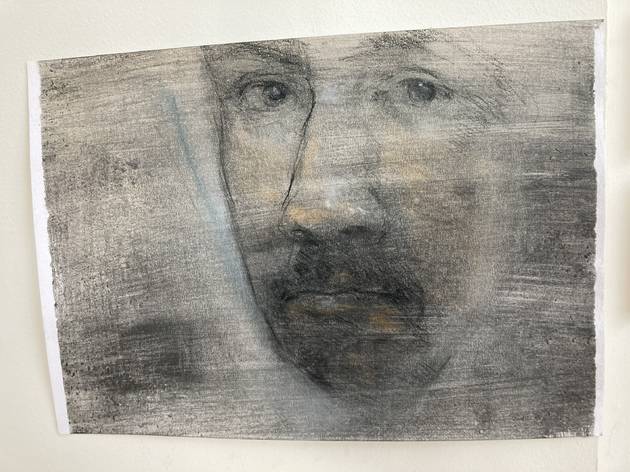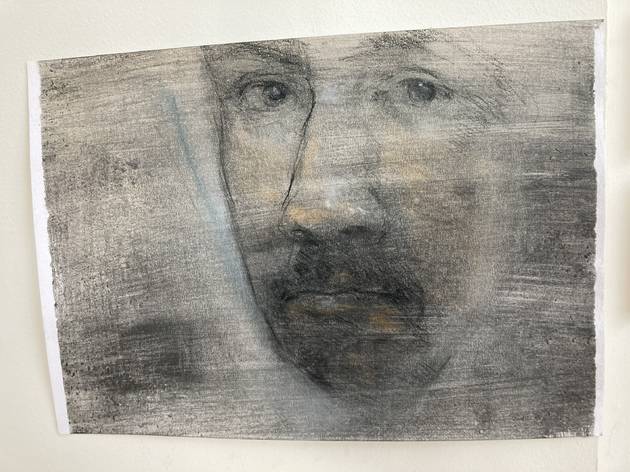 Photograph: Supplied
"Drawing... iso selfies... more at @il_berts."
- Submitted by Bert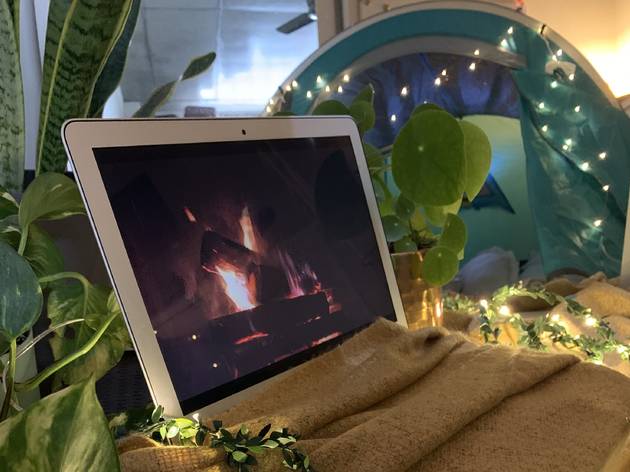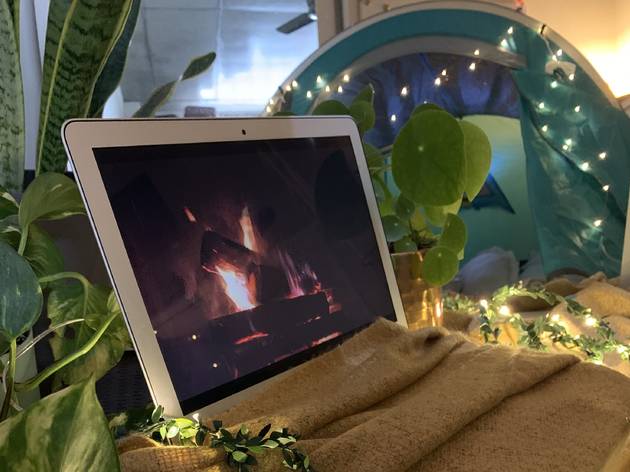 Photograph: Supplied
"Feeling seriously burnt out with no holiday in sight I decided to pitch a tent in my study and glamp for the weekend. I filled the tent with cushions, tuned out to nature sounds and a 'campfire' and emerged a new person."
- Submitted by Amy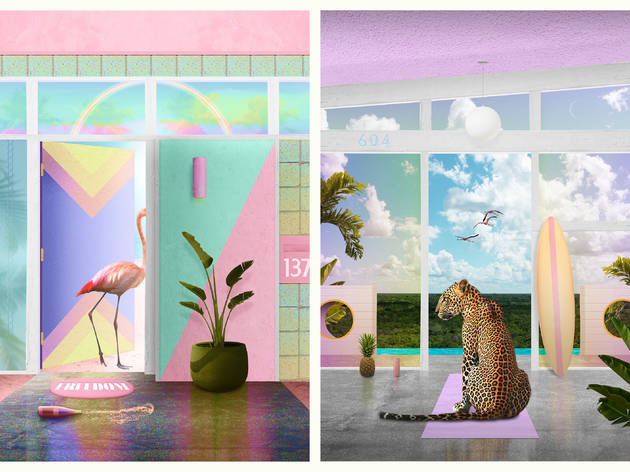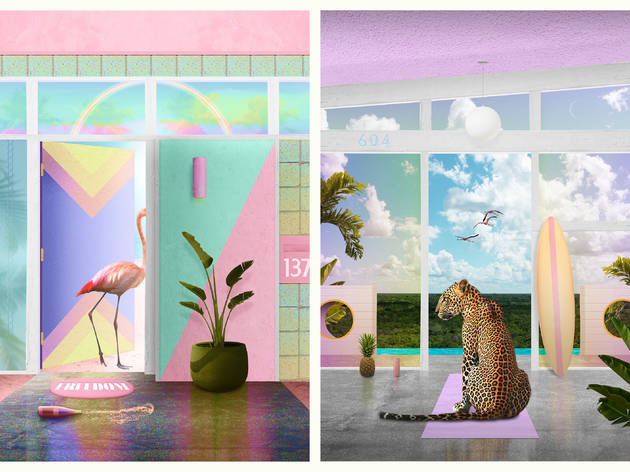 Photograph: Supplied
"CV-19 has provided me with a new purpose for my artwork. I hope it makes people escape from the reality of what's happening in Melbourne for a minute or two."
- Submitted by Colin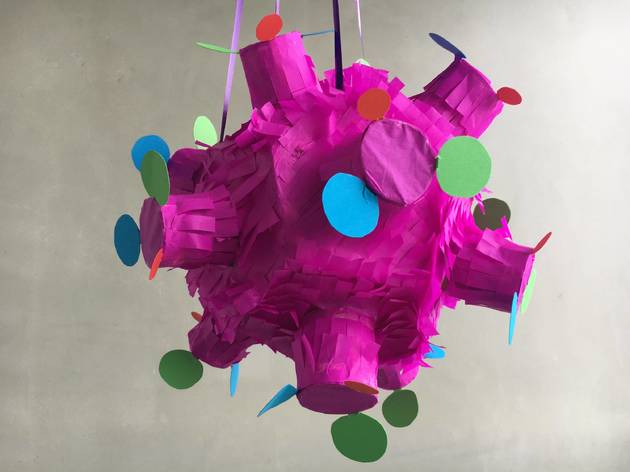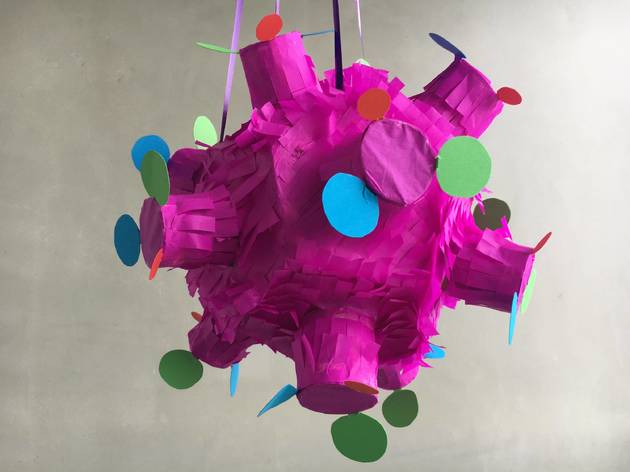 Photograph: Supplied
"I've been using the packaging from online shopping to make piñatas. Making them is a great activity to indulge in while bingeing, and I've been able to leave them on the doorsteps of mates living within five kilometres while exercising. Receiving them is a fun surprise, and beating them makes for a great iso weekend activity. So far I've made a donkey, a fish, a cat and a cocktail, but my favourite has to be the 'roñata'. Not only was it made using elusive toilet rolls, it allows people to vent their COVID related frustration and literally, beat the 'rona."
- Submitted by Nicole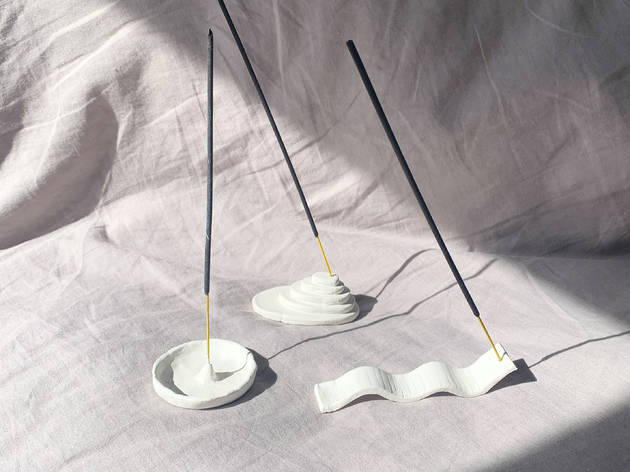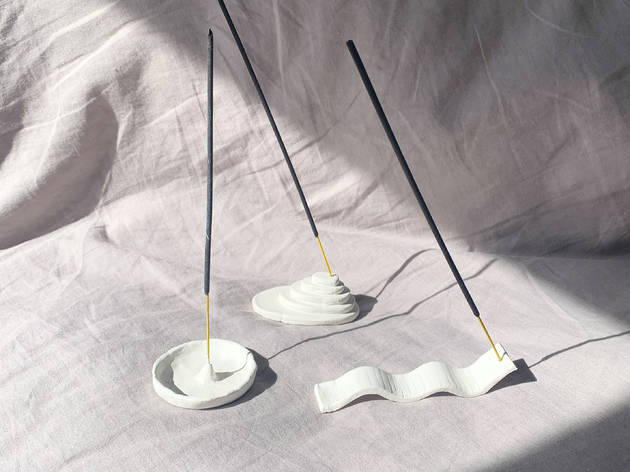 Photograph: Supplied
"Air-dry clay obsessed. I'm not normally crafty but it's so relaxing. And if you stick incense in it, it becomes an incense holder."
- Submitted by Harriet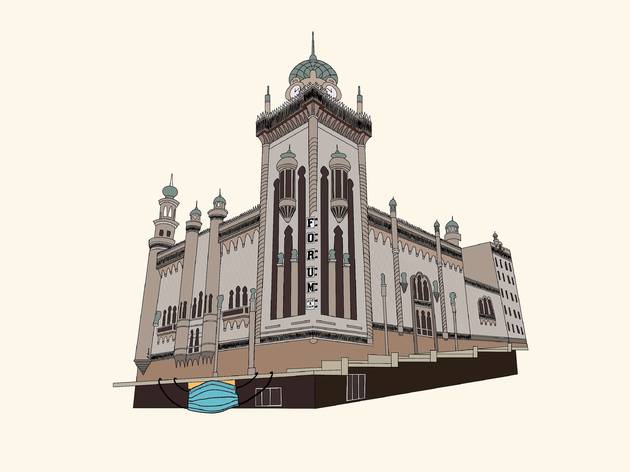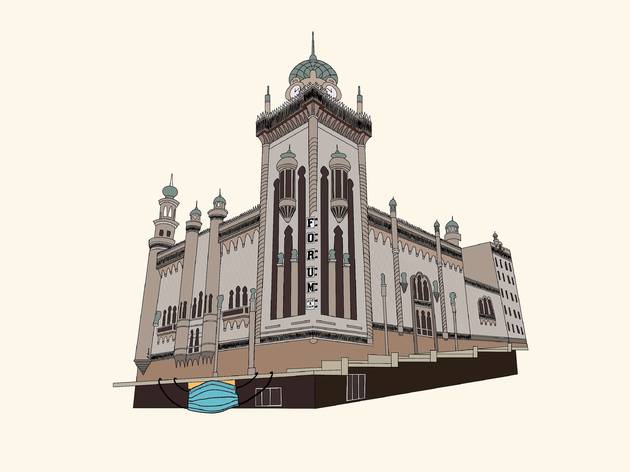 Photograph: Supplied
"Mask Up Melbourne: A series encouraging Melburnians to mask up!"
- Submitted by Bridget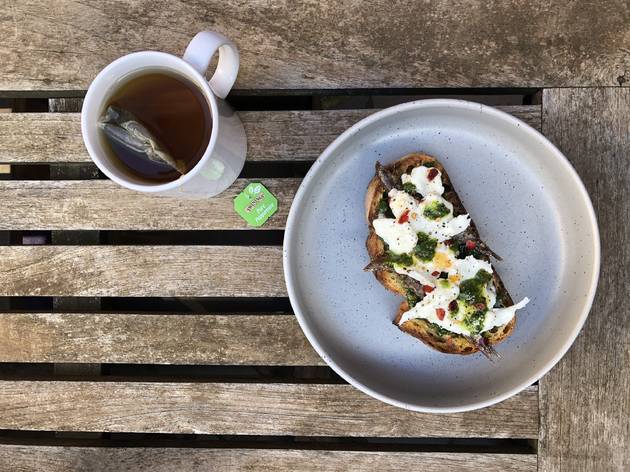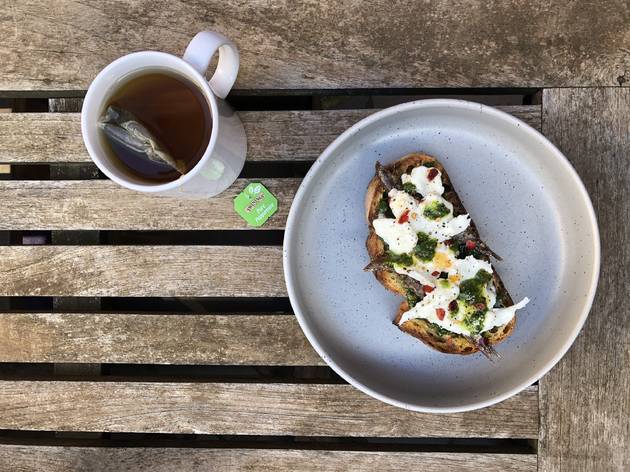 Photograph: Supplied
An unprecedented number of breakfasts
"Since March when we started working from home, a mate from work has shared a photo of his daily isolation breakfast with our team. We created an Instagram account to showcase the creations and we're very close to hitting 100 days of Unprecedented Breakfasts! The guy truly is a walking, talking social influencer!" Check it out @unprecedentedbreakfasts.
- Submitted by Brooke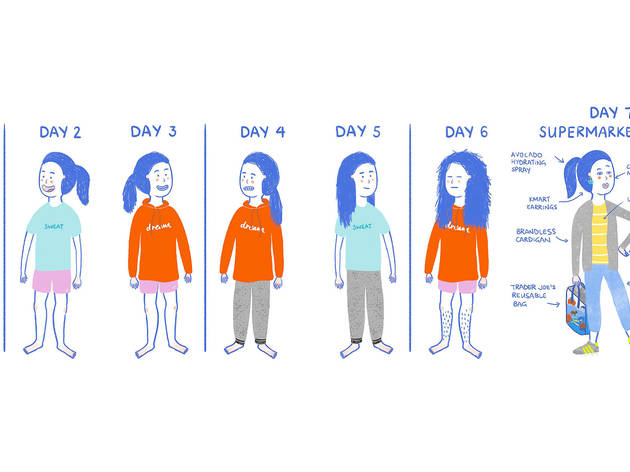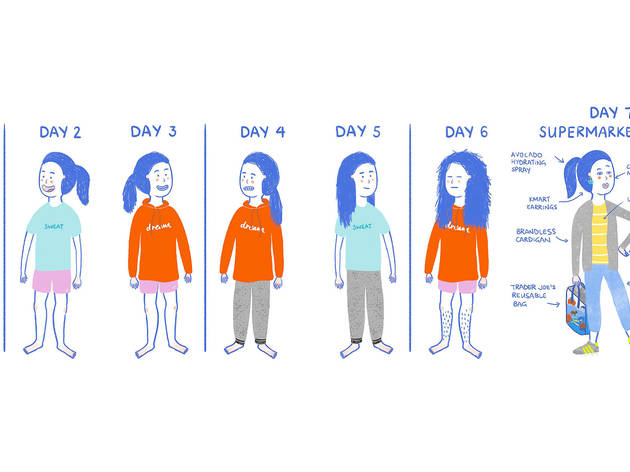 Photograph: Supplied
"This is a comic I have drawn titled "What Day Is It". I've been staying home and the longest time, and only going out for a quick supermarket dash when necessary, and I pretty much look like this..."
- Submitted by Tess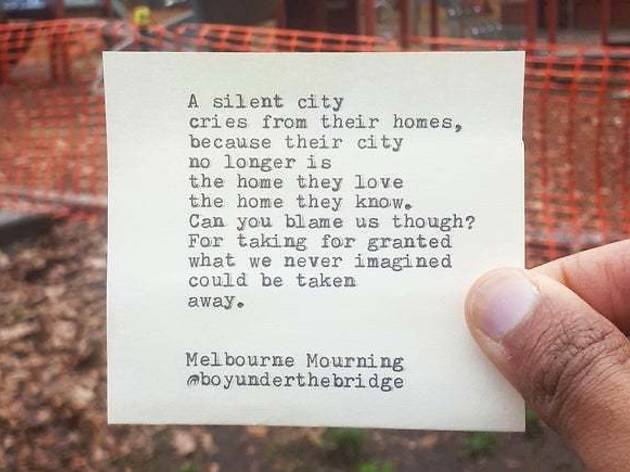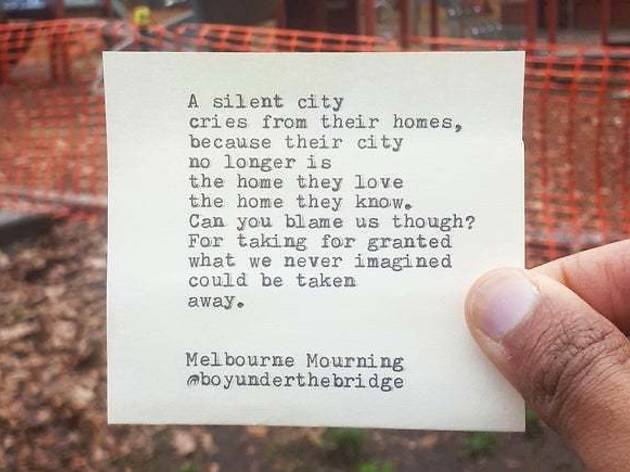 Photograph: Supplied
"I've been writing pieces on my typewriter then posting them around for people to find!"
- Submitted by Ricky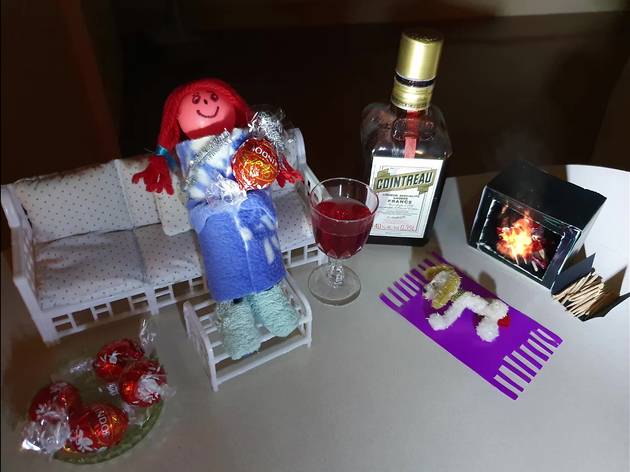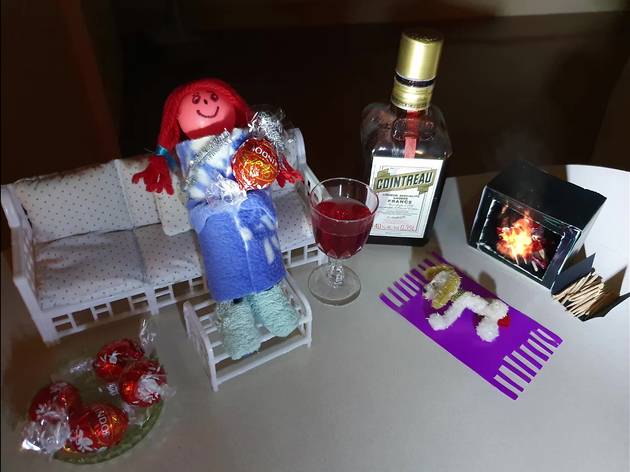 Photograph: Supplied
"Since the first lockdown in March, Lady Toilet Roll has taken us on a journey through her life during the pandemic providing her audience with laughter and reflection. With her daily posts (now weekly) she shows us different aspects of her daily life – bingeing on chocolate, cutting her own hair, relaxing in front of the fire, having a COVID test and celebrating the birth of her first grandchild – all things that might be happening to you. And she does it all with a smile and a tinge of humour. She has her own Facebook and Instagram pages and just loves providing some light relief for people in difficult times. And it allows me (her creator) to share my stories and to be creative."
- Submitted by Diane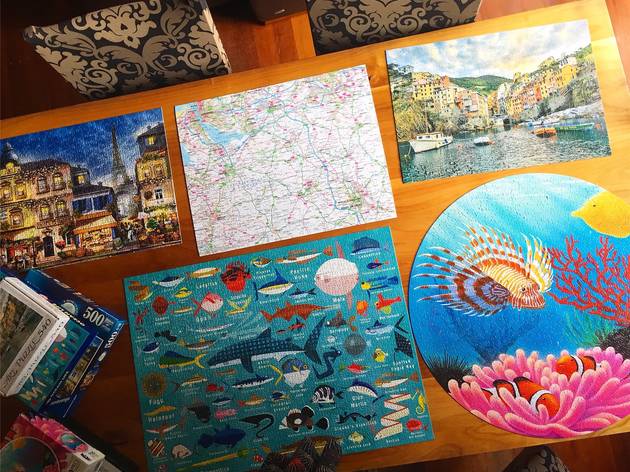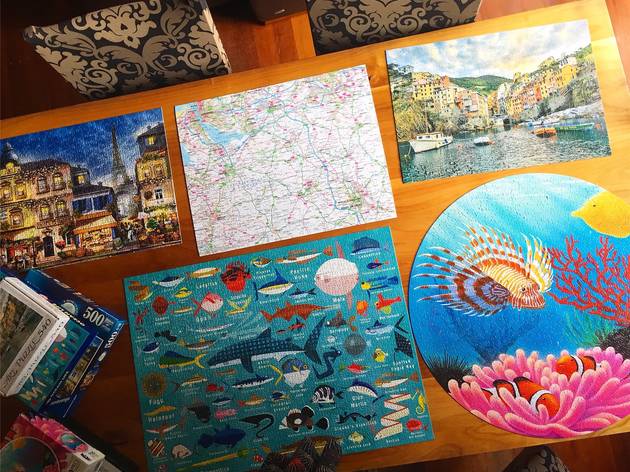 Photograph: Supplied
"We ended up eating our dinner off jigsaws – they became our placemats. Jigsaw Central at our place!"
- Submitted by Jo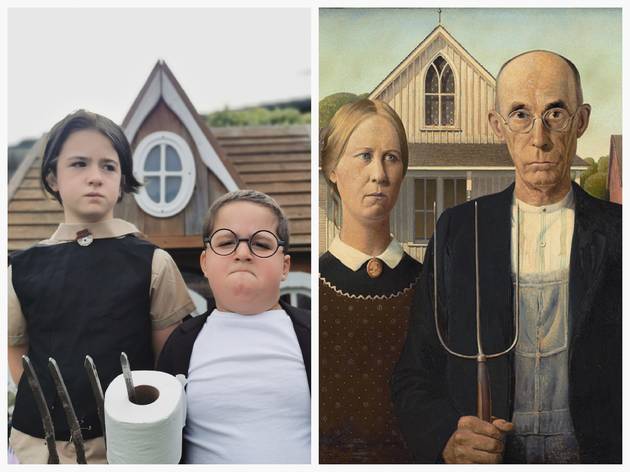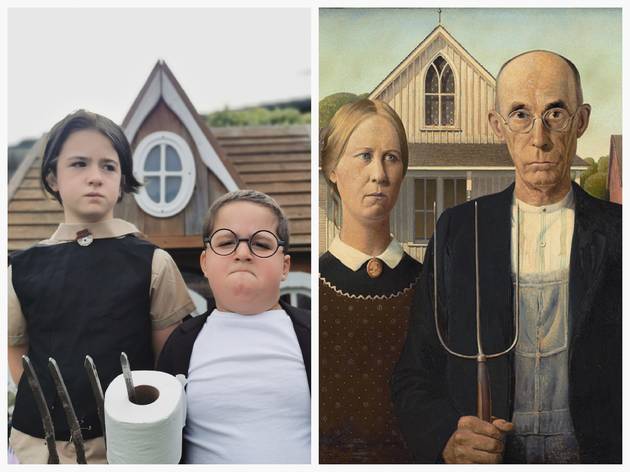 Photograph: Supplied
Recreating famous artworks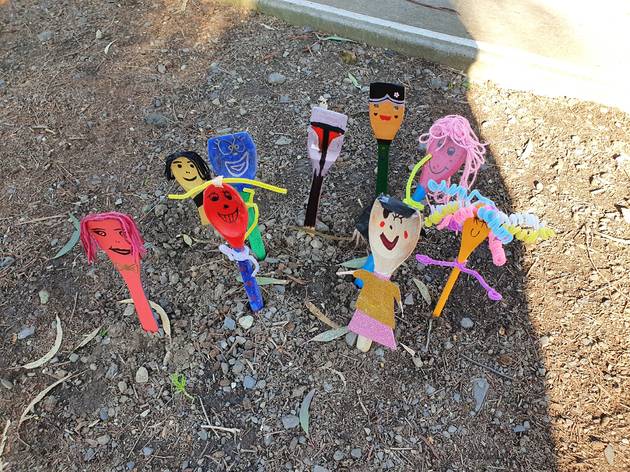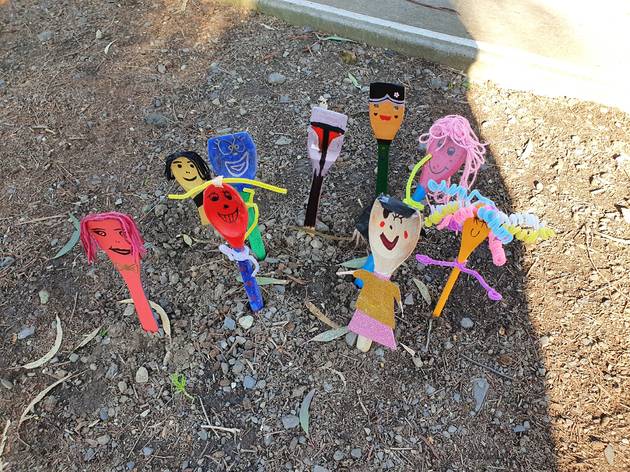 Photograph: Supplied
"Every morning we have been walking along the Yarra River and someone has started planting decorated spoons in the ground, it started with one, and now people have been adding to the collection. We are also planning on making one. They make me smile every day to see the new additions."
- Submitted by Rachel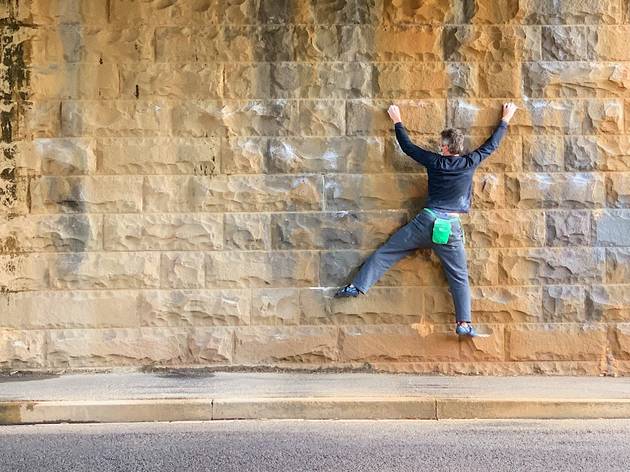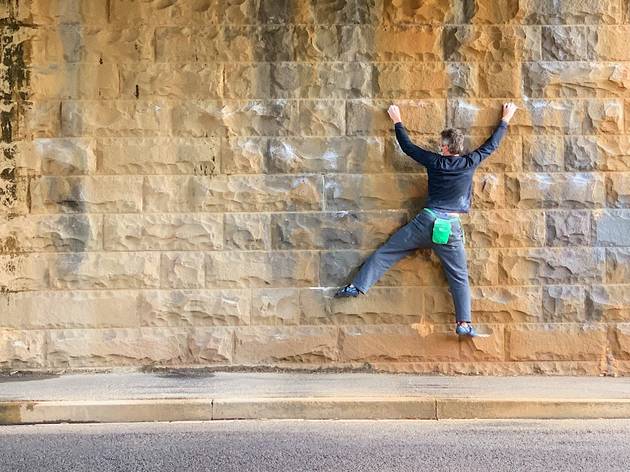 Photograph: Supplied
"I started really getting into fitness several months before COVID19 hit so naturally, I felt pretty disheartened when fitness studios shut down. I started getting in to running and as I was running on the streets of Richmond feeling sorry for myself for not having access to my usual gym/yoga studio/spin studio, I saw this guy SCALING THE BLUESTONE WALLS of a bridge!! I guess if there's a will there's a way?"
- Submitted by Mae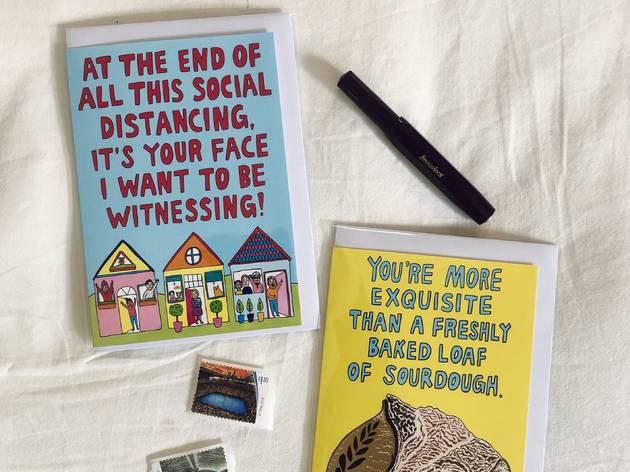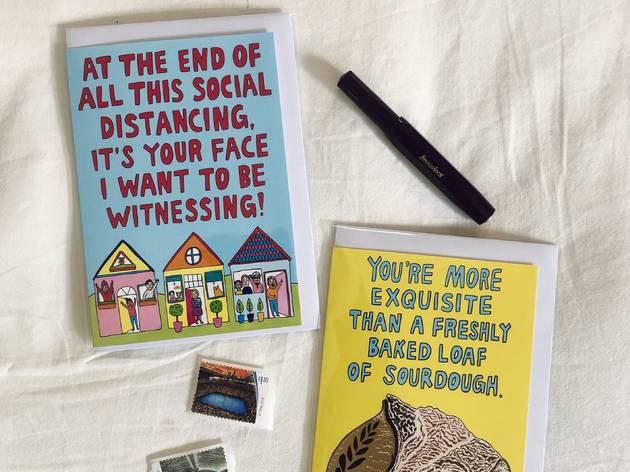 Photograph: Supplied
A literal postcard from iso
"I'm literally sending postcards and cards from iso to people I miss! It's like a hello in tangible form which hopefully helps brighten a mailbox of bills and spam. Also, it helps support the postal service and local creators (current favs are Able & Game + Annie Walter Design) while reminding people you love that you're thinking of them!"
- Submitted by Lynette
Photograph: Supplied
"With lockdown 2.0 inspiring our newfound sense of creativity, the time is now to innovate, entertain and establish mid-week dinners, that will carry on well after the next six weeks. There has also never been a greater time for reality television, accompanied by a homemade cheeseboard, comfy blankets, and Moet (because why not?). Our new Wednesday night's look like this: Dress up as your favourite version of Osher Gunsberg (because we love him) and binge watch The Bachelor."
- Submitted by Kimberley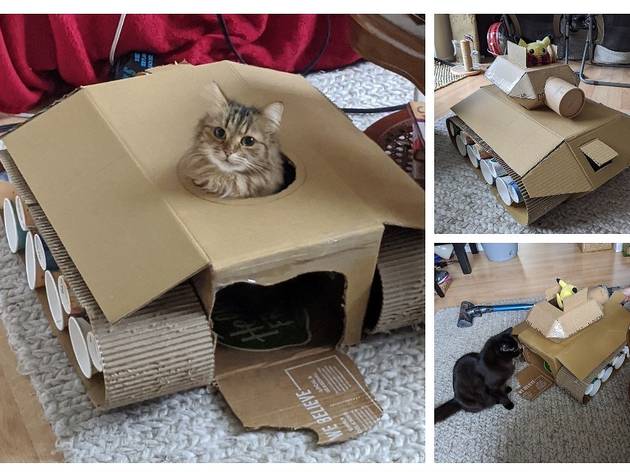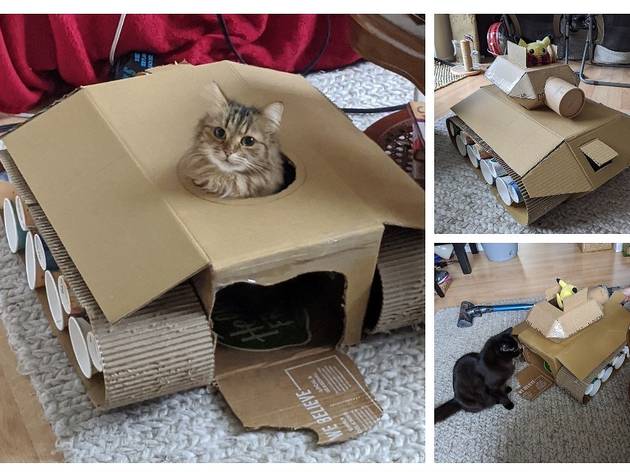 Photograph: Supplied
"With lockdown one started collecting quite a lot of Hellofresh boxes and also started saving all my coffee cups, since Keep Cups were out. So we recycled them into a Cat-Tank for our cats to play in!"
- Submitted by Ellie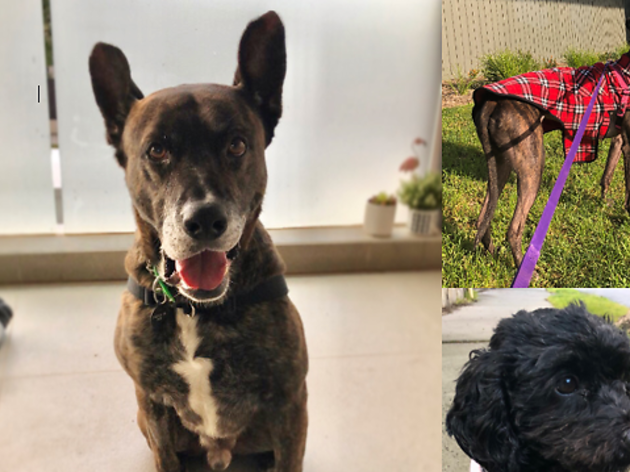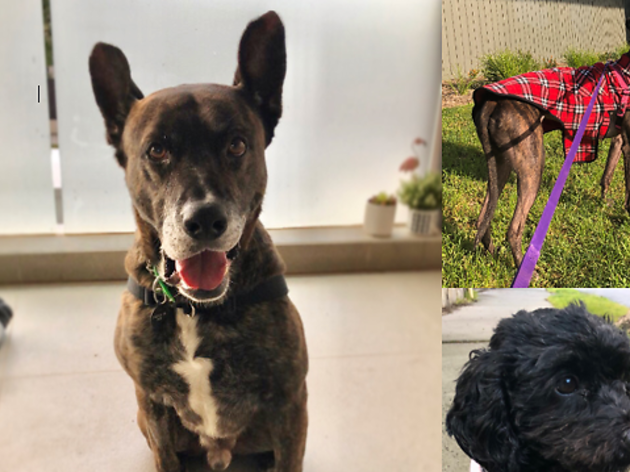 Photograph: Supplied
"When the first lockdown happened back in March, I registered to become a foster carer with the RSPCA. My partner and I have always wanted a dog but with work/socialising/holidays, we didn't feel like we were in a position to give it the time and attention it needed and deserved. Once I transitioned to working from home full time, it was the perfect opportunity to help out a four-legged companion. Once our application was approved in May, we collected our first foster dog! He spent six weeks with us, being loved and keeping me company. It has been the most rewarding experience! We are on doggo number three now, who will be available for adoption in a few weeks. A lot of dogs come from pretty stressful backgrounds, where they haven't had the best care. To see the transformation from a bag of nerves to loving, excited and confident dogs is so rewarding. Giving them back is always hard, but knowing they will go to a loving, forever home and being able to play a part in that is worth it! Certainly, the best thing that has happened in what has been a very tough 2020!"
- Submitted by Moira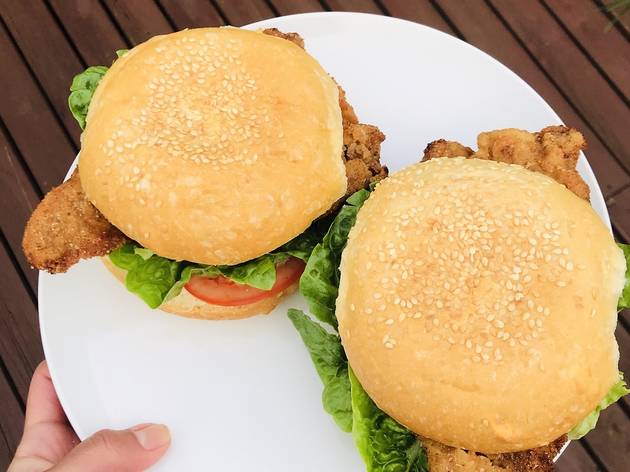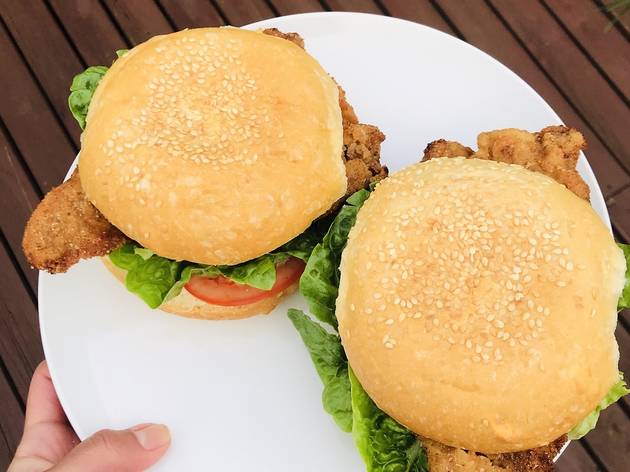 Photograph: Supplied
Travel to Paraguay through food
"These are "Paraguayan Sandwiches Milanesas". I did those and I showed them to my mates who lived in my suburb. [I wanted to show] them how can we still travel to other countries, in this case to Paraguay in South America through the traditional gastronomy"
- Submitted by Nancy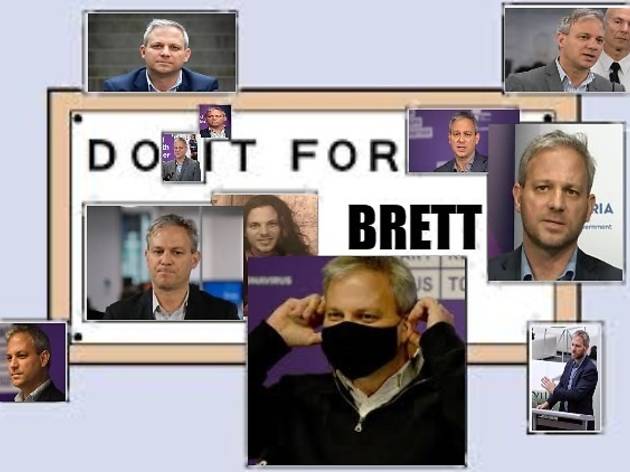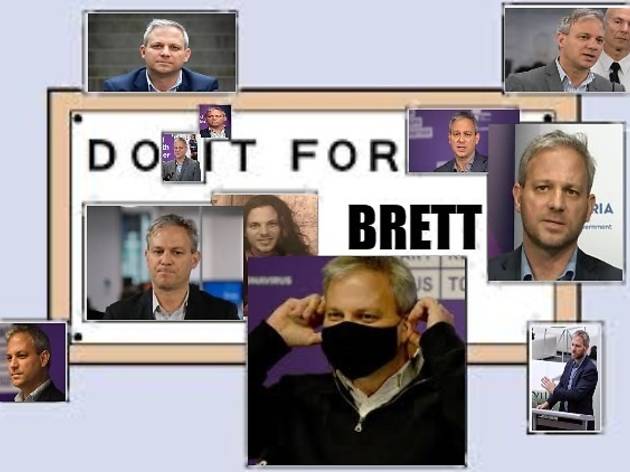 Illustration: Nicola Dowse
"It really takes a special sort of civil servant to become so popular they're turned into a bedspread (with matching cushions no less). Memes are one of life's greatest joys and I couldn't help but turn our CHO Brett Sutton into this Simpsons-inspired one when I realised the, ah, fondness Victoria has for him. Hopefully, it makes someone giggle during a time when things can seem pretty dark."
- Submitted by Nicola in Hawthorn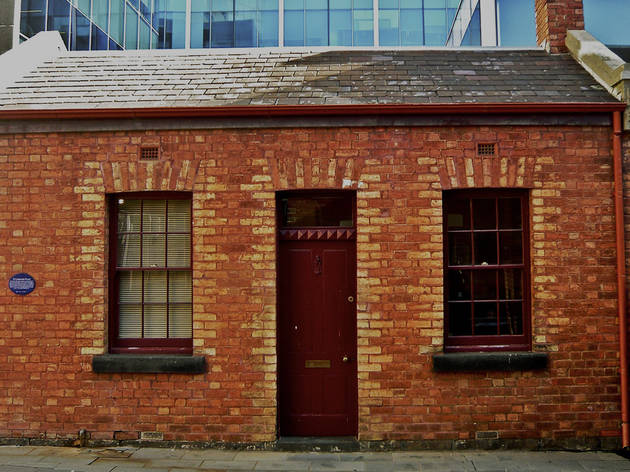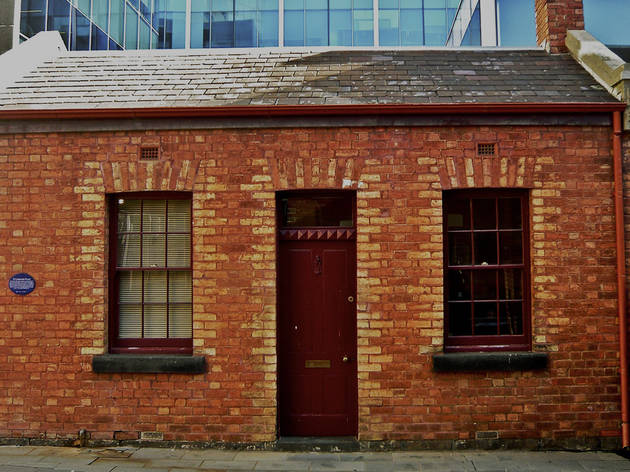 Photograph: Visit Victoria
Do you know the story of the last single-storey house in Melbourne's CBD?
"The last remaining single-storey house in Melbourne CBD, 17 Casselden Place has a fascinating history.
It is the last of a row of six cottages built in 1877 in Melbourne's infamous Little Lon district, which was known for gambling, sly grog shops, prostitution and all sorts of nefarious goings-on. Madame Brussels' famous brothel operated just down the street, and the entire red-light district stretched between Lonsdale, Spring, Stephen (later called Exhibition) and La Trobe streets.
Number 17 started out as a small worker's cottage, but it became a seedy brothel, a sly grog establishment and the site of numerous police complaints. Its most famous madam/working girl was a Chinese prostitute nicknamed Yokohama (real name Tiecome Ah Chung).
Today 17 Casselden Place is the home of Little Lon Distilling Co, which makes small-batch gin on site. Little Lon sells Ginger Mick, Miss Yoko, Constable Proudfoot and Dutchy Thomas Gin, after some of the colourful characters who frequented it during its notorious past. The distillery ships gin all over Melbourne, with free shipping over $100, so you can support it during iso."
- Submitted by Cass in Bentleigh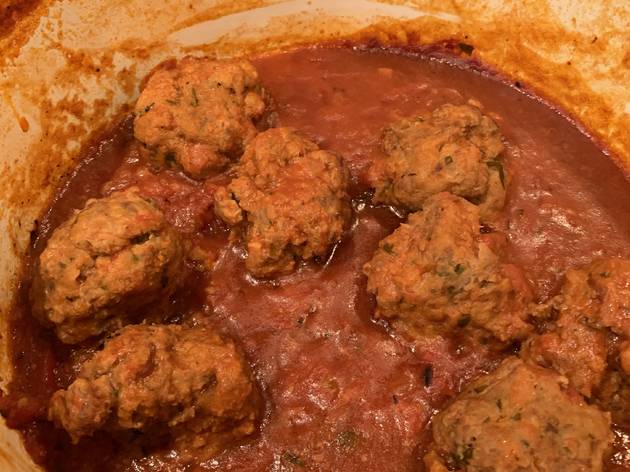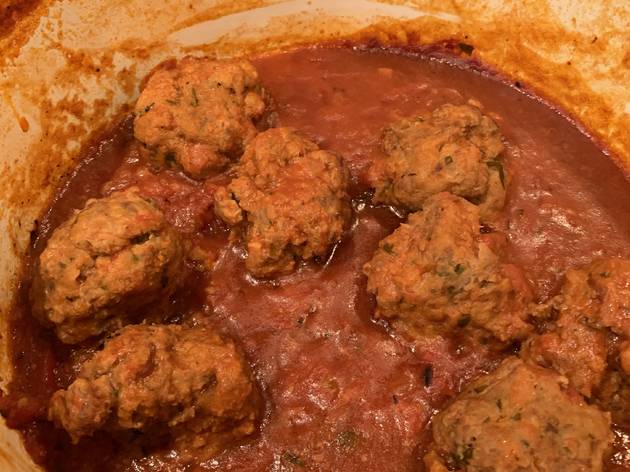 Photograph: Supplied
A meatball recipe from nonna
500g beef mince
500g pork mince
The rind of half a lemon
4 eggs
2 cups bread crumbs
One stock cube of chicken or beef stock, crumbled
Chopped parsley
Olive oil
A dash of milk
Salt and pepper

"Mix all ingredients together in a large bowl until everything is combined and the two types of meat have blended together. Portion out into balls using your palms (they should be just bigger than a golf ball). Heat a pan/dutch oven/vessel of choice over medium heat and add two tablespoons of olive oil. Cook meatballs in batches. When they start browning on one side, flip them. Repeat until the balls are brown on the outside and a paler brown on the inside (around ten minutes). If they start to burn, drop the heat down to low (it will take longer for them to cook, but they won't be overcooked this way).
If you're making a sauce, you can take out the meatballs and begin cooking your sauce then add the meatballs back in near the end to incorporate them into the sauce."
- Submitted by Rebecca in Yarraville
Want more inspo for these iso times?
We've collected the best ways for you to experience Melbourne while staying at home here into this hub, so you can stay sane, comfortable, fed, watered and entertained at home – while helping small business owners, hospitality workers and creative people who desperately need your business.