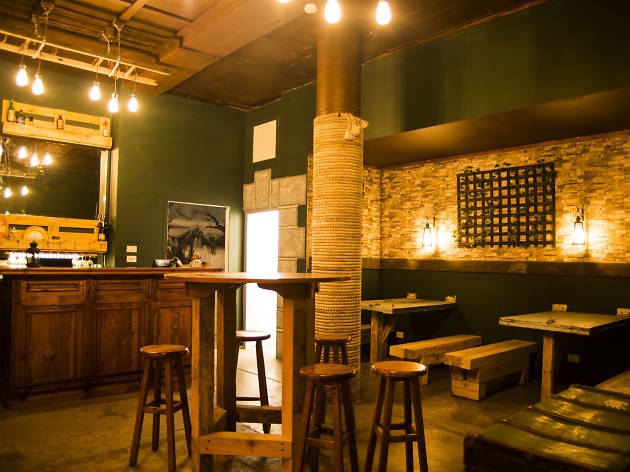 This old wool factory in Fitzroy is home to ancient Egyptian riddles, medieval mysteries and the site of Ned Kelly's last stand
Here's the thing about escape rooms: no matter how many of them you try, you'll always feel the same sense of nervous intrigue when you visit a new one. Here Time Out, we can't get enough of being locked in a room and solving puzzles against the clock to escape – which is why we jumped for joy when we heard about The Mystery Rooms in Fitzroy.
Tucked away in leafy Napier Street, The Mystery Rooms occupies the site of a former wool factory. We're greeted by Tom Hudson and his partner Jodie, a couple who discovered escape rooms in Budapest (the city where the craze first took off in Europe) and were inspired to create their own. Clearly, adventure runs through their blood – in 2015, Tom built a boat and rowed with one friend from New York across the North Atlantic to the UK to raise money for a breast cancer charity.
Knowing this, it's less surprising, but no less impressive, that Tom and Jodie have built the rooms themselves in consultation with a set designer. As an antidote to some of the city's glitzier CBD operations, The Mystery Rooms is charmingly DIY and a little eccentric: a cosy lounge offers a space to relax before the action begins; the toilet is a Doctor Who 'Poolice Box'; a small bar is stocked with wine for debriefing with friends after the escape.
Soon, we're led to our chosen room: The Footsteps of the Pharaohs. We were intrigued by the other two rooms – The Ned Kelly Experience and Secrets of Camelot – but there's something about ancient Egypt that lends itself perfectly to solving riddles. We enter the room, where we're met by our guide, Cleopatra herself, who is trapped in a tomb. The door shuts, our bare feet sink slightly into the cool sand on the floor, and we take in our surroundings: hieroglyphics and symbols cover the walls, strange little bottles sit on a ledge, and a large box (could it be a sarcophagus?) is fastened with a padlock.
We won't give anything else away, except to say that this is immersive escapism at its best. The choice to include an actor inside the space provides an elegant solution to giving hints – other escape rooms use walkie-talkies or, at worst, staff members who come into the room, breaking the magic. The puzzles themselves are creative and involve lots of teamwork, plus a bit of physical activity, and as we get closer to solving the final riddle and saving Cleopatra, the pace quickens and things heat up. It's certainly not easy to escape, which makes our success all the sweeter. Escape rooms aren't going anywhere, Melbourne – in fact, they're just getting better.
Venue name:
The Mystery Rooms
Contact:
Address:
303 Napier Street
Fitzroy
3065

Opening hours:
Wed-Fri 5-10pm; Sat, Sun 1-10pm