Three things you never knew you could do at Werribee Open Range Zoo
Melbourne's own safari-themed zoo is where to go for extra special wildlife encounters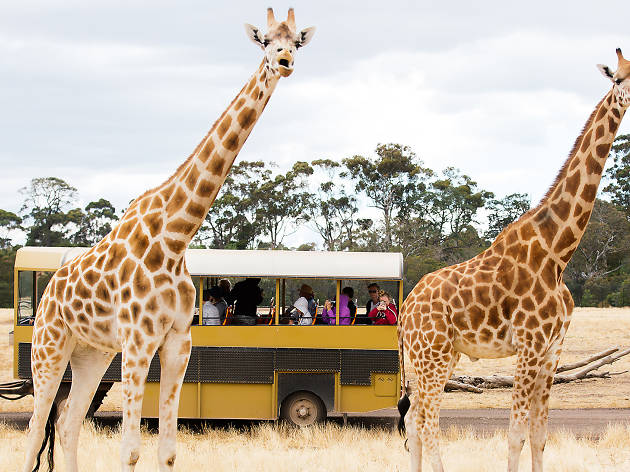 Everyone knows a trip to Melbourne Zoo is where many lifelong memories are made, whether it's an exhilarating visit to the butterfly house, a tantalising trip to see the reptiles or a blink-and-you'll-miss-the-fun-stuff stopover at the monkey exhibit.
If it's been too long between zoo visits (for yourself or your little ones), why not consider a safari experience at Werribee Open Range Zoo? Here's three very exciting reasons why you need to pencil in a trip. Spoiler alert: it includes adorable lion cubs!
If someone could explain to us what it is exactly about lion cubs that make us act like little lion teeny boppers, we'd be all ears. Maybe it's all the times we watched the Lion King as kids (and okay, as adults too). Luckily Werribee Open Range Zoo is giving you the opportunity of a lifetime: a meet and greet with four lion cubs.
Born late last year, the cubs are starting to venture out with mum Nairibi for short periods during the day, just long enough for you to get a good peek as they run around and play with their pride brothers and sisters. Named by some of Victoria's most passionate conservationists and zoo members, you can meet the smallest female cub, Kibibi (Swahili for 'little lady'), her sister Aziza (Swahili for 'precious') and their brothers Ndidi (Igbo for 'patience') and Zuberi (Swahili for 'strong').
Like all babies, they need their rest so staff have set up morning viewings each day (from 9.30am to noon). Keep in mind these times are subject to change on the day according to the needs of the cubs.
Played too much Hungry Hungry Hippo and forgotten what the real deal looks like? Same. At Werribee Open Range Zoo you'll get to hang out with everyone's favourite herbivorous mammal and get insight from the keepers into the behaviours, needs and eccentric personalities of hippos.
The daily keeper presentation begins at 1.10pm with a health check, where keepers take a good look at each hippo's teeth, tusks and gums. Then it's feeding time – the hippos are fed on Werribee Zoo's man-made beach. The magnificent beasts emerge almost soundlessly from the water to forage on the banks.
You'll learn plenty of fun facts about hippos. Like did you know hippos are able to hold their breath for up to five minutes underwater? And that they naturally create their own sweat-based sunscreen? While they're known for being one of the most dangerous animals in Africa due to their territorial nature, they're also shy, gentle and playful.
A visit to Werribee Open Range Zoo isn't complete without a ride on one of their famous safari buses. This experience has an uncanny ability to transport you from Melbourne's western suburbs to the arid landscapes and savannah grasslands of Asia, North America and Africa.
Aboard the bus, you'll explore open range exhibits and learn about endangered species like the Przewalski's horse, a rare subspecies of wild horse native to the steppes of central Asia. The tour includes live commentary from your safari guide who will point out bison, addax, rhino, zebra and ostrich as they pass the bus. Keep an eye out for the giraffes – although with their curious nature they might be hard to miss!
A ride on the safari bus is included free in your admission price, suitable for all ages and is wheelchair accessible.