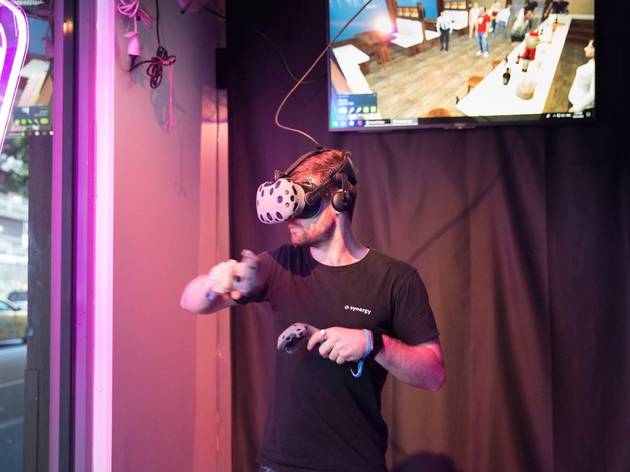 1/5
Photograph: Grace Lye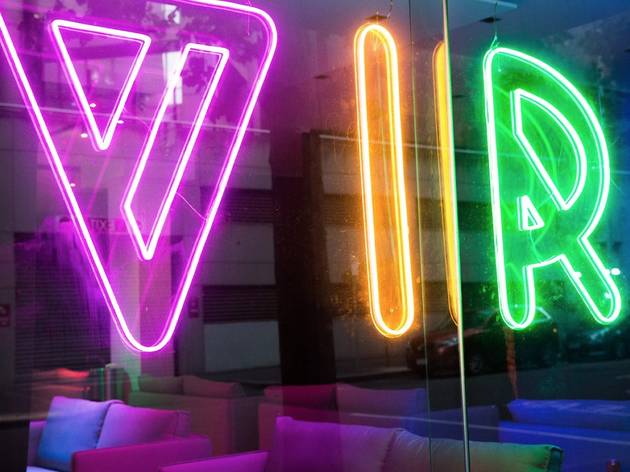 2/5
Photograph: Grace Lye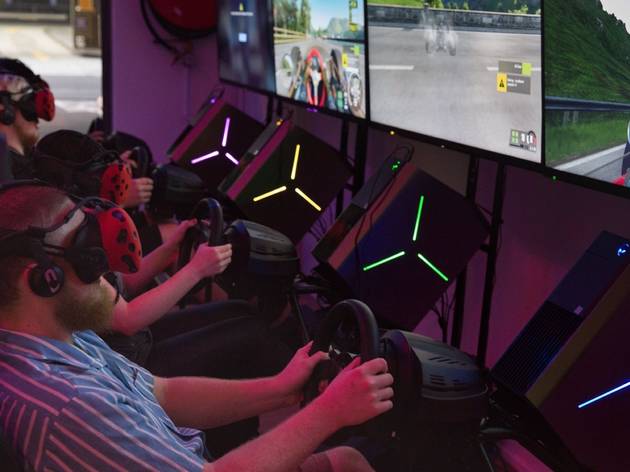 3/5
Photograph: Grace Lye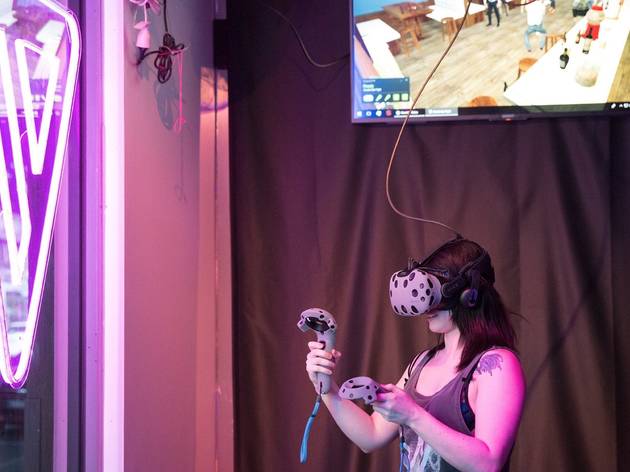 4/5
Photograph: Grace Lye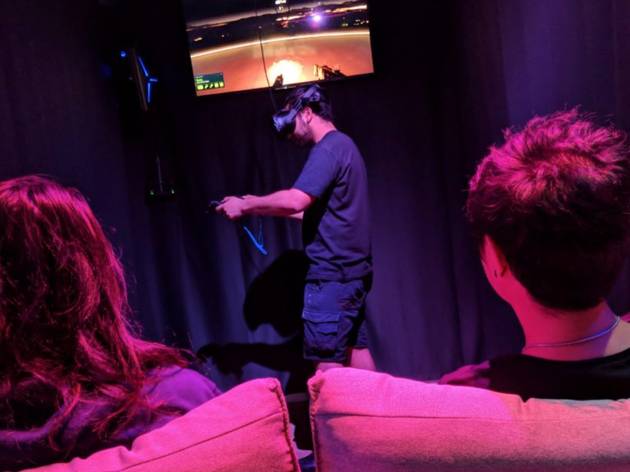 5/5
Photograph: Grace Lye
Fight aliens, walk on a beam suspended above a city street or defend your castle from invaders in the world of virtual reality
I'm standing on top of a skyscraper eyeing a narrow wooden plank that juts out over a busy city street. I can feel the wind in my hair from this high up, and I hear the distant sounds of traffic below, as well as the wind rushing in my ears. My legs start to tremble.
"You guys, I don't think I can do this," I tell my companions, knowing full well they will likely be laughing at me. "I know it's ridiculous, but I don't think I can walk out there."
But this is for journalism, so I close my eyes and shuffle my feet forwards, one shaky step at a time. I feel myself wobble and I tense up. I open my eyes and look around, seeing birds wheeling at my height and the bustle of the city 30 storeys down.
I know that I'm a couple of centimetres off the ground, and that nothing I am seeing is real. I've just watched my friend confidently walk on this plank, interacting naturally with the virtual world. But it feels so realistic, despite its cartoony art, that it takes a lot of courage to step off and 'fall' back to earth.
We're at VIRI, a few hundred metres from Southern Cross Station. The 80-minute virtual reality experience starts with the virtual plank, followed by a much lower stakes archery game, where the goal is to defend your castle from an invading horde. Shooting flaming arrows at two-dimensional cartoon figures is surprisingly exhilarating – and surprisingly sore on the arms.
After those two games it's off to our private booths, where we each choose a game from the dozen or so on offer and start waving our arms around. Groups can share a booth and take turns on the games, or if VIRI isn't busy each player can have his or her own.
I am particularly keen on Fruit Ninja – slicing through pineapples with virtual katana blades is so much more satisfying than swiping your finger across your phone. I also like the dancing game, where the object is to catch virtual musical notes and move in time to the beat, sort of like a virtual Guitar Hero. Dodging lasers, Matrix-style, while returning fire at hostile space craft is also a favourite for all of us. There are also zombie games and a bar fight game, though I end up knocked on my virtual arse quite quickly.
Some games are available for multiple players, and two of us team up to fight hostile aliens in a barren landscape. It's great fun, but watching her avatar collapse and die in front of me is confronting. We also challenge each other to table tennis, though we're a bit too enthusiastic to keep the ball on the table.
VIRI offers water and comfortable couches to take a break from all the virtual combat – all that punching and slicing can be tiring, and sometimes your eyes need a break from all the screen action.
Virtual car racing is also available as a separate experience for $20, or $15 if added to a normal experience, which costs just $35.
Venue name:
VIRI
Contact:
Address:
555 Flinders Lane
Melbourne
3000

Opening hours:
Tue-Sun 10am-10pm
Price:
$35 for a virtual reality experience; $20 for virtual car racing