Heads up! We're working hard to be accurate – but these are unusual times, so please always check before heading out.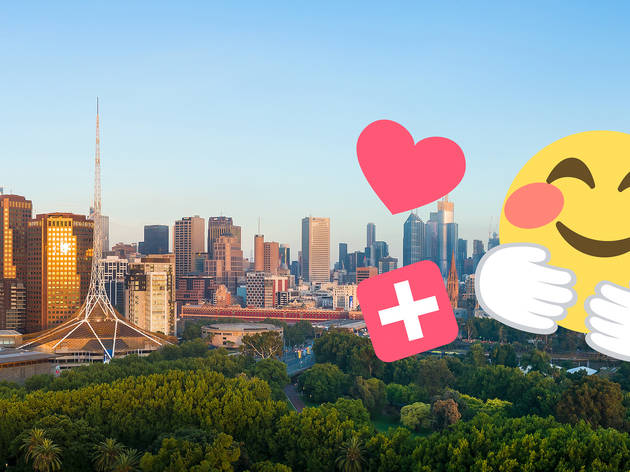 What you can and can't do in Victoria right now
Confused about Victoria's current restrictions? Here are some answers
Life is a little uncertain of late, and it can be a bit confusing (not to mention frustrating) to work out just what is currently allowed within Melbourne and Victoria. We've done our best to outline what the current rules are, in terms you can understand.
For a full breakdown of Victoria's current restrictions, visit the Victorian Department of Health's website.
RECOMMENDED: The best things to do at home in Melbourne right now.
What are the current rules?
From 6pm on March 26, Victoria has further relaxed its COVIDSafe settings.
When can I leave my house?
You can leave your house for any reason.
When do I have to wear a mask?
A good rule of thumb is to always carry a mask with you as you still need to wear it in the following settings (unless an exemption applies). Face masks have to be worn:
- On public transport
- In rideshare vehicles and taxis.
- When visiting a hospital or care facility (while indoors).
- On flights to and from Victoria.
- Indoors at airports.
- If you are awaiting the results of a test and are leaving your home for a permitted reason (for example, to get medical care).
Can I have people over?
Yes, you can have up to 100 people over to your home per day.
How many people can gather outdoors?
Up to 200 people can meet outdoors in a public place.
Can I go back to work?

There are no caps on on-site office work, so both public and private sectors can return to work at 100 per cent capacity.
Are restaurants and bars open?
Yes, hospitality venues can resume trading with a density limit of one person per two square metres both indoor and outdoor. Electronic record-keeping (QR codes) must continue.
Are other shops open? What about retail?
Yes, retail has resumed trading.
Can I travel around the state and stay overnight?
Yes. If you need ideas about weekend getaways – head here.
Can I travel interstate?
Check with the state or territory you're travelling to before making plans. Some have restrictions about Victorians entering or may require you to make a declaration prior to arrival.
When are restrictions being eased further?
Unsure at this point – this might depend on how our vaccine rollout goes.
Where can I get more information?
Head to the Department of Health's website for further information and if you have any questions call the hotline on 1800 675 398.
Staying in?
We've collected the best ways for you to experience Melbourne while staying at home here into this hub, so you can stay sane, comfortable, fed, watered and entertained at home – while helping small business owners, hospitality workers and creative people who desperately need your business.
Be safe
As we navigate restrictions and kick this virus out of town, everyday life in Melbourne looks a lot different. As things reopen across Melbourne, it's important to follow the rules and keep our numbers low. As Dan Andrews says: "Stay safe, stay open." When you leave your home to enjoy a holiday, go to work, see your friends, exercise, get on the beers or for any other reason, please follow these important rules on physical distancing and enhanced hygiene.