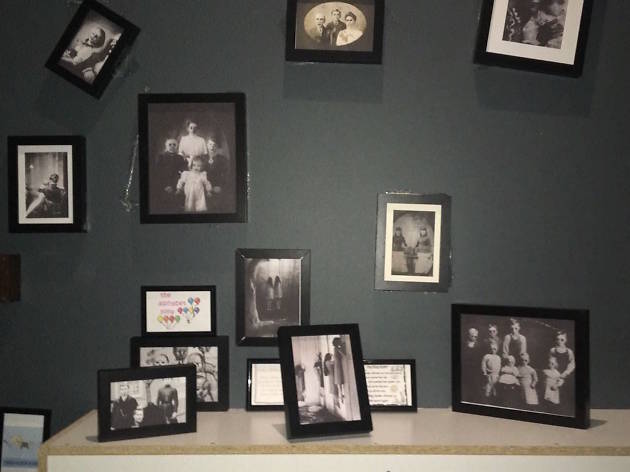 Time Out says
Try not to scream...
If you're not a fan of horror movies, then you might want to steer clear of the 'Leaper' escape room at the recently opened Woodbury in South Melbourne. If you are a fan of horror movies, then you might still want to consider whether you really want to take your enthusiasm to the next, immersive level.
'Leaper' is the fourth in Woodbury's series of rooms, and the highest on their 'Difficulty' and 'Fear' scales (their other rooms span the wild west, abandoned toys and island mysteries). Buoyed by recent escape successes, our team decided to take it on. After all, the concept is brilliant: we're detectives in the future who can 'leap' into the minds of criminals using experimental crime-fighting technology. The only problem is, if we don't get in and out in 60 minutes, we could stay trapped in his mind forever.
Filled with nervous tension, the four of us are blindfolded and led, sweaty palm to palm, into the room. The timer begins, the blindfolds come off, and we realise that we've been separated into teams of two. We're locked in separate rooms, and in the gulf between the rooms is a (mannequin) woman bound to a chair. For a moment, we feel as helpless as she looks. Quickly, it dawns on us that to be reunited, we're going to have to solve puzzles by yelling verbal instructions to each other. Once we find our way out and into the next room, we realise that things are only going to get scarier.
It's one thing to fill a space with creepy props and fake blood; it's another to create genuine, heart-stopping tension. 'Leaper' packs plenty of horror movie freak-out moments (always when you least expect them), and cleverly saves some of the biggest reveals until last. Challenges are surprising and varied and more plot unfolds as minutes melt away. Some particularly fiendish puzzles mean that we're left scratching our heads for a bit too long – and when our time is up, we're informed that no one has successfully escaped the room in time. Still, as far as escape rooms go, 'Leaper' is the biggest adrenaline rush we've had yet. Try it, if you dare.
Outcome: Failed
Atmosphere: 4/5
Creativity of puzzles: 5/5
Difficulty: 5/5
Fun: 4/5
Best quote: "I don't want to get trapped in his evil mind forever!"
Our tip: Communication is key at the beginning – you won't get far without finding a way to contact your lost teammates.
Details
Address:
259 Park St
South Melbourne
Melbourne
3205

Price:
$32-$40 per person
Contact:
Opening hours:
Tue-Thu 3-9pm; Fri-Sun noon-9pm