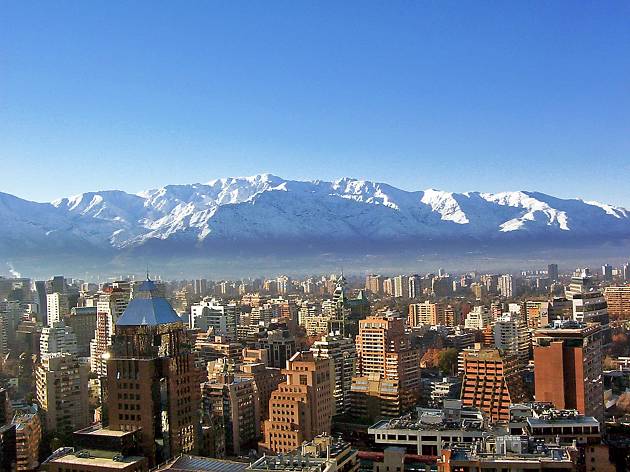 The essential guide to Santiago
The gateway to South America is one of the continent's hot spots for galleries, museums, meats and Pisco Sours
The Museum of Memory and Human Rights (Museo de la Memoria y los Derechos Humanos) is arguably one of the most moving museum experiences on the planet. It commemorates the victims of the Augusto Pinochet dictatorship from 1973 and 1990. Learn the struggles of ordinary Chilean citizens during the regime that saw thousands thrown in detention centres and up to 3,000 murdered. Spanning the military coup of September 11, 1973 to the 'No' referendum on Ocotber 5, 1988, it displays torture devices, letters from prisoners, newspaper clippings, TV and radio recordings, and stories from survivors.
Take a city tour around Santiago, where you'll visit Plaza de Armas (the city's heart), the Metropolitan Cathedral, Central Post Office, Santiago Museum, Mercado Central (Central Market), Palacio de la Real Audiencia, National Historic Museum and more. Viator lists operators offering journeys for a few hours or a whole day.
Go on a day trip to the seaside town of Valparaiso, a city steeped in history, colour and culture. In the 19th century, the town was a stopover for ships passing through the Straits of Magellan. Across the hills sit colourful Bohemian neighbourhoods (no two houses next to each other may be be painted in the same colour), including Bellavista, site of La Sebastiana, former home of the city's most famous resident, poet Pablo Neruda. Get there on one of the many ascensores (funicular railways), which were built in 1883 to help residents get to houses on the many steep slopes.
On the way to or from Valparaiso, stop in at the Casablanca Valley, one of Chile's premier wine regions. A top pick is Bodegas Re, known for its unusual blends of whites and reds together.
Santiago has the Andes as a spectacular backdrop and a novel way to see the city is on horseback, where you'll ride up high in the foothills and stop for lunch, overlooking the valley where Santiago lies. The team at Andes Riders take regular tours with local and English-speaking guides.
At Huaso Enrique, it's about classic Chilean cuisine from casseroles to racks of pork, washed down with Pisco Sours and local brews in a homey dining room-style setting. Local folk groups play on a nightly basis and learn to dance Cueca Brava.
In the park of Cerro San Cristobal, Divertimento Chileno serves up modern Chilean food in a contemporary setting, from roast meats to seafood, including seabass with Cognac cream, and clams and mussels by the pot.
At Silabario, local brews on tap, Pisco Sours by the jug, shared meat and vegetable bowls, plates of osso bucco and chicken sandwiches are the order of the day, while music comes in the form of a songstress and a guitar player walking among the tables singing classical Chilean songs.
Nearby at Chipe Libre, there's one drink to order here, the Pisco Sour. You can select a pisco from the nation's largest list of its kind and have it by the flight or as a sour. There's a good ol fight between Chile and Peru for who makes the best pisco, so best you order a local and have the bartender explain some differences as you taste away.
Located in one of the city's most vibrant neighbourhoods, Novotel Santiago Vitacura offers spacious rooms that feature ensuites, sofas, flatscreen TVs, minibars with local products and views of the Andes. There's free Wi-Fi throughout the hotel and an excellent breakfast buffet. Three-night packages start from USD$390.
Qantas
flies direct from Sydney to Santiago with Boeing 747-400 aircraft featuring the airline's latest long-haul seats across all cabins. Qantas offers the 'Select on Q-Eat', whereby no matter if you're flying in Business, Premium or Economy, you can now select your meal before you fly from a Neil Perry menu.