The best bars in South Beach, you party animal
No one parties like SoBe, and the best bars in South Beach are proof—from lounges and dives to dance-y spots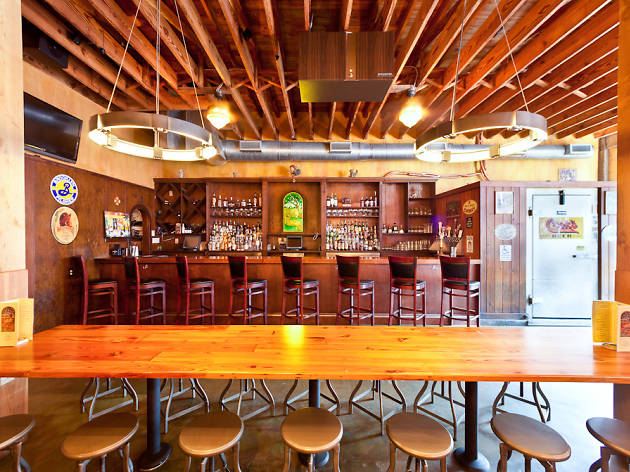 Where are the best bars in South Beach? Seems like an easy question, right? They should be everywhere! After all, South Beach is the party capital of South Florida, isn't it? Well, yes. Yes and no. See, South Beach was built on the foundation of nightlife, but over the years more and more overpriced impostures have moved in, giving the neighborhood a bad rap with locals. Luckily, there is hope, and plenty of it. Some of the best bars in Miami now live in South Beach—same with the best happy hour deals in Miami. And as far as drunk food in Miami? South Beach is stacked. So do your homework and—as long as you avoid the tourist traps—prepare to have a blast.
RECOMMENDED: Full guide to South Beach, Miami
Best bars in South Beach
1
Forget South Beach—Sweet Liberty is known as one of the best bars in Miami. Period. This flashy cocktail bar whips up amazing cocktails alongside a menu of fresh seafood and proper American bar food. Happy hour (95 cent oysters and $5 rosé) is every day from 4 to 7pm. Write that down.
Read more
2
Got a little extra cash in your pocket? The cocktails at Employees Only ain't cheap but, boy, are they worth it. A lot of South Beach bars try (and fail) to channel the neighborhood's essence, but Employees Only is a bar sexy enough for South Beach. And don't even get us started on the steak tartare.
Read more
3
Let's hear it for the boys at Palace, Miami's (and probably the world's) undisputed champion of drag brunch. They practically invented the pairing of mimosas and drag queens and continue to do it (on the sidewalk, nonetheless) better than anyone in town. Reservations for the popular weekend brunch shows are advised.
Book now
Read more
4
Ricky's offers a rare occasion for both your inner-child and outer-adult to find satisfaction. The loud bar offers Artichoke Pizza by the slice, arcade games and playful cocktails behind the bar. Beer pong and karaoke? They've got that too. Oh, to be young again.
Read more
5
The great Mac Klein ran this bar, one of Miami's oldest, until he passed away in 2016 at the ripe old age of 101. Today, his bar lives on just as he intended it: old-school, smoky, unpretentious and simply the best dive bar in Florida. Fun fact: the bar's neon lights were installed during the filming of a Miami Vice episode.
Read more
6
A tiny bar with a big attitude, ScapeGoat might just be serving the best cocktails in South of Fifth. The laidback bar uses mostly American-made products and will even smoke a few hickory chips for your cocktail right in front of you. It's a great place to hide from the ruckus, have a cocktail and chat.
Read more
7
With its dive-y vibes, Abbey is a welcome change of pace from the frilly Lincoln Road, which sits just a block behind it. Try one of the Abbey beers they brew in-house, and if you show up on Sunday, enjoy a complimentary hot dog to go along with it.
Read more
9
Pretend you're Don Draper on one of his ill-advised Miami vacations at the Regent. The classy cocktail club will have you putting those pinkies up as you sip on your old fashioned. Don't exactly have Mr. Draper's budget? Happy hour (Sunday through Thursday from 7 to 10pm) sees cocktails for as low as $5.
Read more
10
Fear not the life-size statue of Bruce Lee hanging menacingly over the bar. He is simply there to ensure you have a fun, safe time in the classic Miami dive bar. And, honestly, he has a pretty easy job because it's tough not to have a good time at Kill Your Idol, especially with $3 PBR and weekly karaoke.
Read more
Show more
Need some food to go with those drinks?