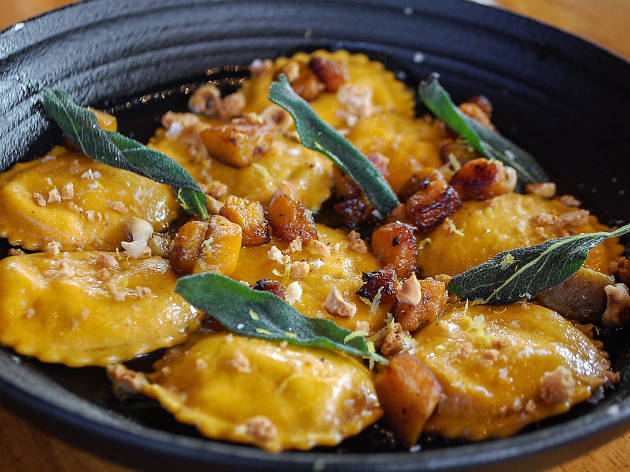 The best Italian restaurants in Miami for all your pasta cravings
Make the best Italian restaurants Miami your go-tos for perfectly cooked pasta, crispy pizza and all things red sauce
September 2020: Italian restaurants in Miami are the comfort-food havens the city needs right now. They take us in on a tough day when all we want is a big bowl of pasta to wallow in. They provide warm, welcoming environments for all kinds of celebrations. They've also saved us on many nights of lockdown, offering takeout and delivery meals for families to enjoy at home. This refreshed roundup features a few old favorites, such as Perricone's in Brickell, which reopened at a new location this spring, and Red Sauce, Mignonette's tasty pop-up, plus a few others. Mangia, friends!
Ah, pasta. The thing we love most but also the reason we're in a committed relationship with our trainer and just about live in the nearest Miami gym. Though even just a few bites of the carbonara at any of the best Italian restaurants Miami has to offer makes it all worth it. The ristorantes and trattorias that make up our list of Italian restaurants in Miami are known for their delightful, rustic cucinas serving up all the classics, from Miami's best pizza and pasta to fantastic risotto and veal chops. Whether it's cheat day or Wednesday, which seems as good a day as any to tuck into a steaming bowl of carbs, here's where you should go for your next big Italian feast.
A pasta spot we love so much that we welcomed them into Time Out Market
Chef Giorgio Rapicavoli can't leave anything alone; something about not doctoring a dish or customizing it to reflect his Italian-American background and his Miami roots seemingly go against his nature. But that's why we like him and his longtime Coral Gables restaurant, Eating House. In the mood for arancini? Try the croquetas made with arborio rice and smoked pork belly—it's Cuba meets Italy in a crunchy, deep-fried ball. His Sorta Caesar lays it all out, giving you the briny, cheesy flavors with arugula, spinach and watercress as its vessel. The carbonara is about as classic as it gets and even that gets an extra pop of Grana Padano.
Best Italian restaurants in Miami
Would you like some wine with that?
The coziest spots to sip quality wines in the city