Heads up! We're working hard to be accurate – but these are unusual times, so please always check before heading out.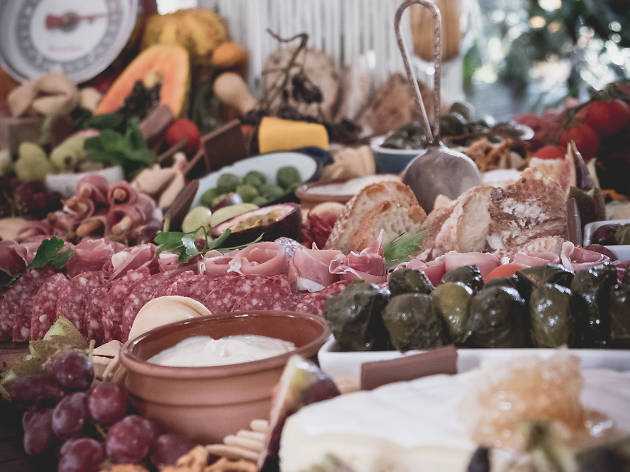 The best buffets in Montreal
From Brazilian steakhouses to weekend brunch options, these are the best buffets in Montreal serving top quality options
Where to find the best buffets in Montreal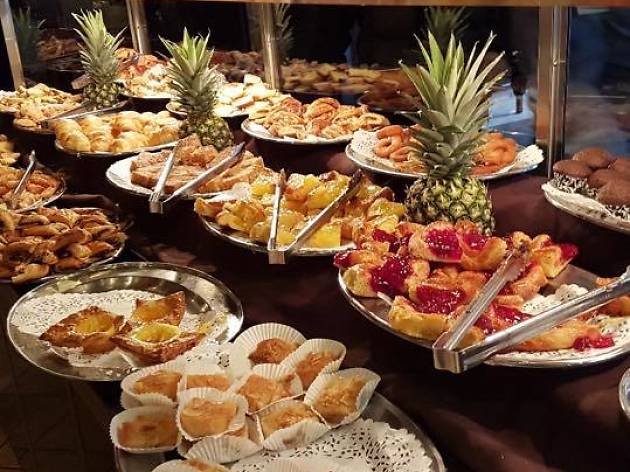 Photograph: Casa Corfu / @casacorfu
An essential restaurant on Masson Street, the renowned Casa Corfu has seen a lot of hungry customers since opening in 1982. It's not unusual to see lined up out front several evenings a week to try the menu's specialties alongside an international range of dishes, all of which attract a clientele from across the city and beyond. It's got just about everything you can think of, plus some of the best baklava in town.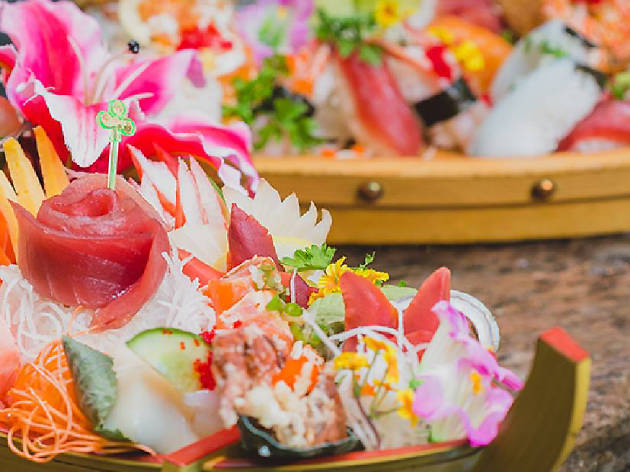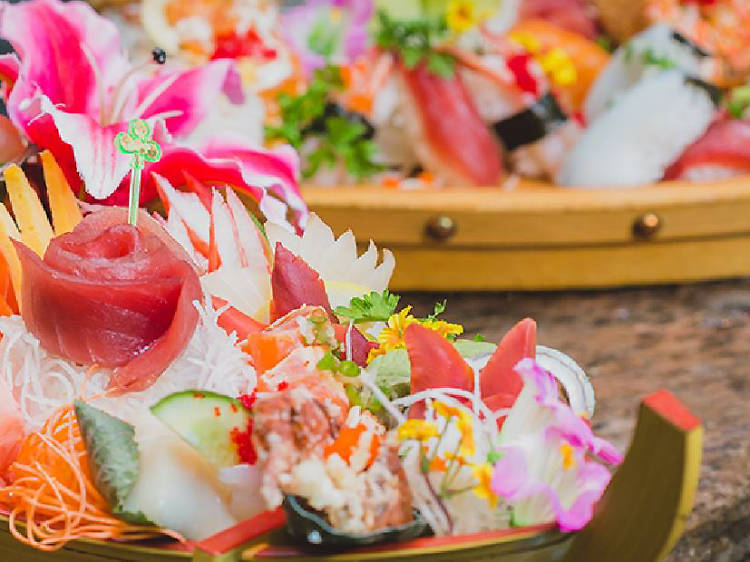 Photograph: Sushi St-Denis / @sushistdenis
If you're the type you can't get enough sushi in a single setting, this all-you-can-eat option's the best of the best to fill up on dozens of rolls and appetizers until your stomach can handle another bite. Seaweed salad, specialty makis, sashimi; the sheer quality and variety here are just what you need for a full feast. And if you brought someone who needs a break from nori, rice and fish? The stir-fry and soups make just as good of an option when eating here.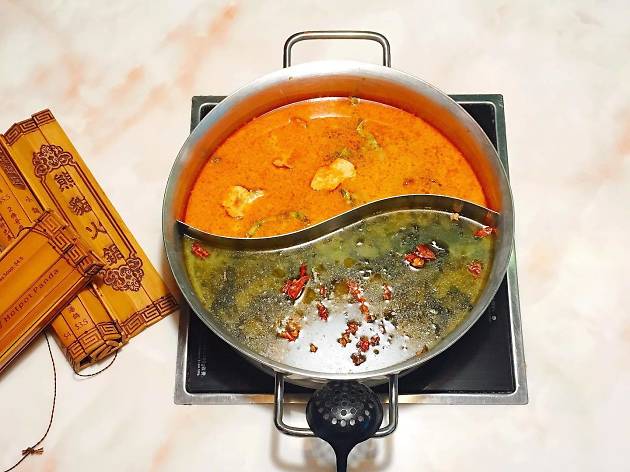 Photograph: Hot Pot Panda / @shaoting9833
Particularly excellent in colder months, Hot Pot Panda's Mongolian-style all-you-can-eat buffet is where you want to go. Focused on Chinese fondue, the restaurant's tabletop induction plates heat up your bowls of regular or spicy broth to cook up a long list of meats, vegetables, seafood, noodles and more. Best enjoyed in a group, keep in mind there's a tradition where if you lose something in your boiling soup, you have to kiss everyone at the table.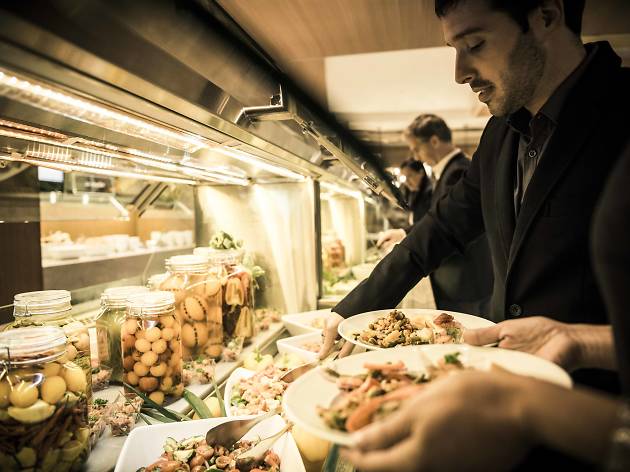 Photograph: Martin Girard / © Société des Casinos du Québec
Located at the Casino de Montréal, this buffet full of fine dining-quality eats proves that the slow machines and poker tables aren't the only reason to go. Offering high-calibre options like lobster bisque, superb desserts, smoked salmon, aged beef and more, everything gets cut and prepared before you here. Our favourite part? Hitting up the raclette cheese station that's only operational on Monday nights.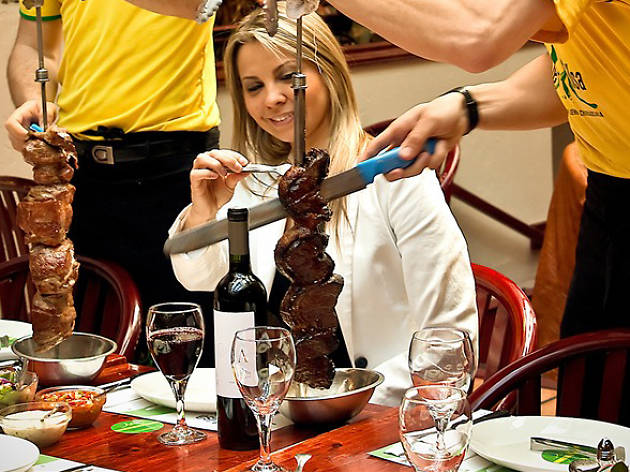 Photograph: Le Milsa / lemilsa.com
A trip to this Brazilian steakhouse's all-you-can-eat is made all the better when considering it's one of the best steakhouses in Montreal. The charrascos here—a Brazilian classic—are a culinary classic, where meats like filet mignon, lamb, chicken and homemade sausages are grilled to perfection and served directly to you table on the spit. All you need to do is ask for more as you watch live samba performances. If you've got in you after indulging, get up and join the dancers to help you digest.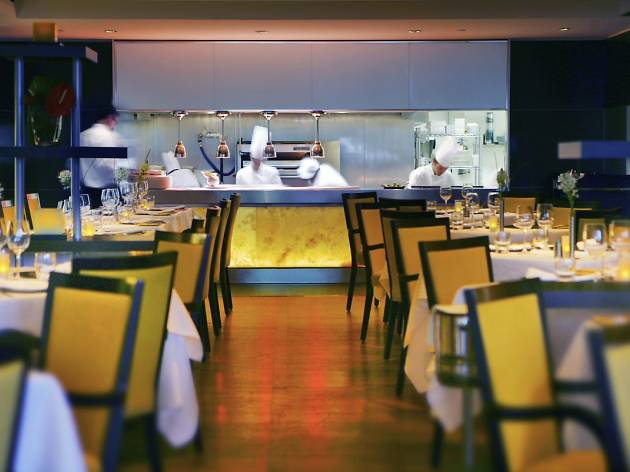 Photograph: © Sofitel Montréal Le Carré Doré / Renoir
The Sunday brunch at the Renoir of the Sofitel Hotel is everything a foodie can dream of. One glance at the European-style buffet conceived by the French chef Olivier Perret is enough to get your appetite up and eager. From bison and prosciutto mozzarella tartine and Bellevue salmon to trays weighted with oysters and potato mousseline with truffles, the only thing better than the dining options are pairing your choices with some freshly squeezed juice and a good latte.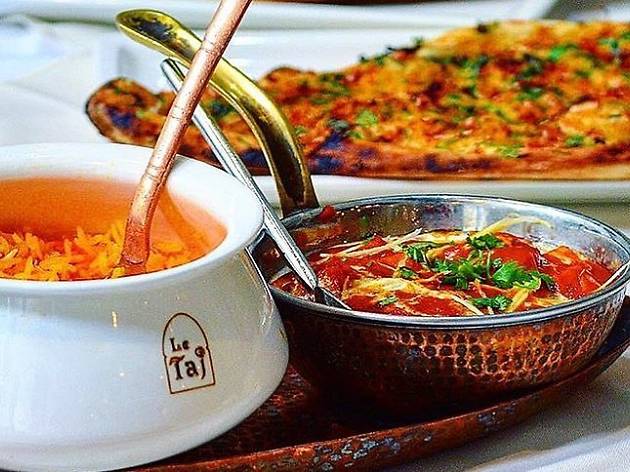 Photograph: Restaurant Le Taj / @RestaurantLeTaj
Part of Montreal's culinary landscape for decades, there are few Indian buffets that match the quality of Le Taj. Customers never seem to tire of their delicious butter chicken, lamb curry and dahl soup, all served in beautiful copper dishes on elegant white tablecloths. If you like naan bread, just wait until you try their recipe served fresh from the tandoor, a traditional Indian clay oven that can be seen from the dining room. Enjoy your non-stop meal while checking out the wall decorations of artwork that was pulled from the Expo 67 Indian pavilion.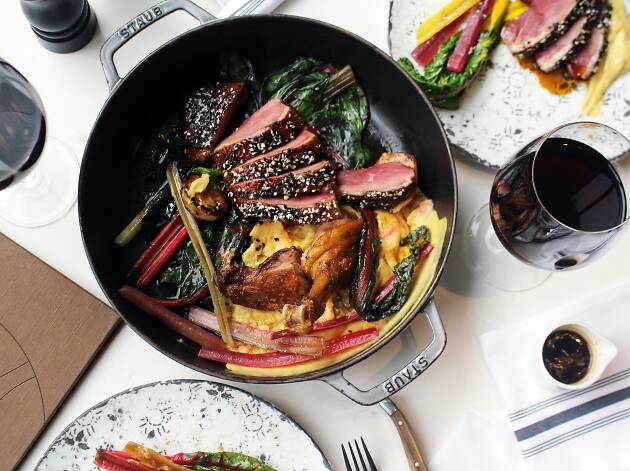 Photograph: Rosélys
Montrealers love to grab brunch on Sundays, and any real foodie will tell you that the Fairmont Hotel Queen Elizabeth's brunch is the pinnacle. Every Sunday, Rosélys keeps the morning-to-late-afternoon tradition alive with their five-star buffet that comes with a tartare bar, Benedict eggs on demand, smoothies, piles of pancakes, fresh seafood arrivals and specialty coffees. Situated in a space that sports from swanky décor, our only additional recommendation is that you book yourself a table ahead of time. This is an exceedingly popular option in town.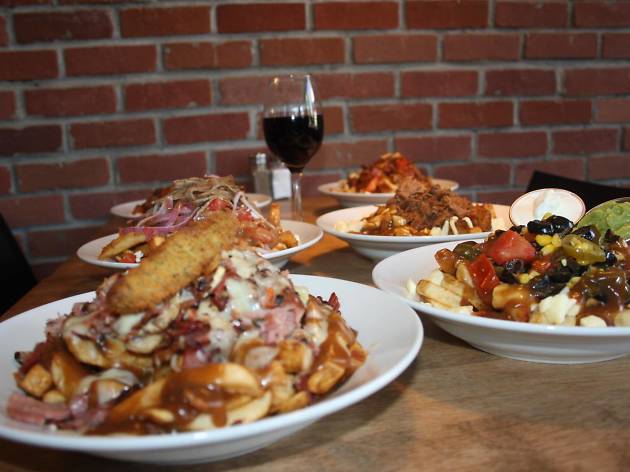 Photograph: Poutineville / @poutineville
Forget heading home to make dinner and eat poutine at will at this popular poutine chain, a benchmark for eating the Québec classic in Montreal. Whether you love a classic with curds and brown sauce or something a bit more eccentric, you've got to try the veritable poutine orgy that happens here every Tuesday at 5pm with several high-end options including filet mignon and blue cheese. As opposed to making poutine the thing you hunt down after a night out, you'll find a nice selection of cask beers here for a one-stop night on the town.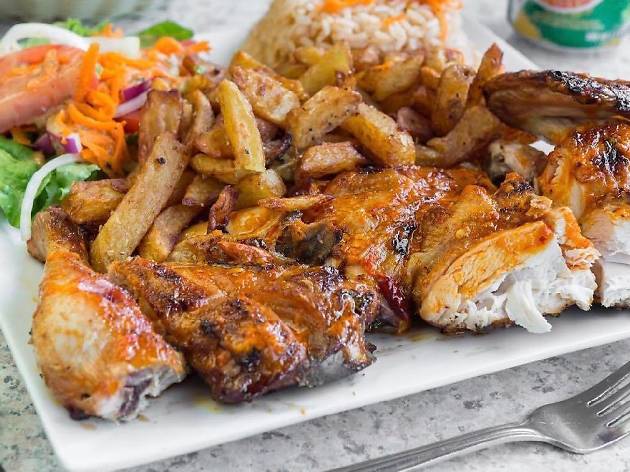 Photograph: @poulet3pattes
Let's be real: There is no better chicken on earth than Portuguese-style chicken. Crispy and juicy, eaten on its own soaked in a succulent piri-piri sauce, it's pure bliss. Poulet 3 pattes, one of the restaurants with the best Portuguese chicken in Montreal, has been a major favourite for Rosemont residents for a long time for its recipes and heaps of chicken and fries served every Sunday. For only $15, you can get yourself an all-you-can-eat affair that serves up a good option for those who didn't wake up in time for brunch. Just save yourself some space for their poutines topped with chicken, pork and chorizo.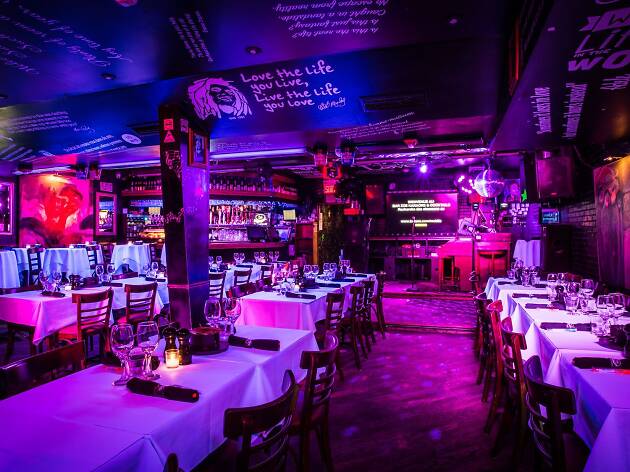 Photograph: Stéphane Chaput
11. Zoé Fondues Karaoké & Cocktails
This restaurant and bar in Saint-Michel is a unique place in town and one of our well-kept secrets for the best karaoke bars in Montreal. Here, the unlikely pairing of karaoke and fondue makes for a surprisingly winning duo to eat and sing until 3am. Starting at 8pm, anyone willing to sing will get the party up and going while a long menu of colorful cocktails is served to cheering crowds singing along and eating their all-you-can-eat Chinese fondue with beef and chicken, sided with salads, baked potatoes and other fixings.
More great places to eat in Montreal