The best baby stores in NYC
These baby stores are more than aww-inspiring—they've got the best gear, toys, apparel and even maternity picks around!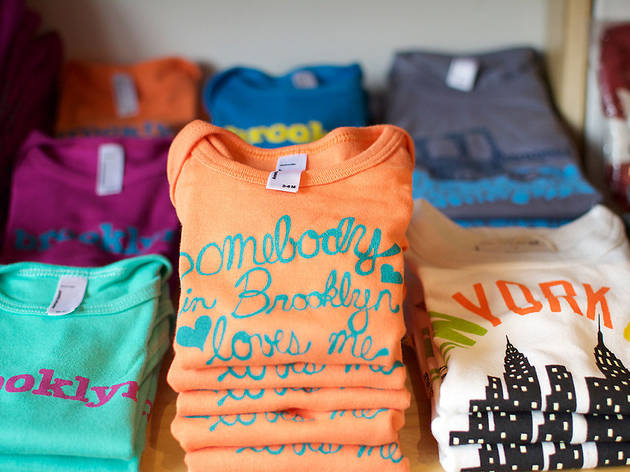 Finding the best baby stores NYC can offer is sometimes a challenge—especially since this city is so full of wonderful options for families. We're here to help! Choose from these reliable big-box stores or small mom & pop-type venues to find your perfect gift (or stuff for yourself!)—whether it be baby clothes, must-have baby supplies, baby room essentials or adorable, age-appropriate toys.
While you're at it, you'll certainly want to explore our favorite kids' clothing stores and kids' shoe stores, plus our new and improved list of the best toy stores in NYC and some (actually cool) maternity stores—you heard us!
The best baby stores in NYC
1
This shop is packed to the brim with adorable printed onesies, puzzles, trains, trucks, dolls, wooden toys, New York-themed gifts and cute baby/toddler stuff like finger puppets, hats and other fun knick-knacks. Ultimately this is a great spot for those who want to buy creative toddler and baby gifts that really say "I'm a pint-sized New Yorker."
Read more
2
A stroller parking lot, an in-store changing table, daily product demos and weekly storytimes are just a few of the nifty amenities at this everything-for-baby spot. Be sure to check out their line of organic cotton toys (we love the plush animal finger puppets) and bodysuits. All the kidware, including clothing, strollers and furniture, have been vetted to meet parent-minded criteria such as space-save-ability, washability and durability.
Read more
3
At this home-furnishings store with designs exclusively for tykes, shoppers will find whimsical nursery and youth furniture plus adorable accessories. Blankets, playroom accessories and small toys are also available.
Read more
4
This Madison Ave store offers everything you love about adult-sized J.Crew clothes—except made for your mini mes! Expect plenty of ruffles, polka dots, cute sequined designs and stuff for the boys too (Mini bowties and button-down shirts! Aww…). You'll even find children's shoes and other fun accessories that make perfect gifts for the younger set (er—well, likely more for their parents to appreciate).
Read more
5
Owner Grace Kang has been a buyer for Barneys, so it's no surprise that her store is filled to the brim with chic clothes and accessories for kids. They'll love rocking clothing and accessories like Liberty of London hair bows ($16), bear-claw booties ($52) and Brooklyn-repping onesies ($32) at play group.
Read more
6
Everything's ultramodern at this Billyburg baby mecca, a spin-off of Brooklyn design store Two Jakes. Look for the latest bags, strollers and cribs from brands like Oeuf, Argington and Bloom. You'll also find helpful stuff for potty training and playtime, plus great gifts for friends with babies/toddlers.
Read more
8
This Soho boutique comes to NYC courtesy of Iceland. Head to the back of the shop for racks of children's clothes, including whimsical items from brands like Bonpoint, Bonbon and Simple Kids—all timeless picks your kiddos will grow out of long before you're ready (and used again for future generations)!
Read more
9
Husband-and-wife team Aslan and Jenn Cattaui fill their cozy 450-square-foot store with the stuff kids dig—Gogo's Chop Shop plushies, small wooden cars/trains and adorable pull-along toys—even playmats and teethers! They also carry vintage wear that'll make parents envious. The shop mainly focuses on the under-six set, but they also stock pieces for older children from popular lines such as Bobo Choses and Nununu. You'll wish this stuff came in your size.
Read more
10
Show up on a weekend afternoon and it might be rough to navigate through the sea of bellies working on their registries. The selection of goods is vast, from basic pacifiers, bibs and washcloths to floor-to-ceiling displays of fancier diaper bags and bedding. You'll also find strollers (both low- and high-end), as well as nursery setups complete with cribs, sheet sets and mobiles.
Read more
11
The Union Square outlet of this megachain has just about everything you could ever need to feed, bathe, diaper, clothe, transport and entertain your babe. Even though it specializes in the basic and affordable, it does carry some high-end brands like Bugaboo and Timi & Leslie. Additionally, it has one of the biggest selections (and floor-spaces) for you to see some awesome larger pieces in person.
Read more
12
Children's fashion editor turned entrepreneur Bronagh Staley handpicks this boutique's clothing and playthings for kids ages newborn to eight. She's a fan of labels like April Showers and Wovenplay. Each location uses birch and reclaimed wood in its design to create a fantasy feel.
Read more
13
These colorful stores specialize in Japanese clothing, shoes and toys. They offer cute onesises, tees, cardigans and other baby apparel, plus you can also find cute accessories like hats, bibs and dressy hairbands. Inside the store, kids will enjoy the play area, while moms will be happy to find a diaper-changing and breastfeeding room each location.
Read more
14
You may know LuLu's Cuts & Toys, but have you checked out LuLu's for baby? Located next door to the kiddie hair salon, this shop sells strollers, carriers, clothing, swaddle blankets, playthings and baby-care products for newborns to two-year-olds.
Read more
More fun activities for kids
There are plenty of outdoor activities for kids in New York City—many you'll even love doing as a family! When you're not busy cuddled up with our favorite family movies on Netflix and our list of the best kids movies (come on—it's time to head outside!), you'll love exploring the coolest family attractions and the other amazing outdoor activities this amazing city has to offer. 
Read more