St. Patrick's Day for kids in New York
Celebrate St. Patrick's Day for kids with the best events, exhibits, flicks and more around town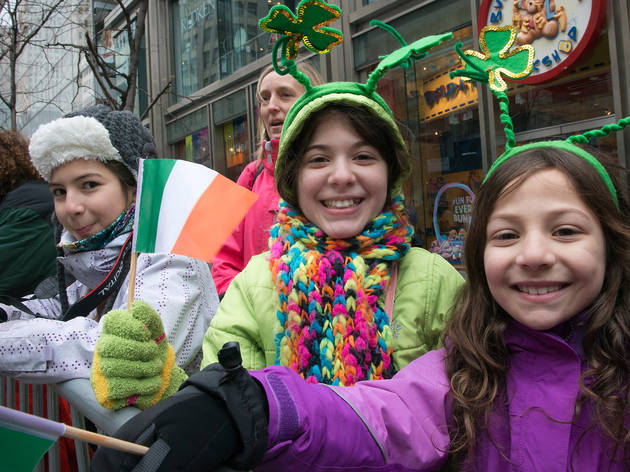 Not chugging (many) pints this holiday? We got you. St. Patrick's Day for kids can be a challenge, but not if you know where to find the best events and activites for kids! Whether or not you choose to brave the rowdy, boozy crowds of Fifth Avenue during the annual St. Patrick's Day Parade, you can keep the family busy with walking tours, craft workshops, concerts and museum exhibits. Or, if you'd rather stay inside, check out these fun indoor activities for kids and our favorite kids movies.
What is St. Patrick's Day?
St. Patrick's Day, a.k.a. the Feast of St. Patrick, is a holiday commemorating the death of the patron saint of Ireland. While the holiday has religious roots, today it's mainly a celebration of Irish heritage, and usually involves parades, festivals, parties and lots of green.
When is St. Patrick's Day?
St. Patrick's Day is on Thursday March 17th, 2016.
St Patrick's Day for kids
No St. Paddy's Day in NYC would be complete without staking out a spot at this parade, which makes its march up Fifth Avenue. (The event is even older than the United States; it was started by a group of homesick Irish conscripts from the British army in 1762.) More than 2 million onlookers are expected to show up for the annual spectacle! Families can don their Irish beads, hats and shamrock stickers and watch as a sea of green-clad marchers displays Irish pride. Expect the sounds of bagpipes and marching bands, plus plenty of kilts. All ages.
Read more
Join Brunch Baby, Brunch for a family-friendly St. Patrick's celebration! Kids will love the live DJ, toy favors and raffle prizes, and you'll love that the little ones 12 and under eat for free with the purchase of an adult meal! Check out complimentary face painting, an arts & crafts table and a performance from children's entertainer Silly Billy. Reservations are strongly recommended, so call 212-673-6465 or e-mail brunchbaby@brotherjimmys.com to secure your spot.
Read more
The Cultural Services of the French Embassy and the French Institute Alliance Francaise present an arts festival specifically targeted to youths. This inaugural festival combines philosophy and music, circus and magic, design, dance and gastronomy in a series of programming featuring installations and workshops incorporating work from a bevy of French and global artists. A few of the artists featured will be creating their first-ever works for kids. Some highlights of the event include the collaborative installation "Anima" which introduces viewers to Mayan culture and celebrates the relationships between man, soul and animals as well as "Le bestiaire," an exhibit featuring animal illustrations from 14 artists where kids can create their own animal disguises. On March 4 and 5 families can enjoy Cabaret de Magie Nouvelle, a magical cabaret performance combining shadow puppetry, jugglers and magic tricks and the Carnival of the Animals, a circus performance in which acrobats dress up as different animals on April 2 and 3. Various ages, locations and times, see website for details.
Read more
Sober St. Patrick's day is an annual event held in four American cities and Ireland as a healthy and safe alternative to the average booze-filled celebration. Head to the New York Irish Center to enjoy all-ages performances and traditional Irish music from champion fiddling, accordion and pipe peformers and master Irish vocalists. Other entertainment includes Marianne McShane, a storytelling champion, children's librarian and seanachie (Irish folklore storyteller); the Donny Golden Irish step dancing group and more. Baked goods, coffee, tea and soda come with your ticket and shepherd's pie and sandwiches are available for purchase.
Read more
Archaeologist Howard Carter discovered the tomb of King Tut almost 100 years ago and now kids will get the opportunity to experience the excavation firsthand. This exhibition provides visitors with an in-depth look at the tomb of famed boy-king, Tutankhamun. Featuring replicas and reconstructions of the burial goods found in the tomb—created by Egyptian craftsmen and Egyptologists—the exhibition will make kids feel as if they've traveled 3,000 years back in time. Guests can go on an audio tour based on Howard Carter's diaries, video documentaries, extensive texts and object descriptions. Additionally, the exhibition will include a series of lectures by Egyptologists and a gallery dedicated to the relationship between New York and King Tut. All ages.
Read more
At a very young age, kids are taught that germs are "yucky" and should be eliminated, but now they'll find out that there's much more to those tiny microorganisms that live on and inside our bodies. In this special exhibition, the Museum of Natural History invites families to take a closer look at the 100 trillion bacteria and viruses that make up our microbiome, demonstrating how the microbes can help make vitamins, digest food, pump up our immune system and even affect moods and behavior. Kids can get hands-on with interactive displays, showing where the bacteria live, how we interact with them and beyond. Ages 6 and up.
Read more
NYSCI is holding daily screenings of this inspiring film by National Geographic Studios and narrated by actor and pilot Harrison Ford. Immerse yourself in the world of flying as you watch how aviation has affected travel through a journey to 95 locations in 18 countries depicted with beautiful aerial and nature photography. All ages.
Read more
With so many people bustling around NYC at all times, it's easy to forget that our city is just a small piece in a larger environment. This high-tech exhibition in the Great Hall lets families better understand our impact on Earth's delicate systems, teaching kids how to keep things balanced through individual and collective actions. Hands-on activities let visitors interact with animated creatures, plants, trees and other objects on seven giant screens. Each displays a different environment—desert, mountain valley, plains, reservoir, jungle wetlands and a digital waterfall, towering above at 38 feet tall. As families move from one environment to the next they'll explore how the spaces are connected by shared resources and weather patterns and how their actions impact the larger environment. All ages.
Read more
This exhibition on view in the Cynthia C. Wainwright Gallery celebrates the textile arts by showcasing works from contemporary artists that use the material of fiber to create unique pieces. "Sew What?" brings attention to the various techniques artists use to transform fiber. Artists twist and spin fiber to create yarn which is then braided, knotted, looped or woven into flexible fabric or cloth used to make clothing or soft items. The textile arts encapsulate such artistic techniques as dyeing, printing, embroidery, needlework, quilting and sewing. Visitors to the exhibit will get a firsthand look at these creative textile practices as they explore the fiber work on display. All ages.
Read more
Show more
Other St. Patrick's Day activities