Best kid-friendly bars in New York City
Grab a beer or cocktail at one of these kid-friendly bars in NYC! Yep, we're serious. You'll be glad you read this.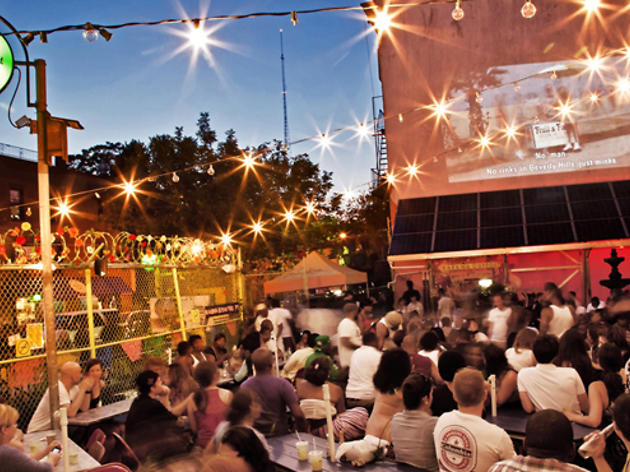 You're allowed to like kids and cocktails. Our roundup of kid-friendly bars in NYC is here to make your lives as parents just a little bit easier! The stellar venues on our list range from beer gardens to quirky sports bars and dive bars, and with so many options to choose from, there's sure to be something that suits everyone. Did we mention that some spots even have lawn games and arcade games as well?
Dear readers, when you're done with your latest visit to your favorite local kids' playgrounds and indoor playgrounds, or whatever other excellent (hopefully) free activities you've been enjoying, treat yourself to beer, wine or some frose at one of these welcoming kid-friendly bars/restaurants in the neighborhood. (P.S...we'd consider this yet another reason why NYC is the best place to raise kids!
**Please note that children are not welcome to sit at the bar itself, but at tables within the bar space. Please see below for the rules of individual venues. In most cases, it's a safe bet that children are not welcome after dark.
Kid-friendly bars in NYC
Habana Outpost offers traditional Mexican and Cuban food alongside cocktails and beer. Kids can hang out at Habana any time, and the bar/restaurant's traditional cuisine will keep 'em stuffed while you sip a delicious drink. Habana loves families so much that they host free craft classes several times a month. During the classes, kids can make things like bottle cap magnets, nature collages and flower crowns. Habana even hosts a fun back-to-school celebration every year!
Read more
Judging by the bar's extensive kids-rule section on their website, we'll go ahead and say this is a popular place for moms and dads with little ones. While you're sipping on one of the bar's new brews and petting people's puppies (it's known as a dog-friendly spot, too!) be sure to check out the back patio and board games. Mission Dolores does not serve food, but patrons are welcome to bring food into the bar with them…and we'd recommend it, because kids always get hungry. Don't dawdle past 6pm, the hour when kids and their respective caretakers need to skedaddle home.
Read more
Reason #134 we love Brooklyn Brewery: They don't just love us, they love our kids too! If you book a Small Batch Brewery Tour, kids can join for free if they're under ten– and it's just a $15 ticket if they're older (which includes a souvenir glass filled with craft soda or water). Of-age participants get to taste four beers along the journey, and tokens can be purchased afterwards (one token = one beer, $20 for 5 tokens or $5 each). If you hit up a regular brewery tour and your kids are getting hungry, you can even order pizza to be delivered. We may never leave.
Buy tickets
Read more
With its cozy 15+ table outdoor space, Brooklyn bar Franklin Park is the perfect spot for an al fresco drink (or two) in the afternoon. Beers rotate seasonally, children are allowed on the premises during daylight hours, and if they get bored, there's a cool photo booth to play around in, plus ping-pong and video games to keep 'em busy.
Read more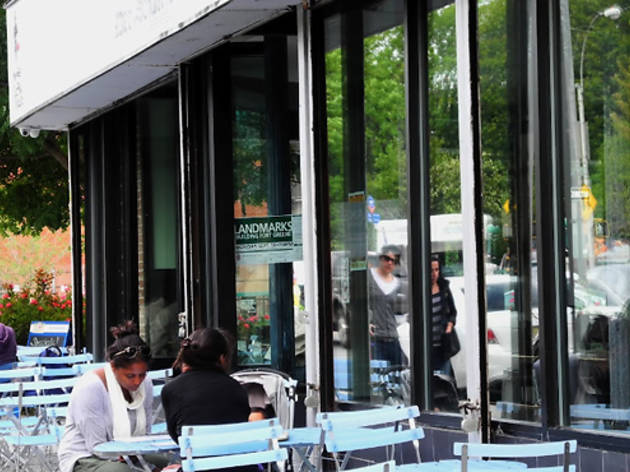 Der Schwarze Kölner
Head to Fort Greene for some classic German fare from this beloved restaurant and bar. You'll find all kinds of great stuff at Der Schwarze Kölner, including pretzels, brats, truffle fries, a great beer selection and—you guessed it—kids! Parents need a beer too, ya know. Strollers are welcome (just need to fold 'em), as are tots and their toys, but wrap it up before 9pm when this cool spot becomes an adults-only affair. 710 Fulton St, Brooklyn (347-841-4495, dsk-brooklyn.com.
This soul food staple with locations in Williamsburg and the Lower East Side is like KFC takeout for hip city kids. If you're brunching, try sharing the Sweet Chick Bucket (three pieces of fried chicken, a biscuit and slaw) with little ones or let them tackle the sweet-and-savory house specialty: Chicken & Waffles with their choice of a classic, bacon or cheddar waffle. The bench-style seating is helpful for bigger groups, too! Though this amazing spot is open until 2am and serves delicious cocktails, we'd recommend taking the kids home before dark—it's a definitely a hotspot in the evenings.
Read more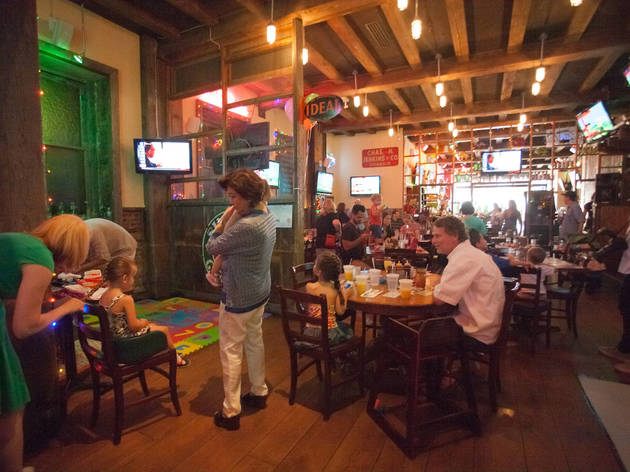 Brother Jimmy's
This Southern-inflected watering hole can get rowdy in the evening, but head to one of the six city locations for drinks in the early afternoon and you're golden. Coloring pages, plastic cups with straws and lids and tasty kids' menu options will keep the tots happy while parents take advantage of top-notch barbecue lunch specials and specialty cocktails. Look out for family-friendly events like the "Brunch Baby, Brunch" series in the summer. 116 E 16th St (212-673-6465, brotherjimmys.com)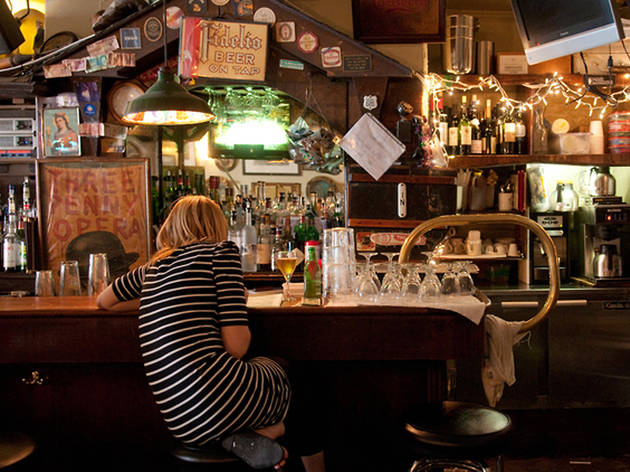 Ear Inn
You can bring kids to this old-timey bar, but the folks at Ear Inn probably wouldn't want us to tell you that. The cozy and delightfully divey bar is always busy with warehouse workers and union guys rubbing shoulders with musicians and Soho media types, but if you stop in for lunch or early dinner (aim for 6pm) you get to enjoy tasty pub fare such as burgers, dumplings, pasta and spicy shrimp, before things get too boisterous. The tables are small, but kids can doodle on the paper tablecloth with crayons while you soak up the atmosphere at this landmark registered hostelry. Built in the late 18th century, the Ear Inn's door was just five feet from banks of the Hudson River at the time. Parent tip: Nab a table as far as possible from the restrooms, they can smell rather, erm, authentic. 326 Spring St (212-226-9060, earinn.com)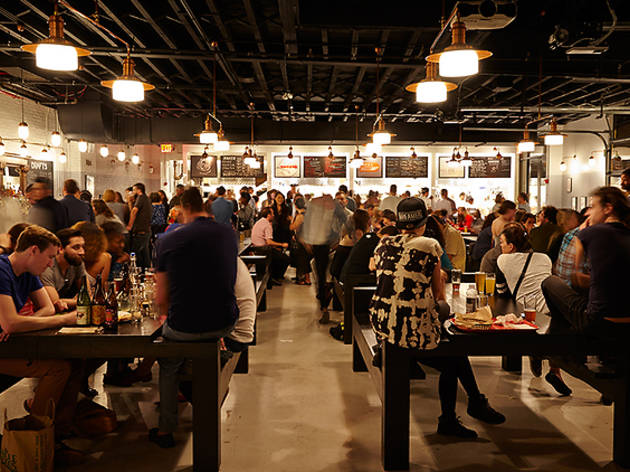 Berg'n
With its long tables, board games and giant projection screen, this epic beer hall is a perfect place to hang with the whole brood and knock back a few beers. Picky eaters are no problem—there are various food vendors to choose from, so everyone is sure to find something they like. Beer drinkers have their pick of an array of drafts, bottles and cans from breweries as close to home as Brooklyn and as far–flung as Japan. This spot also lets families stay after dark. If your kid's up for it, we'd call this a serious win! 899 Bergen St, Brooklyn (718-857-2337, bergn.com)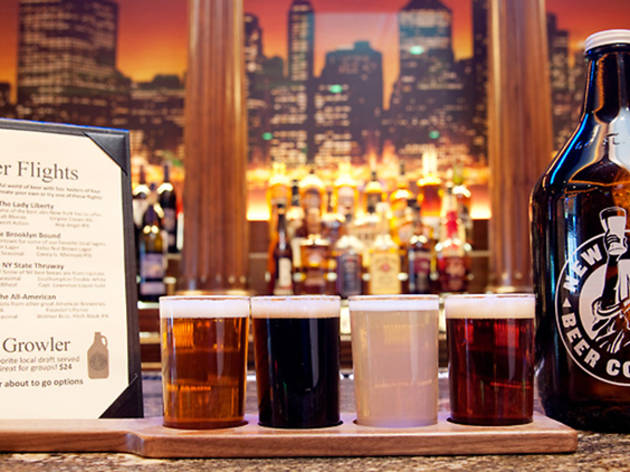 New York Beer Company
There was a time when taking your kid to a bar in Times Square would have Child Protective Services knocking at your door. At this bar, not-so-much. You'll find the environs at this huge New York–themed sports bar to be way more wholesome than, say, the nearby McDonalds. Here you'll find a post-work, pre-show crowd who mostly hang out at the ginormous bar and grab pub fare such as sandwiches, salads, pasta and burgers. The substantial $10 kids menu comes with juice or soda and offers generous portions of quesadillas, hot dogs, fish and chips and pizza. Thirsty parents will find a wide selection of craft brews, beer flights and even growlers—if it's been a really tough day. Happily, there are are plenty of tucked-away alcoves that are perfect for downing a beer and corralling your brood away from the hubbub when the bar is busy. 321 W 44th St (212-245-2337, nybeercompany.com)