The best kids' playgrounds NYC has to offer
Our favorite kids' playgrounds in NYC make for an epic day out, so start planning your visit to these fun spots.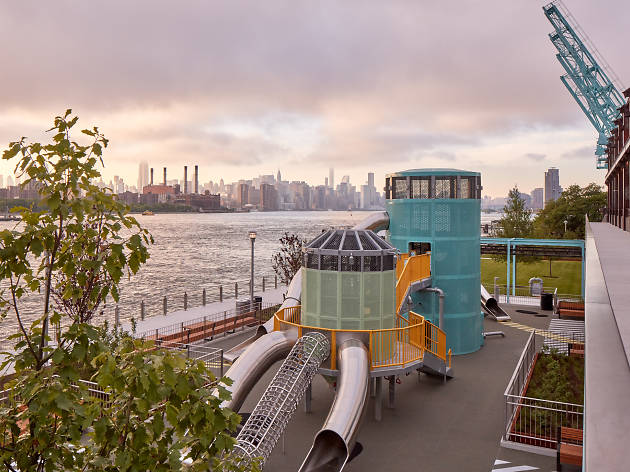 When the coolest kids' playgrounds in NYC are available at your fingertips, you're in for a fabulous adventure
From the newly opened Domino Park to the ever-popular Central Park green spaces, Gotham's best playgrounds offer classic features such as splash pads and jungle gyms, but they also take recreation to a whole new level. Where else can pint-sized park-goers construct their own playground, play on a pipefish or hang out with dinosaurs? Of course, this is all up for grabs in NYC. (Be on the lookout for water playgrounds and carousels, too.)
When the youngsters are done running, jumping and swinging, book tickets to cool family attractions for even more excitement. If the weather is a bit too cold for outdoor activities, enjoy a visit to our favorite indoor playgrounds.
The best kids' playgrounds in NYC
More fun things to do with kids
There are plenty of outdoor activities for kids in New York City—many you'll even love doing as a family! When you're not busy cuddled up with our favorite family movies on Netflix and our list of the best kids movies (come on—it's time to head outside!), you'll love exploring the coolest family attractions and the other amazing outdoor activities this amazing city has to offer.