7 gorgeous NYC playgrounds to visit in 2020
These visually stunning NYC playgrounds create the perfect environment for your kids' afternoon outdoors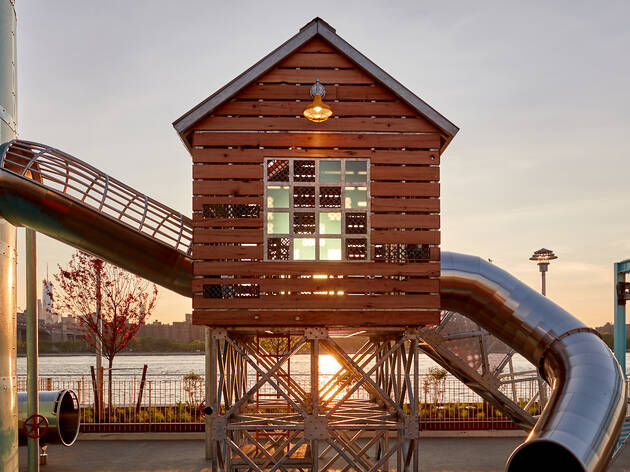 Kids' playgrounds in NYC are works of art in their own right. Intricate details, whimsical features and scenic locations abound, catapulting these play spaces to a top spot on our list of favorite outdoor activities for kids. As the warm weather creeps in, we're always up for extending our playground visits well into the evening.
We've tracked down the prettiest new, renovated and classic spots that are totally worth a visit this year. There's plenty to admire and explore in these kid-approved destinations, so it's probably best to hit them all.
Make the most out of the season and prepare to slide, climb and swing. To enhance the experience, we highly recommend ending your day outdoors with a scoop of something sweet from our go-to ice cream shops in NYC.
Gorgeous NYC playgrounds to visit right now
Sporting an industrial aesthetic reminiscent of Williamsburg's sugar factory days, Domino Park is one of the newest waterfront escapes that has climbed atop of all New Yorkers' to-do lists. Even Brooklyn's littlest residents can't get over the newly constructed green space, and with good reason. Mark Reigelman's Sweetwater Playground brings youngsters back to the sugar industry days by way of slides, conveyor belts, tunnels and other exciting amenities. Pint-sized visitors can access three various areas of the attraction, which includes Sugarcane Cabin, Sweetwater Silo and Sugar Cube Centrifuge. The lively colors and metal add a hip factor to the overall vibe, and reused wood from factory floors are actually featured throughout the space as well.
Things to do, Playgrounds
The newly renovated play space celebrates a resident of the Hudson River Park Estuary: the pipefish! He's on display in all his glory as the playground's main attraction—a large multi-colored slide designed by Michael Van Valkenburgh. The upgrades also include a newly constructed water features, a fun sand area plus a new shaded region where parents can catch a breather—a huge relief during the dog days of summer.
3
Photograph: Courtesy Seth Lamberton + Marlborough Gallery © Tom Otterness
Tom Otterness' Playground at Silver Towers
Public sculptor Tom Otterness—whose work has appeared throughout the city and even in float-form during the Macy's Thanksgiving Day Parade—delights little vistors with enormous bronze creations that double as a play spaces and artwork. His eccentric slides/large-footed character hybrid calls the Silver Towers (620 W 42nd St) home and begs kids to take the plunge—and begs parents to snap a photo.
Things to do, Playgrounds
Budding scientists love the exhibits housed in this Queen's venue, and naturally they can't get over the epic playground that enhances any visit to the New York Hall of Science. A tube slide will give littles the 4-1-1 on science topics, while the climbing area mirrors a giant spider web (no arachnids in sight, so don't stress). There are also wind pipes, metal drums, sandboxes and much more. Whoever thinks science is boring needs a trip to this museum STAT.
Things to do, Playgrounds
Using the Met's Egyptian Art collection as its source of inspiration, Ancient Playground transports little New Yorkers straight to the Sahara without leaving the east coast. Pyramid climbers, water features, tire swings and other amenities are on hand when tots are in search of a fun afternoon. If the museum's exhibits are a little too advanced for your young explorers, consider Anicent Playground another way to expose them to new geographical locations.
Not only is the Playground for All Children stunning to admire and visit, but it's accessible for all little ones who want to get in on the action. Built in 1984, this is the first playground of its kind to offer features for children of all abilities, courtesy of a network of wheelchair-accessible ramps connecting jungle gyms and Braille signs marking the way. A mini village beckons kids with a one-room schoolhouse, complete with a chalk blackboard, a fire station, a house with flower boxes and vehicles such as a fire engine and a bus to drive, all cozy nooks for play-and-pretend. Basketball courts surrounded by amphitheater seating, plus a faux river encircling a sprinkler area with ample shading, ensure unfettered fun for everyone who visits.
Things to do, Playgrounds
This Long Island City playground deserves a spot on your to-do list for so many reasons. Whimsical play equipment includes the likes of spinning, egglike saucers, a huge spiderweb and three posh jungle gyms. The flooring's crazy colors perfectly complement the springtime merriment, and Gantry Plaza State Park itself is stunning. Wood chaises longues face the ocean, should you want to catch a few rays with the kids, and a willow-tree grove makes the perfect spot for a riverside picnic. Don't forget to snap a few pictures of the NYC skyline while you're here!