Best indoor water parks near NYC
Grab your towel. The best indoor water parks near NYC have slides, playgrounds and more fun amenities you'll love.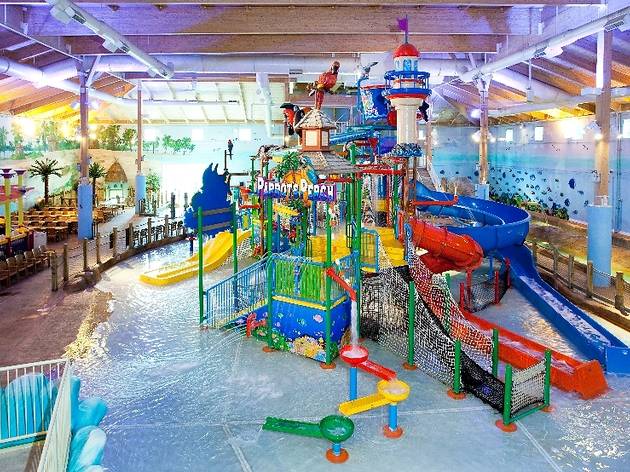 Winter's no reason to put away your bathing suit. These epic indoor water parks near NYC let summer live on, no matter the temperature.
Between wild slides, adventurous playgrounds and lazy rivers, these venues are perfect if you're more inclined to cannon ball than glide down slopes at these family ski resorts. Sometimes a pool is just more desirable than a mountain of snow!
RECOMMENDED: The best family vacations from NYC
If you're in search of eternal summer bliss, ready your beach towels and grab the goggles. These adventure-packed indoor water parks near NYC are the way to go. While you're planning fun outings, be sure to also check out the best kids' amusement parks in NYC, family weekend getaways from NYC and all-inclusive family resorts.
Indoor water parks near NYC
Camelback Mountain Aquatopia Indoor Waterpark
Travel time: 2 hours and 20 minutes by car
Camelback Mountain is a must-visit for families looking to bust out the ski equipment, but when the slopes become mundane it's time to change the pace. Swap the snow for some h20 fun with the 125,000 square-foot indoor water park. The massive venue boasts something for everyone. Have your pick of 13 different slides, let tiny ones explore the wading pools and face off during a visit to the aqua-play structure at Kartrite's Quest, The Great Ka-Na-Gawa Wavepool and other awesome features. If you have the option to enjoy the best of both seasons, why not take advantage of summer and winter activities in one weekend? (855-515-1283, camelbackresort.com).
Rocking Horse Ranch Resort Big Splash Indoor Waterpark
Travel time: 2 hours by car
If the weather for horseback riding is a bust or your kids aren't really up for playing in the snow, Rocking Horse Ranch's indoor water park will certainly earn a thumbs up from your crew. The typical water activities are taken to new levels thanks to the 250-foot long Gold Rush Flume, the Dynamite Alley Water Walk Challenge, interactive features and adventurous slides. Mom and Dad, if you're interested in hitting the indoor and outdoor amenities solo, you can opt to sign your kids up for the Wild Buckaroos Day Camp or Little Tykes Nursery Camp. Highland, NY (800-647-2624, rockinghorseranch.com).
Photograph: Courtesy
Great Wolf Lodge Water Park
Travel time: 2 hours by car
Though Great Wolf Lodge sports a cozy, log cabin feel, you're not going to want to tuck in—too many adventures await. The indoor water park will treat visitors to a 1,000-gallon tipping bucket, a roller-coaster water-slide fusion, on-water agility course, activity pools and an interactive Slideboarding challenge. Phew! How's that for a wet and wild offering? The fun certainly doesn't end when your family dries off. After your visit to the water amenities, try cracking the code during a wizard-themed scavenger hunt or enjoy a little r&r at the spa (which boasts kid-friendly offerings) or hang out with the venue's characters, who are ready and waiting to greet the youngest of guests. Scotrun, PA (800-768-9653, greatwolf.com/poconos).
Travel time: 2 hours and 30 minutes by car
Split Rock Resort is packed full of fun for the whole family. Little ones will love splashing around in 53,326-square-feet of wave pools, activity pools, slides and climbable jungle falls playground. Don't miss out on the Komodo Dragon flow rider where agile kids can hang 10 or the Amazon Blast slides that drop brave tots four stories! Apart from the amazing water park, Split Rock also has plenty of fun activities offered on premises or nearby—you can try golf, biking, whitewater rafting, ATVs and snow tubing, skiing and snowboarding in the cold-weather months. Lake Harmony, PA (800-255-7625, splitrockresort.com).
Travel time: 2 hours by car

If it's nonstop excitement you seek, you've come to the right place. This indoor Amazon boasts uniquely thrilling aquatic adventures. Bodyboard or surf 5-foot waves all day every day on FlowRider, experience the dramatic dips, tumultuous turns and gushing geysers of the Anaconda water roller coaster, zip down the Zimbabwe Zipper at 40mph or simply relax in the lazy river and whirlpool spas. There's plenty of entertainment for younger kids, including Splashdown Safari—with a slurry of slides, water guns and tons of interactive fun—or Tiko's Watering Hole, which comes complete with a play area, activities, a lazy river and pint-sized slides just for tots! Pocono Manor, PA (570-580-6000, kalahariresorts.com).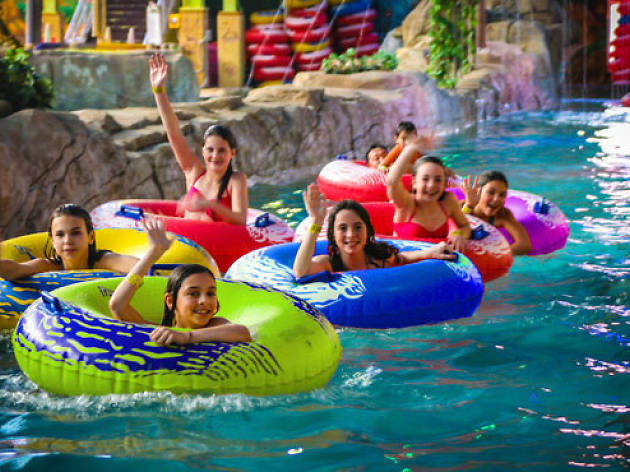 Photograph: Courtesy of Sahara Sam's Oasis Water Park
Travel time: 2 hours and 15 minutes by car
If you're torn between a water park and an amusement park, consider heading to Sahara Sam's Oasis, outfitted with surf-and-turf entertainment for families. Hydrophilic kids can zip down slides like Snake Eyes and Mount Kilimanjaro, float along the Congo Bongo lazy river and catch waves on the FlowRider surfing simulator at the indoor splash center. Wave through the Crocodile Flats obstacle course and sink some three-pointers at Sam's Slamdunker water basketball area. While most of the excitement and watery fun is available year-round, there are a few cool features you have to wait until Summer to experience, like the wave pools and H20 game areas at the outdoor Beach Club. When the little ones want to dry off, they can get their fill of fun with trucks at Diggerland, the construction-themed amusement park behind Sahara Sam's. West Berlin, NJ (856-767-7580, saharasams.com).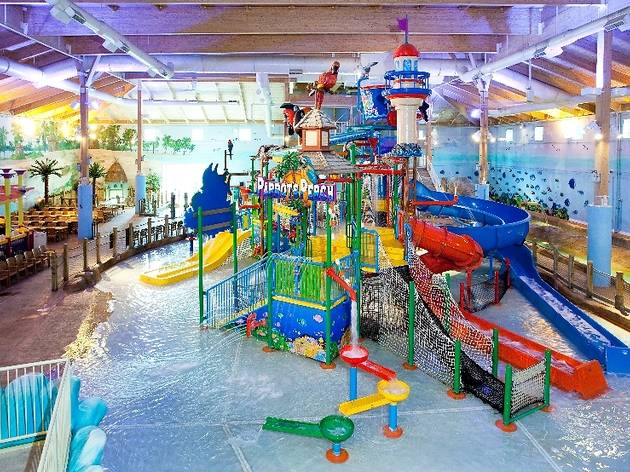 Photograph: Courtesy Coco Key/ The Hotel ML
Travel time: 2 hours by car

A short drive to New Jersey will transport you to a family getaway so memorable, you're sure to return. The thrills are plentiful in this water resort: Take a peek at Parrot's Perch, featuring an interactive aquatic jungle gym, countless water cannons and a 300-gallon dumping bucket for loads of drenching wet fun. If you're feeling brave, you can barrel your way through the enclosed winding darkness of Barracuda Blast, or venture to the chill inducing Shark Slam, a 4-story-high slide that will whip you through 300 feet of wet n' wild fun. For a little friendly competition, try the Lily Pad Adventure, a challenging activity pool for kids and adults alike. And for the wee bunch, the Dip-In offers entertainment of miniature proportions: hours of fun for the tiniest guests, with a foot deep wading pool overlooking the park, complete with baby slides and even a little bungee! Mount Laurel, NJ (877-494-2626, mtlaurelcocokey.com).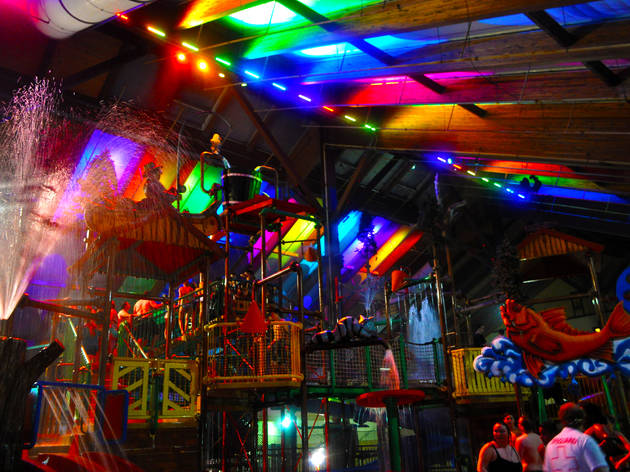 Photograph: Courtesy Six Flags Great Escape & Splashwater Kingdom
Six Flags Great Escape Lodge & Indoor Waterpark
Travel time: 3 hours by car
With Six Flags, you're guaranteed an adventure, whether you're inside or outside. Thanks to its Queensbury water park, visitors can enjoy Tall Timbres Treehouse with over 160 wet 'n wild play features, white water rafting and a spectacular light show right in the middle of the 82-degree venue. Queensbury, NY (518-824-6060, sixflagsgreatescapelodge.com).