The best spots for kids' bowling in NYC
These great kids' bowling spots in NYC are perfect for the whole family. It's a lovely way to spend a weekend afternoon!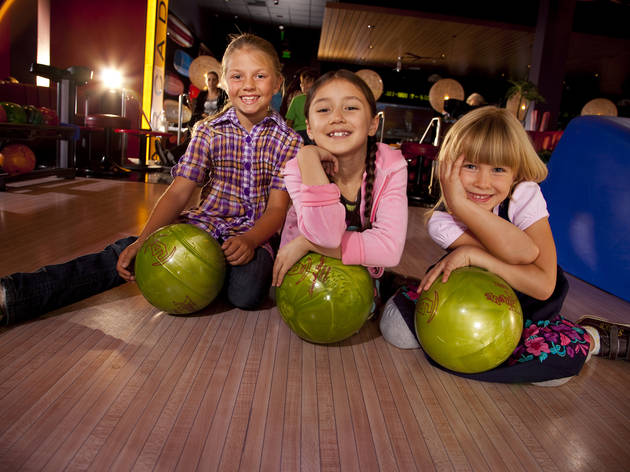 Even the most tech-obsessed kids will happily put down the iPhone for a good old fashioned game at these kids' bowling spots! Plenty of places offer cool stuff like glow-in-the-dark lanes, NYC-themed decor and even bumpers. Though some bowling alleys are not kid-friendly at all hours, many do offer kid-friendly times that are perfect for some quality time with the littles. Bowling is also a cheap playdate idea, so keep it in mind for future parties and get-togethers!
RECOMMENDED: Full guide to indoor activities for kids in NYC
Check out these indoor playgrounds for kids and our favorite family movies on Netflix too!
The best kids' bowling in NYC
1
This old school Brooklyn stalwart is totally kid-friendly, almost all the time. A popular spot for kid birthday parties, the kitchen serves basic grilled/fried fare for breakfast, lunch and dinner, with the added bonus of "glow bowling" every night at 7pm. 461 37th St, Brooklyn (718-834-BOWL, melodylanesny.com).
Read more
2
Forty glow-in-the-dark lanes (with bumpers), banquette seating and decent music (and beer for parents) make this a bustling spot for a rainy-day afternoon outing with the kiddos. Hungry? Wait-service delivers decent food right to your lane. Walk-in or reserve for large groups—it's a hot spot for kid birthday parties. When you're all bowled over, the adjacent full arcade, laser tag, bocce ball and indoor mini-golf course cannot be denied. Pier 60 and 23rd St and West Side Hwy (212-835-2695, bowlmor.com).
Read more
3
This funky, neon bowling mecca holds much appeal for grown-ups (cocktails, a lounge and dance club), but also offers packages for families. For $29.95 per person (4 person minimum), you and your kin can bowl for two hours, drink soda or juice and feast on pizza and a chicken-tenders —shoe rental is included, too. Monday through Saturday before 5pm and all day Sunday. Kids' parties and family brunch are also available. 550 Ninth Ave (212-268-6909, framesnyc.com).
Read more
4
Although this concert-venue-cum-16-lane-alley attracts hipsters in droves with concerts and superstar DJ sets (Questlove among them), weekend afternoons from 12–6pm are wide open to all-ages during Family Bowl. Chow from the acclaimed Blue Ribbon restaurant will fill you up while you take down the pins, family style. 61 Wythe Ave, Brooklyn (718-963-3369, brooklynbowl.com).
Book now
Read more
5
This NYC-themed bowling spot features fifty lanes in seven private bowling lounges inspired by different times and places in New York history. Example: In the "Chinatown Lounge," young players can hit a giant gong when they bowl a spare or strike; there's also a three-dimensional dragon that pops off the wall. Lightweight balls and bumpers are available for tykes. If you work up an appetite, next-level pub fare can be delivered straight to your lane. 222 W 44th St (212-835-2695, bowlmor.com).
Read more
6
This hip, fancy bowling alley is decidedly club-like and 21+ after 5 pm during the week (and after 7 pm on weekends), but when the sun's up, families are encouraged to come in and get their bowl on. Elevated pub grub, like grilled cheese sammies, pigs-in-a-blanket and sliders, round out the experience. 624–660 W 42nd St (646-829-0170, bowlluckystrike.com).
Read more
7
With 28 glow-in-the-dark lanes, light balls, bumpers and arcade games, this spot fully qualifies as kid-friendly. What's more, it's got a decent drink menu and plenty of food for everyone. Got an avid kid bowler? Their Youth League is open to kids aged 5–18. What's more, you can register your offspring for a Summer Fun Bowl pass—and they can bowl free! 19-45 49th St, Queens (718-274-1910, astoriabowl.com).
Read more
8
Bowlerland
Open seven days a week, this 32-lane bowling hotspot offers plenty of cool stuff to enjoy, incuding blacklight bowling 8pm–3am on Fridays and Saturdays (though we expect you won't have your kiddos out that late)! On Saturdays and Sundays, there's also unlimited bowling from 9am–1pm for $18 per person if you're in a group of three or more. 2417 Hollers Ave, Bronx (718-994-8700, bowlerlandbowling.com).
9
Hardcore bowling families rejoice: This alley caters to early risers, opening at 9 am most days. It offers 48 lanes (all with bumpers), touch-screen computers and your basic bowling fun. Purchase a fun pack for $55 and get an hour and a half of bowling, shoe rentals, a pizza and a pitcher of soda for up to four people. 1600 Hylan Blvd, Staten Island (718-979-1600, rabslanes.com).
Read more
10
If bowling is more about the game than the frills, this Gravesend spot keeps the good times rolling while keeping costs down. With 32 lanes there's plenty of space, plus youth leagues for the dedicated young bowler. What's more, they host kid birthday parties at very decent prices. 1 Bouck Court, Brooklyn (646-773-5936, shelllanes.com).
Read more
11
With jumbo screens lording over lanes, a laser light show, the hottest arcade games (Fast & Furious), 5 Skee-Ball lanes and air-hockey, this spot is like a one-stop kid wonderland. Chow down on pizza, wraps burgers and subs while you game the day away. Here's a deal: Monday through Friday from noon to 5pm, enjoy one hour of bowling, four shoe rentals and a pizza for only $28—just mention the deal at check-in. 141 E Service Rd, Staten Island (718-477-2695, showplacebowling.net).
Read more
12
Whitestone Lanes
Visit Whitestone Lanes on Monday and Tuesday nights and on Saturday and Sunday mornings for all-you-can-bowl specials ($19.50 and $19.00 per person). There's also a Despicable Me-themed kids' bowling club! Games are cash only. 30-05 Whitestone Expy, Queens (718-353-6300, whitestonebowling.com).
More fun things to do
Have you done all 101 activities? Compete against your friends!
Read more