The best blueberry picking in NYC
Go blueberry picking with the little ones to make sweet moments that'll last a lifetime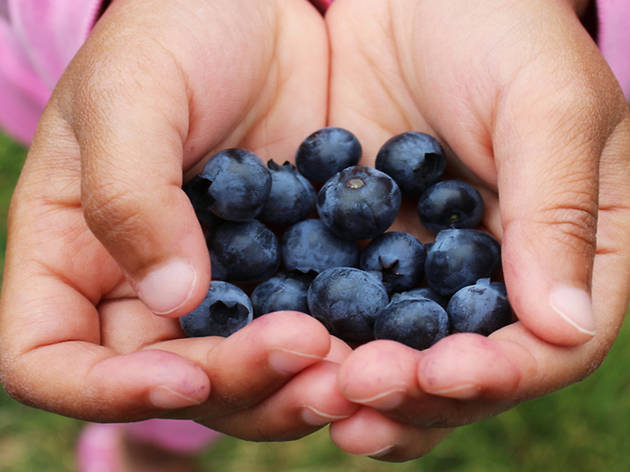 RECOMMENDED: Full guide to where to pick your own fruits and vegetables near NYC
Snackers rejoice! It's a great time for blueberry picking, and we know all the best spots or the best blueberry picking NY, blueberry picking NJ and blueberry picking CT have to offer. Just check out our list of all the best stuff (by state)—you should be ready to plan some amazing day trips from NYC any minute! If you haven't eaten them all on the ride back (which you might...), they're also a great addition to our favorite family dinner ideas (for dessert, obviously).
Oh, and if you're planning on keeping things sweet all day long, be sure to stop by one of our favorite ice cream shops or check out our fun popsicle recipes!
Blueberry picking NJ
1
Alstede Farms
Travel time: 1hr 33min by car

Alstede Farms has a great selection of pick your own blueberries! Little ones will love exploring the rows to find the prettiest picks while live music plays (weekends only). There's also a moon bounce, corn kingdom, wagon train ride and even pony rides for the little ones. Other summer produce offerings include green and pink gooseberries, strawberries, currants, red and black raspberries and cut-your-own flowers. 1 Alstede Farms Ln, Chester, NJ (908-879-7189, alstedefarms.com). See website for pricing information.
2
Terhune Orchards
Travel time: 2hrs 30min

This 225-acre farm has plenty for you and the kids to enjoy! Pick your own blueberries, strawberries and cherries are available, and come July, you'll find juicy blackberries, too! After you're done picking, check out the farm's sheep, goats, horse, ducks and chickens, then try out pedal tractors and stationary tractors nearby. 330 Cold Soil Road, Princeton, NJ (609-924-2310, terhuneorchards.com). Daily 9am–5pm. Pay per carton/lb.
3
Johnson's Corner Farm
Travel time: 2hrs by car

From June through July (check website for details), blueberries are available to PYO customers. The farm also offers sweet corn and peaches depending on the season. Hayride and Barnyard access are available for a small fee, but on Wednesdays and Fridays 5–7pm, hayrides are free. 133 Church Rd, Medford, NJ (609-654-8643, johnsonsfarm.com). Mon–Fri 10am–1pm, Sat–Sun 10am–4pm.
More fun things to do with kids
There are plenty of outdoor activities for kids in New York City—many you'll even love doing as a family! When you're not busy cuddled up with our favorite family movies on Netflix and our list of the best kids movies (come on—it's time to head outside!), you'll love exploring the coolest family attractions and the other amazing outdoor activities this amazing city has to offer. 
Read more