Here's this summer's lineup for Broadway in Bryant Park
Catch free, live Broadway performances from shows like Finding Neverland, The King and I, Wicked and Matilda starting July 9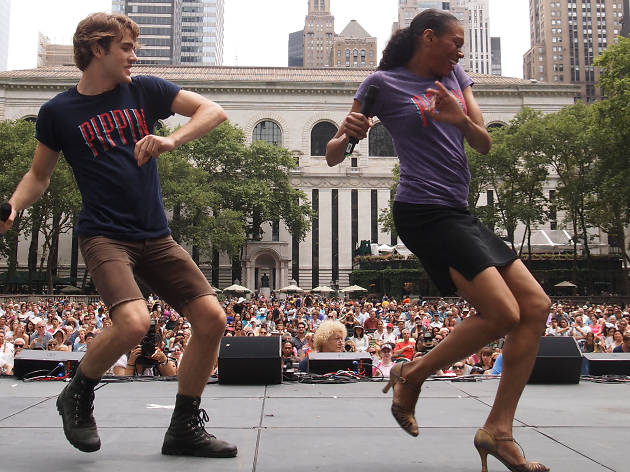 Your family's lazy afternoons in Bryant Park are about to get amped up with lots of star power! Broadway in Bryant Park, hosted by 106.7 Lite FM, returns to one of our favorite NYC parks in July, bringing cast members from our favorite Broadway shows for kids to the outdoor stage for free performances.
Thursdays at 12:30pm from July 9 through August 13, families can catch live dance numbers and hear hit showtunes from big-name productions likeWicked, Finding Neverland, Phantom of the Opera, Matilda and The King and I. Radio DJs, famous co-hosts and the stars of some Off Broadway shows will be in the mix as well, bringing tons of top-notch theater to you and the kids at no cost—a whole lot less than the price of tickets for the Great White Way! Check out the full schedule below and get the the park early to make sure the kids have a great view.
Thursday, July 9
106.7 LITE FM Host: Delilah
Co-host: Penn & Teller
-It Shoulda Been You
-Fuerza Bruta
Thursday, July 16
106.7 LITE FM Host: Christine Nagy
Co-host: 39 Steps
-Chicago
-Sistas: The Musical
Thursday, July 23
106.7 LITE FM Host: Delilah
Co-host: My Son The Waiter
-Kinky Boots
-Beautiful
-Sayonara
Thursday, July 30
106.7 LITE FM Host: Bob Bronson
Co-host: Perfect Crime
-Les Misérables
Thursday, August 6
106.7 LITE FM Host: Rich Kaminski
Co-host: Sylvia
-Amazing Grace
-Ruthless!
-Allegiance: A New Musical
-A Gentleman's Guide to Love and Murder
Thursday, August 13
106.7 LITE FM Host: Helen Little
Co-host: TBD
-Mrs. Smith's Broadway Cat-Tacular
-Once Upon the Mattress
-Dames at Sea