Check out the Macy's Thanksgiving Day Parade route
Here's all you need to know about the Thanksgiving Day Parade route in NYC this year—there's plenty to see with the kids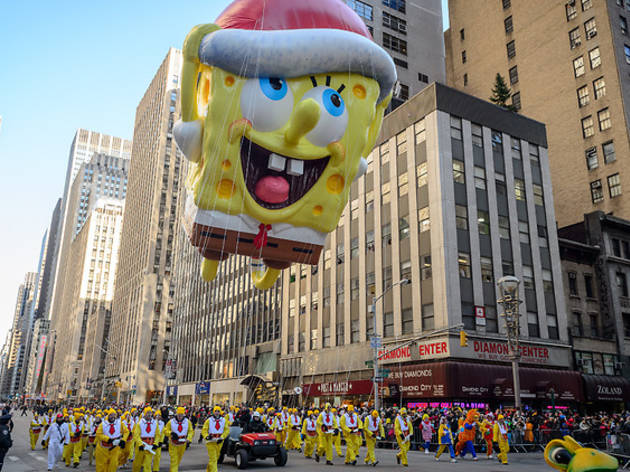 RECOMMENDED: Thanksgiving for kids in New York City
For most Americans, Turkey Day television consists pretty much exclusively of football and the Macy's Thanksgiving Day Parade. The annual pageant of giant balloons, floats, cheerleaders, clowns and marching bands make for decent watching in your PJs, but why not take the kiddos to watch the procession in person? Use our guide to the parade route, this year's balloons and floats, nearby family restaurants and festive attractions to give the tots a world-renowned New York experience.
The parade starts at 77th St and Central Park West at 9am. Click here to see the Macy's parade route infographic!
There are three recommended stretches or spots on the route for watching the parade: the first leg along Central Park West, Time Warner Center and, finally, along Sixth Avenue between Central Park South and 38th Street. The section from 38th Street to Herald Square and Macy's department store is the telecast area, which is closed to the public. While there is limited space for viewing along the south side of 34th Street between Broadway and Seventh Avenue, the sight lines are seriously compromised by cameras, lights and scaffolding.

Central Park West: Viewing starts at 75th Street (two blocks down from the official start of the parade) and is only open to the public on the west side. Central Park is closed for invite-only grandstand seating. The parade runs along this stretch from 9–10:30am, so early birds who don't mind turning up at 6am to snag a prime spot should flock here.

Time Warner Center: The Shops at Columbus Circle open at 9am on Thanksgiving Day. From the second and third floors of the mall, you'll enjoy an elevated view of the parade streaming down Central Park West. As an added bonus you'll also get to see the Holiday Under the Stars light display. Twofer!

Sixth Avenue: The floats and balloons reach Sixth Avenue at about 9:30am, so arrive at this 21-block portion between 59th and 38th Streets as late as 7am and you should still find a good spot.