Heads up! We're working hard to be accurate – but these are unusual times, so please always check before heading out.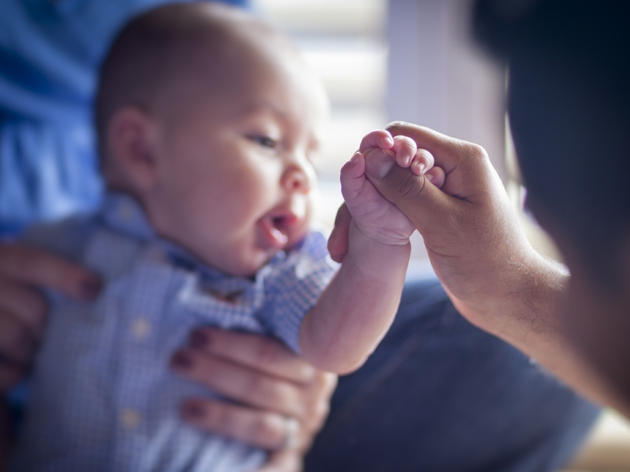 Parenting classes in NYC for expecting parents and parents of young children
The best parenting classes in NYC will guide you through one of the most exciting–and mystifying–stages of your life.
Are you prepping for the arrival of a new baby, learning to manage your newborn or want to be a better communicator with your kids? Parenting classes will help you be the parents you want to be. These parenting classes and other mommy and me classes are easy to fit into busy NYC schedules while you're running around to baby stores, but they can book up in advance—it's smart to plan ahead.
Remember to take the time to enjoy these moments. Mindful living is important, so why not plan on a nice meal and head to one of the 50 best family restaurants in NYC?
Parenting classes (Expecting Parents)
Expecting parents can begin their journey with this resource center and continue to utilize the resources and classes once the child is born. Group childbirth courses covering the labor process, plus basic baby care instruction and how to calm any stress leading up to the due date. They also offer New Dad Boot Camps. The CPR classes are a must for any family. Plus, the courses are convenient: TriBeCa Pediatrics had a growth spurt, and now has more than 25 locations in NYC. Various locations (tribecapediatrics.com). Prices vary.
Because the Parent Collective isn't affiliated with a hospital or medical center it claims it can provide classes and workshops that will give you an unbiased understanding of the ins and outs of childbirth. The four-session Prenatal Class is available throughout New York City, as well as in Westchester County, Long Island, New Jersey and Connecticut.
The 14th St Y in the East Village is a go-to resource for adults in all stages of parenting. Courses of varying frequency prep moms and dads before their bundle of joy arrives via prenatal yoga classes, baby care workshops, marriage counseling and CPR certification. Afterward, they're invited to bring the little one along to new parents "stroll-ins." 344 E 14th St, East Village (212-780-0800, 14thstreety.org). Prices vary.
The iconic institution, which was founded in 1874, hosts all manner of classes for families getting ready to welcome a little peanut. Get the lowdown on what to expect, practice breathing and relaxation in a childbirth prep class, and learn how to feed, bathe and comfort the baby in "Caring for a Newborn." Brush up on CPR and safety basics for babies and toddlers in an American Academy of Pediatrics program, and establish a bond from the get-go through breastfeeding workshops. Veteran dads from NYC Dads Group even volunteer their time to help first-timers in Boot Camp for Dads. 1395 Lexington Ave, Upper East Side (92y.org). Prices vary.
Stork and Cradle is a supportive organization that specializes in prenatal education and lactation consultation. The prenatal classes include everything from Baby Care 101 to the basics of breastfeeding. They believe that childbirth is a social rite of passage, and that expectant mothers can tap into their inner stores of strength and intuition. It's a soulful approach to giving birth. 40 Exchange Pl, (storkandcradle.com). Prices vary.
The instructors at City Births are warm and caring, and will help expectant parents navigate the unfamiliar waters of bringnig a baby into the this world. There are courses on childbirth preparation, breastfeeding, infant CPR and safety, as well as a bootcamp for dads-to-be. City Births also offers doula services. Classes take place at six locations across Manhattan. Various locations (citybirths.com). Prices vary.
Birth Day Presence offers a comprehensive series of classes with a distinctively savvy NYC tone at various locations in Manhattan and Brooklyn. You can learn about newborn care, breastfeeding, safety and baby CPR. There's an intro to doulas, and a how-to for breast pumps. You could choose your classes a-la-carte, to select a multi-class series that covers a range of topics. Private instruction is available as well. Various locations (birthdaypresence.com). Prices vary.
Birth Matters classes meet in the Astoria home of Lisa Greaves Taylor, a Texas transplant and a DONA-certified doula. She offers comprehensive group classes that cover prep for labor and birth, postpartum wellness, breastfeeding and newborn care, as well as private lessons. She also offers online courses that will fit into anyone's busy schedule. 20-30 43rd St, Astoria, Queens (birthmattersnyc.com). Prices vary.
9. Parent Education Classes & Support Groups at NYU Langone Health
NYU Langone Health offers a free Ready, Set, Baby! information session to all families planning to give birth at the hospital. (Note that the course is offered in Spanish, Chinese and Arabic at the Brooklyn location of NYU Langone Health.) But the hospital offers other classes to the general public for a fee, including the popular Boot Camp for New Dads, a doula workshop that lets you know what to expect and a comprehensive set of childbirth classes held in Japanese. Various locations (nyulangone.org). Prices vary.
Founded by social work and public health pioneer Lillian Wald, this Lower East Side center provides families with valuable resources for social service, arts and health care programs. The Parent Center offers free workshops that give expectant parents are given the tools they need to help their children thrive in the Sunny Starts Series, which preps them for motherhood and developmental needs over a six-week program. 281 E Broadway, Two Bridges (henrystreet.org). Free.
Baby Zone NYC's Childbirth Prep 101 is a four-hour course held in its Grammercy Park location that covers true labor vs false labor, pharmacological vs non-pharmacological pain relief and what to expect during the recovery period. Busy schedule? A condensed 2 1/2 hour version of the course is available. There's also the helpful Bringing Home Babies course, which lays out everything you need to know about those crazy first days when you find yourself suddenly living with the neediest, loudest roommate in the world. 110 East 23rd St, Grammercy Park (babyzonenyc.com). Prices vary.
Parenting Classes (Parents)
These intimate classes held in different locations around Brownstone Brooklyn are for newborns and their new parents. We Grow Together teaches parents how to play and interact in a way that supports a baby's healthy development. Tummy time, self-soothing and other subjects are addressed so that the baby–and the parent–will be happy and well-adjusted. Various locations (wegrowtogether.nyc). Prices vary.
This Bronx-based agency lets parents pick and choose educational workshops to suit their needs. In addition to general parental guidance courses, moms and dads can also work on specific challenges such as anger management, family conflict, transitioning to adolescence and parenting children with ADHD. Workbooks, video discussion and role-play are incorporated into classes that take place a the Tremont Library. 1866 Washington Ave, Tremont, Bronx (parentingtrainingnetwork.com). Prices vary.
Moms and dads with growing kids aged 16 months and older can continue their parental education with Toddler Tuesday and Active Parenting. There's a wide range of courses for families with children ages 12 and under. Information on food stamps, health insurance, legal services and more is available upon request. 281 E Broadway, Two Bridges (henrystreet.org). Free.
Trained social workers lend a hand in working out family issues including custody, separation and divorce during the Parents in Transition program, offered several times each month. Group programs for children of divorce (ages 7–14) are also available to guide youngsters through this difficult time by introducing them to peers dealing with similar problems. The mental health professionals aim to minimize short and long-term negative effects. Classes are held in Manhattan, Brooklyn, Queens, the Bronx, Staten Island and Long Island, while a bilingual staff makes communication easy and accessible for Spanish-speaking families. The fees are based on a sliding scale. Various Locations (cfs-nyc.com). Prices vary
Now that your bundle of joy is a little person, it's time to enroll in the Mommy and Me classes, infant massage workshops and fitness classes at the 14th Street Y. Support groups divided by the age range of the children meet regularly, and parents of special needs kids can engage in conversation while the youngsters stay busy with recreational programs. 344 E 14th St, East Village (212-780 0800, 14thstreety.org). Prices vary.
Family Kind is a nonprofit that specializes in supporting children and parents going through a divorce. The organization helps with professional mediation, parenting coordination, co-parenting communication and family relationships coaching services. Fees are based on a sliding scale, and services are provided in all five boroughs plus Suffolk County and Westchester County. Various locations (familykind.org). Prices vary.
The iconic institution, which was founded in 1874, hosts all manner of classes for families with childrens 5 and under. Lexington Ave, Upper East Side (92y.org). Prices vary.
Multilingual and multicultural families can benefit from a wide range of workshops at the Asian Outreach Program in Queens. Led by administrators who speak Chinese, Farsi, Korean and other languages the classes dealing with communication, stress management, development, immigration and American child abuse laws are available to counsel families. Other classes and workshops are held throughout Queens, with some events held in Manhattan, Brooklyn, the Bronx and Staten Island. Various locations (childcenterny.org). Free.