Spring break 2014 camps for New York City kids
Spring break 2014 is here! It's not too late to sign your child up for a mini camp, including programs in everything from gardening and chess to a mini-Olympics.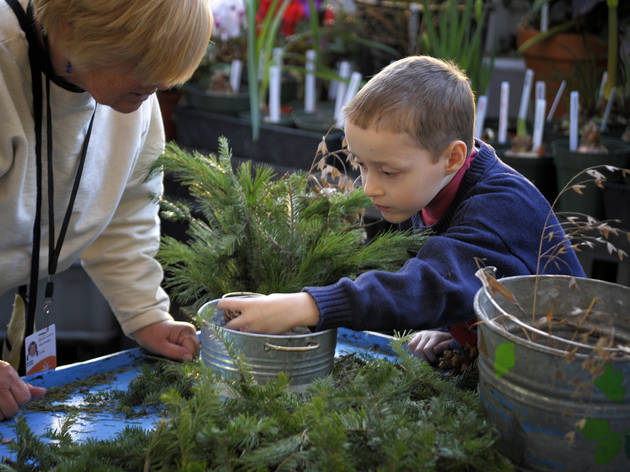 1/11
Photograph: Courtesy Brooklyn Botanic Garden
Spring break 2014 mini-camps for NYC kids: Brooklyn Botanical Garden: Children's Garden Spring Break Mini-Session

City kids get back to the land at BBG's sweet-smelling Fragrance Garden. Wearing get-dirty clothes and closed-toe shoes, they will tackle spring chores such as seeding, weeding and mulching. They'll also get to pot begonias, make snacks and take part in scavenger hunts that will have them exploring the three-acre oasis, wandering over hills and running through the famous esplanade of just-about-to-bloom cherry trees. 1000 Washington Ave, Crown Heights, Brooklyn (718-623-7200, bbg.org). Camp runs Apr 15–17, 9am–12:30pm. $185. Ages 5 to 10.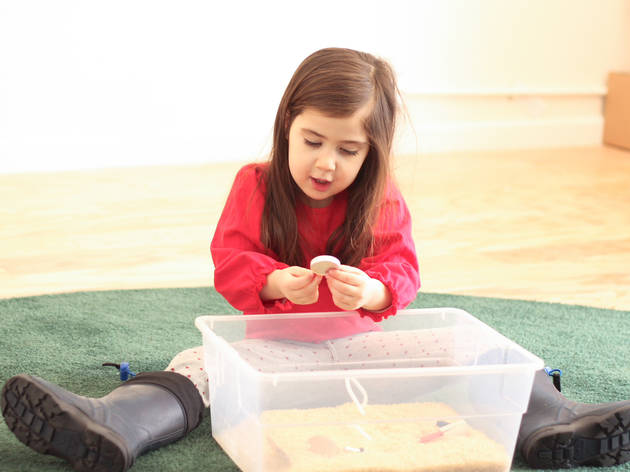 2/11
Photograph: courtesy Tiny Scientists
Spring break 2014 mini-camps for NYC kids: Tiny Scientist: April Break Mini-Camp

This bright, shiny new science center just opened its doors to kids eager to find out how the world works. The first camp offering, "MotionMotionMotion," sees campers explore physics by playing with gyroscopes, making paper airplanes, building marble roller coasters and, of course, finding out just how far and how fast a marshmallow can travel. 1624 Eighth Ave at Windsor Pl, Park Slope, Brooklyn (718-832-8400, thetinyscientist.com).Camp runs Apr 14–18, Mon–Fri, 9am–3pm. $450 (extended hours available). Ages 5 to 11.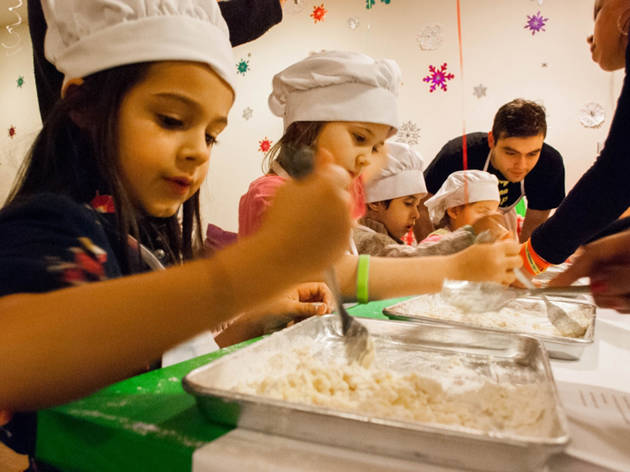 3/11
Photograph: Courtesy Chef Toni's Cooking Adventures
Spring break 2014 mini-camps for NYC kids: Chef Toni's Cooking Adventures

No need to pack lunch here—kids will make (and hopefully eat!) their own food. Campers become culinary tourists, learning about the cuisine and culture of different countries, then turning their freshly washed hands to making dishes from a particular region. They'll be bringing home the leftovers, so expect to sample the likes of Italian Bolognese sauce with ziti and garlic bread, Irish chicken stew with soda bread, or French chicken with tarragon and zucchini quiche. If things get too hot in the kitchen, there's plenty of time for music, crafts and outdoor play. 67 Columbus Ave between 107th and 108th Sts, suite BB1 (646-682-7769, cheftoniscookingadventures.com). Camp runs Apr 14–18, and 21–22. Full day 9am–5pm, $150 per session. Half day 9am–1pm or 1–5pm, $75 per session. Ages 4 to 13.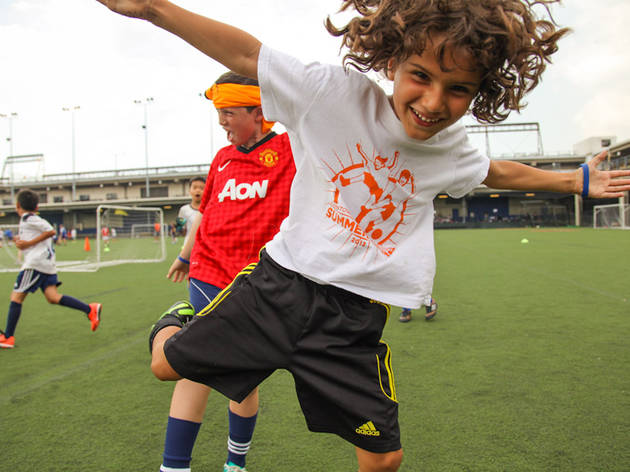 4/11
Photograph: Adolfo Lee
Spring break 2014 mini-camps for NYC kids:Downtown United Soccer Club: School's-Out Camp

Co-ed soccer nuts get to play on the roof of the massive Pier 40 sports complex, framed by the NYC skyline. Each day the kids focus on a different skill, tackling, dribbling and passing the day away. But it's not all drills. There's an emphasis on fun, becoming a team player and, of course, plenty of game time. Sessions culminate in an enthusiastic World Cup tournament for campers. Pier 40 on the Hudson River, West St at Houston St (347-691-5606, dusc.net). Camp runs Apr 14–18, 9am–5pm. Weekly $395, daily $110. Ages 5 to 12.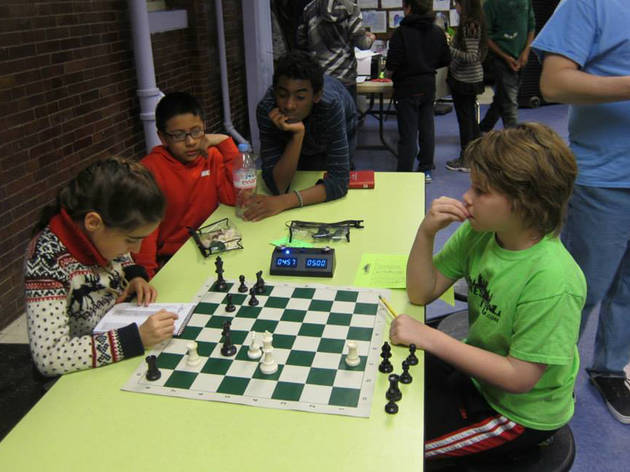 5/11
Photograph: Courtesy Chess NYC
Spring break 2014 mini-camps for NYC kids: Chess NYC Spring Break Camp

Long established as an incubator for chess talent, this camp is open to all abilities, rookie to master. Kids are grouped according to skill level, and although they play throughout the day, they are monitored to make sure no one gets overloaded. Sessions are interspersed with breaks for playgrounds, origami and ice cream, plus kids from both the uptown and downtown camps get to play at the famous outdoor tables in Washington Square Park. Coaches range from "passionate player" to expert, master and international master, and all employ enough goofiness to keep things fun.Downtown: Chess @ Zinc 82 W 3rd St between Sullivan and Thompson Sts (212-475-8130, nychesskids.com). Uptown: P.S. 183, E 67th between York and 1st Aves. Camp runs April 14–18. Weekly 9am–4:45pm, $395. Daily 9am–1pm or 1–4:45pm, $60. Ages 4 to 13.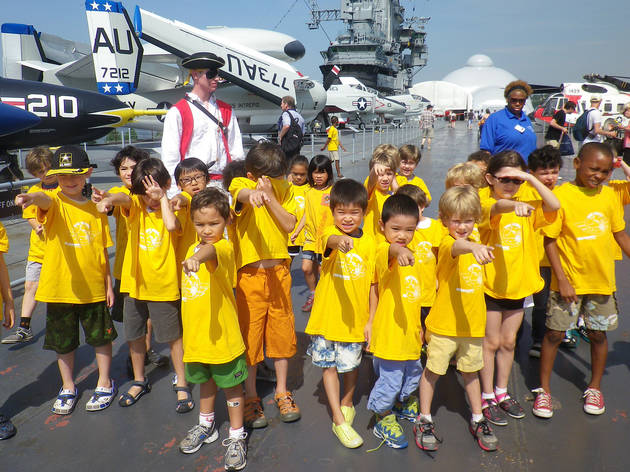 6/11
Photograph: Courtesy the Intrepid Sea
Spring break 2014 mini-camps for NYC kids: Intrepid Air, Sea and Space Museum: Camp Intrepid

Little sea dogs experience the retired aircraft carrier from stem to stern, manning the Navigation Bridge, inspecting planes and a space shuttle on the Flight Deck and playing pilot in a Bell 47 helicopter. The camp theme is Dark Side of the Moon, so expect your sailor to come home having made solar ovens and shadow art, and waxing lyrical about how the sun and moon govern time and tides. Twelfth Ave at 46th St (646-381-5166, intrepidmuseum.org). Camp runs Apr 14–18, 9am–5pm. Weekly rate, $500, daily $125. Ages 5–13.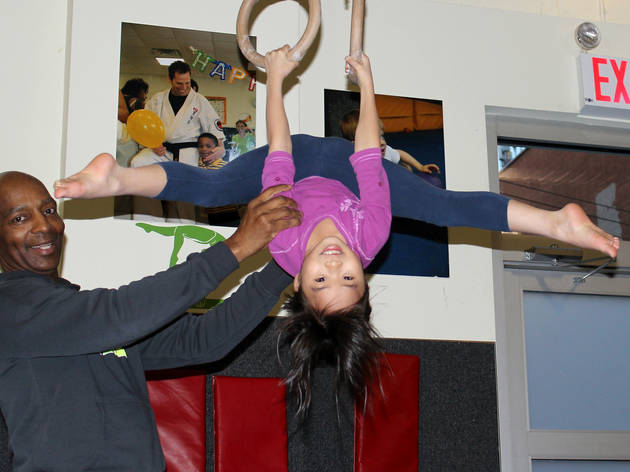 7/11
Spring break 2014 mini-camps for NYC kids: Long Island City Kids: Spring Olympics

This spring break, the full-service gym and recreation center will be channeling Ancient Greece with an Olympics-themed camp. In the morning kids ages four and up will be bused to Roosevelt Island for the swimming portion of the games; afternoons are for gymnastics back at the LIC center and for running races at nearby parks (weather permitting). Campers also learn about ancient Greek theater, tackling acting exercises and making traditional tragedy and comedy masks. (Harried parents take note: The camp is also open on Monday, April 21, and Tuesday, April 22.) 5-02 50th Ave between Vernon Blvd and 5th St, Long Island City, Queens (718-392-5437, lickids.com). Camp runs Apr 14–18 and 21–22. Daily rates: Ages 2–4, 9am–noon, $70 (no swimming); ages 4–11, 9am–3pm or noon–6pm, $119; 9am–6pm, $149. Weekly rates: Ages 4–11, 9am–3pm, $495; 9am–6pm, $595.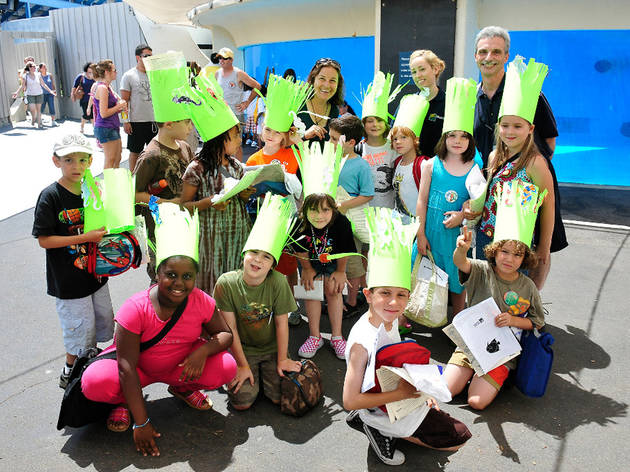 8/11
Photograph: Julie Larsen Maher © WCS
Spring break 2014 mini-camps for NYC kids: New York Aquarium: Tales of the Seven Seas Spring-Tastic Mini-Camp

This two-day camp lets little marine biologists go behind the scenes of the beloved aquarium. While many exhibits remain closed since Hurricane Sandy, the Sea Lion Aquatheater, the Conservation Hall and the Sea Cliffs—home to the walruses, otters, sea lions and penguins—will be open, and campers will get to meet the likes of horseshoe crabs, sea stars and other briny friends. Add ocean-themed stories, arts and activities and kids will be entertained until the tide goes out. Surf Ave at 8th St, Coney Island, Brooklyn (718-265-3474, nyaquarium.com).Camp runs Apr 17 and 18, 9am–3pm. $150 per two-day session. Ages 6 to 8.
,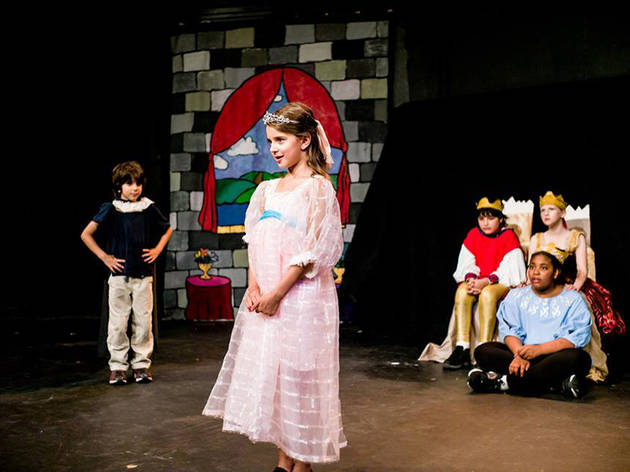 9/11
Spring break 2014 mini-camps for NYC kids: Play On! Studios: Creative Drama Camp

If your little Jennifer Lawrence or Laurence Olivier is prone to dramatic outbursts, then this camp could provide a much-needed creative outlet. Guided by qualified drama and musical theater teachers, children take on a full theatrical production, building sets and making costumes, rehearsing and learning lines until they take the stage for a full performance for misty-eyed family and friends on Friday. 263 W 86th St between Broadway and West End Ave (347-709-4149, playonstudios.com). Camp runs Apr 14–18, 9am–3pm, $425. Ages 6 to 10.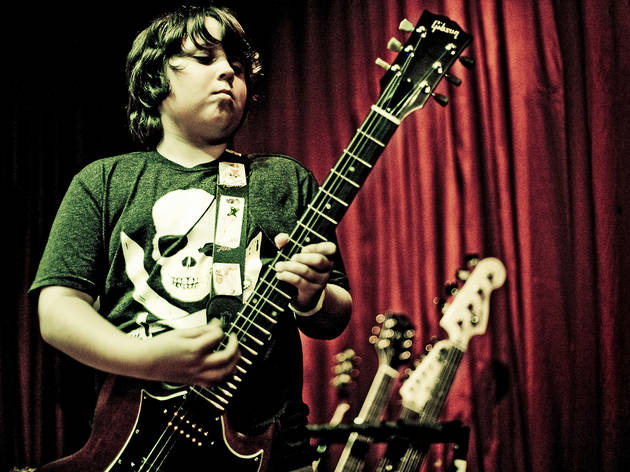 10/11
Photograph: Courtesy School of R
Spring break 2014 mini-camps for NYC kids: School of Rock: Spring Break Rock & Recording Camp

For one blissful week, young musicians—who must have at least basic competence on guitar, bass, keyboard or drums—get to rock out at full volume. Kids learn and play classic covers, pick up some music theory and jam with the band. At the end of the week they'll lay down the results in the school's own recording studio. More cowbell!
439 E 75th St between First and York Aves (212-249-7625, newyork.schoolofrock.com). Camp runs Apr 14–18, 9:30am–3:30pm. $625. Ages 10 to 17.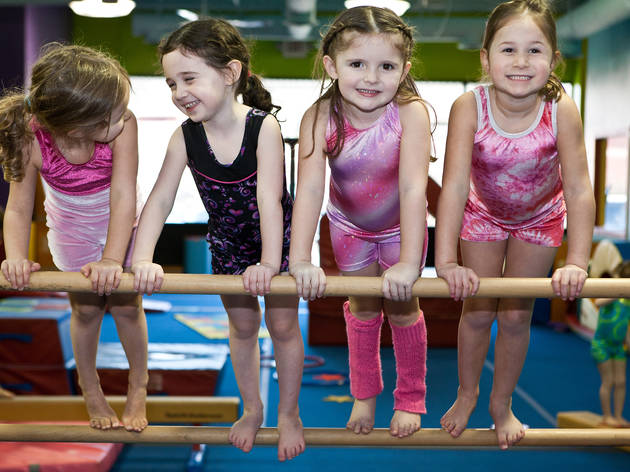 11/11
Photograph: Sophie Mathewson
Spring break 2014 mini-camps for NYC kids: Jodi's Gym Spring Break

If your schedule is too crazy to commit to a whole week, or even a whole day, of camp, you can squeeze in a few hours of sanity at this two-hour micro-camp. Preschoolers and kindergarteners hit the gym for nonstop forward rolls, handstands and cartwheels, or they can try the balance beam or bounce themselves dizzy on the trampoline. You, meanwhile, get a whole 120 minutes to yourself. 244 E 84th St between Second and Third Aves (212-772-7633, jodisgym.com). Camp runs Apr 14 and 16 only. 1:15–3:15pm, $70 per session. Ages 3 to 6.


Wait—it's already April and you have yet to find a spring break 2014 camp that will keep your child enriched, enthralled and just the right amount of exhausted when the kids are off school from April 12 to 22? Worry no more: We've found the camps that will keep your kid acting, shredding, cooking, dribbling, gardening and experimenting—all have open seats, at press time—until it's time to hit the books again on Wednesday, April 23.

RECOMMENDED: Spring break 2014 for NYC kids