The best after-school programs in NYC
These super cool after-school programs will encourage kids to learn and grow, even after the bell rings!
Learning doesn't stop when the bell rings. These wonderful after-school programs offer plenty to keep your kids engaged and entertained, diving deep into subjects like science, theater, art, robotics and more. While some of the after-school programs on our list cover a variety of topics and switch things up by the hour, others focus more specifically on what your kid's into—like game coding or cooking, for example.
RECOMMENDED: Full guide to get your kids back to school in NYC
Looking for even more family fun? Sign your kids up for our favorite babysitting classes so they can earn a little money after school, learn a new language at our favorite places to learn spanish, check out some of our favorite free activities for kids around town or try making one of our favorite easy recipes for kids together.
The best after school programs in NYC
This kid-centric art museum not only offers its signature drop-in art-making programs but also a series of skill-building after-school classes for various age groups. Teaching Artists lead the classes to help crafty kids refine their techniques, find their own artistic style and explore their imaginations. The museum's imaginative and rigorous offerings include typical art classes like painting and sculpture but also introductions to things like video game design, filmmaking and S.T.E.M. Before class begins, youngsters can join in on supervised play with other students. Ages 5–15.
Read more
Kids from 42 Bronx public schools flock to DreamYard for free programs that help them discover their talents and passions through the arts. Youngsters (ages 6–10) gain confidence through a rotating series of theater, visual arts, dance and digital arts classes with their peers in the MINIs program. Middle school kids (ages 11–13) and high school students (ages 14–18) get to try exciting opportunities like arts activism, poetry and hip-hop, while working with professional artists. The center has the ability to connect driven kids with internships and mentorships in the community, as well as to prep students for the transition to college. Ages 6–18.
Read more
Tucked away near the Bronx Zoo, the BRAC's newly renovated 18,000-square-foot facility is a perfect habitat for creative kids. Young visual artists enjoy in-depth painting and drawing classes that cover casting the perfect shadow, shading complex sketches and capturing
the color of the sky. Those who prefer other mediums for self-expression, however, can also check out classes in printmaking, ceramics, sculpture and even 3-D modeling. *Classes held at various locations. Ages 7 and up.  
Read more
With locations in Greenwich Village and Park Slope, crafty kids in Manhattan and Brooklyn can experiment with new art forms. On a typical day, budding artists have time for homework and a snack (included) before beginning class at 4pm. They experiment with textiles through eight-week workshop cycles in Weaving, Printing & Dyeing, Felting & Soft Sculpture and Sewing & Fashion, led by professional artisans. 505 Carroll St, Brooklyn (718-369-0222) · 26 W 8th St (646-225-6554, textileartscenter.com/afterschool). Ages 5–14.
Book now
Read more
Artsy projects go far beyond tempura paintings at this Staten Island studio. Creativity is merely a jumping-off point that leads kids to focused courses like Comic Art (ages 6–12) which involves designing characters as well as elements of storytelling. Kids can channel their ideas into a plethora of other classes as well, including drawing, painting, fashion boutique, animation, human anatomy, digital design and photography, which each introduce young creators to new and exciting materials and tools. Driven artists even get a chance to show off their full range by putting together impressive portfolios made up of works using graphite, pastels, watercolors, acrylic and more. Ages 4–19.
Read more
Little girls will flip for the Mindful Crafts classes put together by Mischievous Goddess founder, Lucie McQuilkan. The group dives into artsy activities with a spiritual twist, creating projects like glittery mobiles, fairy houses and goddess eyes using paint, beads and natural materials like sticks, shells and fresh flowers. Good vibes flow throughout the sessions, which incorporate tales of mermaids and unicorns, plus tranquil music and time outdoors (weather permitting). Little ones (ages 3–7) who prefer to move around more can get in on Goddess Dancing classes at other locations in Brooklyn and Manhattan. Ages 4–6.
Read more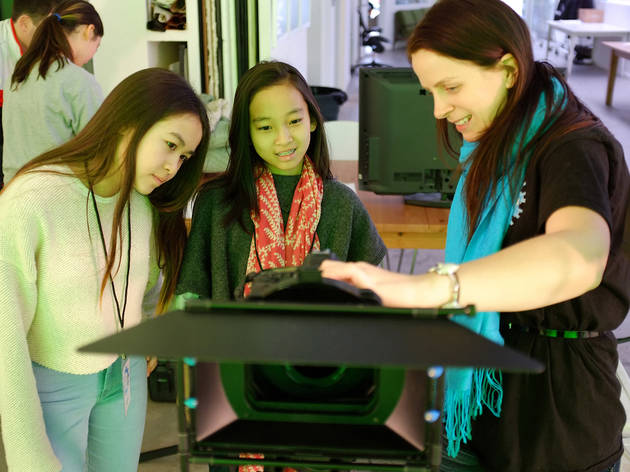 Automatic Studios
Kids get a behind-the-scenes look at movie magic through this Brooklyn studio's Movie Arts©Workshops & After School Programs. Experts coach small groups of young cinephiles (12 students max) ages 8–10 and 11–13 through the entire movie-making process, from scriptwriting to production to editing. The program culminates in a final screening of their short film. Ages 8–13.
If you're after the language de l'amour, look no further than FIAF—a full-immersion school that ties its exploration of the language to French art and culture. Highlights include A Petits Pas, designed especially for toddlers. Some classes held at International School of Brooklyn (477 Court St between Nelson and Luquer, Carroll Gardens, Brooklyn). Ages 1 and up.
Read more
This UES arts-and-crafts emporium offers kids engaging classes in painting, sculpting, design and other crafting skills. Wednesday's Foodie Art (ages 6 and up) teaches kids how to turn edible objects into objects of art. Construction & Science sessions lets kids build volcanoes, twisters and terrariums (ages 6 and up, Mondays 3:00–4:00pm) while Rockin' Craft Class invites youngsters to design T-shirts and make holiday centerpieces (ages 3.5–9, Thursdays 3:30–4:30pm). Ages 2 to 9.
Read more
At this creative studio, little bookworms (ages 3–5) dive into different stories each week in Let's Look in our Favorite Book classes before making themed crafts like creature collages and insect sculptures. Those ages 4 to 6 examine famous artwork in Matisse, Monet and Me to inspire their own masterpieces, while older kids (ages 6–9) try out Bookmaking using techniques like accordion folding and hand sewing. Pre-teens (ages 9–12) dive into drawing in Draw, Doodle & Pop! with fine artists like Keith Haring and Van Gogh as examples. Ages 18 months–12. Drop-off for ages 5 and up only.
Read more
Show more
Got a young rocker on your hands? Brooklyn Music Factory lets kids develop their skills in private lessons (voice, drums, guitar, bass or keys) and group classes in four age groups to help your whole crew master their favorite instruments. 295 Douglass St, Brooklyn (877-767-3560, brooklynmusicfactory.com). Ages 4–16.
Read more
The comprehensive curriculum at this music school founded in 1897 and housed in a five-story Victorian Gothic mansion ranges from things like Guitar Friends and Drumming Friends (both in two age groups) for kids who know what they like to Instrument Explorers for particularly young ones. You'll also find offerings like music therapy for kiddos recieving early intervention services. Ages 1 and up.
Read more