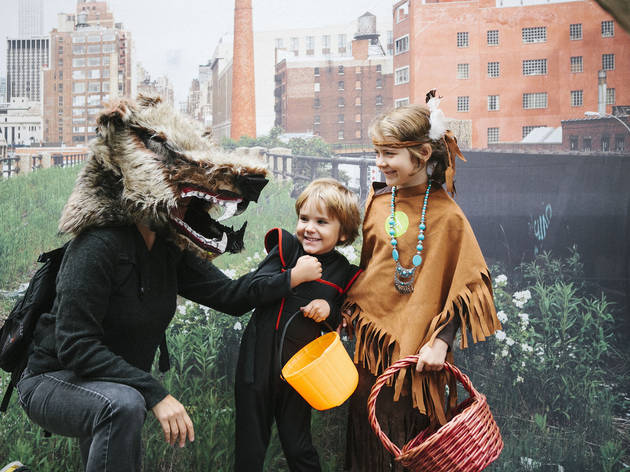 NYC trick or treating: A guide to Halloween 2020
NYC trick or treating is on in 2020, and we'll help you figure out how to enjoy the spookiest day of the year safely
Monsters and ghosts are definitely scary, but these uncertain times are scarier.
Navigating holidays like Halloween can be difficult, but not impossible. NYC trick or treating is on—Governor Andrew Cuomo gave the activity the green light—but the annual tradition still falls under a high-risk category according to the CDC.
RECOMMENDED: Halloween for kids in NYC
Creativity is key this year: Some families are doing candy hunts at home or virtually, others are forming small trick or treating groups and some New Yorkers are opting to snag those sweets at a fall festival (like Boo at the Zoo). Whatever you decide, don't forget the masks—and not just the festive ones.
In addition to enforcing mask usage, experts are also offering tips about sweets. Dr. Purvi Parikh, allergist/immunologist with Allergy & Asthma Network said, "Consider giving your own candy to your child rather than collecting from homes."
Sure October 31 is going to be a bit unusual, but it'll still be spooky. We've outlined a bunch of in-person (socially-distant) NYC trick or treating events, virtual activities and other ways to keep little ghosts and ghouls entertained. (Call ahead before venturing anywhere, as advanced tickets are likely required.)
Have fun, stay safe and don't forget to round off the festivities with Halloween songs for kids or a few ghost stories for kids.
Trick or treating tips
It looks like candy lovers' favorite season won't be quite as sweet this year. States are responsible for proposing their own trick-or-treating rules, but the CDC has provided guidance to lead holiday merrymakers in the right direction when it comes to safety. There are three categories—low-risk, moderate-risk and high-risk activities—and unfortunately, trick-or-treating falls in the high-risk zone. *Sigh* Although it's no surprise that the tradition is raising red flags, there are still ways for kiddos to safely get a sugar high this year.