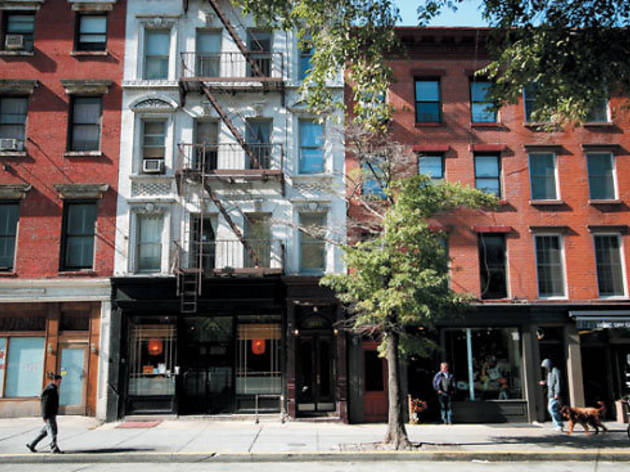 The West Village is everyone's favorite convoluted enclave in Manhattan. For well over a century, this warren of tree-lined streets and avenues running at diagonals has been literally and figuratively off the grid: It has welcomed successive waves of artists, bohemians, beatniks and hippies. This is where the gay-rights revolution was born. In recent years, the neighborhood's unbeatable combination of cozy blocks and cosmopolitan atmosphere has been luring families of all stripes. And no wonder: The area offers a bonanza of attractions and services. We explored just some of these options, many of which are concentrated along the main drag for West Village moms and dads, Hudson Street.
Check it out
Perhaps the area's greatest practical amenity for parents is KidsRx (523 Hudson St, 212-741-7110), a pharmacy that specializes in children's health care. The store offers homeopathic elixirs along with standard meds, and can custom flavorize your child's prescription to his taste. A model train running up high along the store's perimeter helps the medicine go down.
These days, all self-respecting family 'hoods boast at least one kiddie barbershop. Doodle Doo's hair salon and gift boutique (543 Hudson St, 212-627-3667) will take a little off the top while the TV at each station distracts your squirmy guy with a Dora the Explorer DVD. Each young client also receives a bottle of bubbles.
Once every lock is in place, teach your tot to balance mind with body at Karma Kids Yoga (104 W 14th St, 646-638-1444). Daily classes focus on movement, breathing and visualization techniques—all helpful for developing focus and self-control. A more eclectic schedule of activities is found at Baby Moves (139 Perry St, 212-255-1685), where some 50 weekly classes cover everything from dance and art to cooking and bluegrass.
Literally Alive, located at the Players Theatre (115 MacDougal St, 212-866-5170), produces original musicals based on kid-lit classics. Young audience members can meet cast and crew at preshow interactive workshops.
A good local library anchors any neighborhood, and the West Village has a terrific one in the NYPL's Jefferson Market branch (425 Sixth Ave, 212-243-4334). Located in a landmark Victorian Gothic building codesigned by Calvert Vaux, one of the creators of Central Park, the library features a spacious first-floor children's room and weekly storytimes.
Topping the area's long list of cool shops is YoyaMart (15 Gansevoort St, 212-242-5511), which sells clothes, furniture and collectibles by Kidrobot, along with children's books—or perhaps a Murakami catalog—that you'd never mistake for mass-market. Sister store Yoya (636 Hudson St, 646-336-644) offers similar quality merchandise for toddlers. One of our favorite toy shops anywhere is Kid O (123 W 10th St, 212-366-5405). Look for high-end wooden playthings like the Fagus trucks (handmade in Germany), as well as the store's own line of games and puzzles.
Clever specialty shops abound here. House of Cards & Curiosities (23 Eighth Ave, 212-675-6178) lives up to its name, stocking real fossils, gemstones, shark's teeth, ostrich eggs, amber jewelry and vintage-style tin toys. The Ink Pad (22 Eighth Ave, 212-463-9876) is devoted to rubber stamps of every ilk but also carries other craft supplies. Happily for parents, the shop stocks washable ink.
Parks and playgrounds
The Downing Street Playground (Downing St at Bleecker St) is famous for its secure, jewel-box-like setting: The equipment sits in a courtyard surrounded by brick walls set with octagonal windows. At the foot of Charles Street at the West Side Highway, you'll find the entrance to Hudson River Park and the Charles Street Pier, which provides an expansive, AstroTurf-covered play area for tykes to romp in while you gaze at the river. The Corporal John A. Seravalli Playground (Gansevoort St between Hudson and W 4th Sts) and the Bleecker Playground (W 11th St between Bleecker and Hudson Sts) are both centrally located. Families closer to Soho or Tribeca frequent James J. Walker Park and the Carmine Recreation Center and Pool, which sit athwart Seventh Avenue South and Clarkson Street.
Eats and treats
You could spend days on a gastronomic safari here. A tasty place to start is the Diner (44 Ninth Ave, 212-627-2230). Catering to Meatpacking District clubbers at night, it has become a daytime staple for resident families, especially on weekends. The cuisine is solid comfort food with a twist—think kobe sliders —and breakfast is served anytime.
Fancy name notwithstanding, La Bonbonniere (28 Eighth Ave, 212-741-9266) is a classic greasy spoon renowned for its French toast. Coffeeshop favorites from burgers and fries to egg creams are also on the menu. Dublin 6 (575 Hudson St, 646-638-2900) offers a taste of Ireland in a kid-friendly environment. Relax with a pint of Guinness while the sprats enjoy a weekend brunch of sausage and chips. Cross the Irish Sea (or rather, Hudson Street) to Myers of Keswick (634 Hudson St, 212-691-4194) for Brit fare like Cumberland sausage, Cornish pasties, McVitie's biscuits and a broad range of Cadbury goodies. Find locally sourced sweet-tooth satisfaction at 85-year-old Li-Lac Chocolates (40 Eighth Ave, 212-924-2280). Your kids will drool over the daily selection of fudge, French mint bars and hazelnut truffle rolls.
Don't be surprised if the staff of Bourbon Street Southern Gourmet Pantry (529 Hudson St, 212-337-0988) asks to call you by your first name. They take their Dixie-style hospitality as seriously as they do the home cooking at this combo bakery, café and ice cream parlor. Come in for the po' boys, cheese grits and eggs with sausage gravy; stay for the sweet potato cheesecake and pecan pie.
Step down below street level to Delicia Brazil (322 W 11th St, 212-242-2002), which dishes out authentic chow. Why settle for McDonald's fries when you can have mandioca frita—fried yuca —instead? Speaking of big chains, foreign ones aren't such a bad thing if they offer distinctive fare. Two Asian outfits with true kid appeal have stores near each other. Beard Papa's (5 Carmine St, 212-255-4675), a Japanese purveyor with several city locations, serves fresh cream puffs in flavors like chocolate, green tea and pumpkin, plus other desserts like mochi ice cream—bite-sized morsels wrapped in chewy rice dough. Korean franchise New York Hotdog & Coffee (245 Bleecker St, 917-388-2608) offers variations on the ubiquitous tube steak. Try the one topped with bulgogi (marinated beef). Less adventurous types can dig into waffles, fro-yo and sundaes. Need a caffeine jolt after your day of schlepping? Remember that "& Coffee."