Where to see 4th of July fireworks in NYC with kids
Settle in to watch these dazzling 4th of July fireworks. NYC has the best!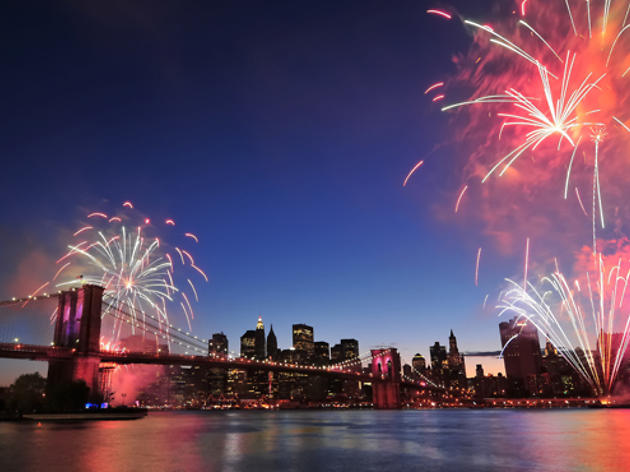 RECOMMENDED: Full coverage of 4th of July for kids in NYC
It's time for Macy's 4th of July Fireworks, NYC's epic celebration of all things America, involving over 40,000 pyrotechnics. The carefully choreographed show is set to 25-minutes of patriotic tunes, making it a can't-miss event for you and your mini Gothamites. The major spectacle is visible for miles, so you have a few options of where to park it with your clan. Post up in Brooklyn Bridge Park for a stellar view of the bridge on top of the colorful fireworks—plus, Jane's Carousel is nearby to keep tots busy before dusk. Take older kids who don't mind crowds to Brooklyn Heights and the Brooklyn Promenade to watch the explosions go off right above your head. Other spots to grab a peek include the distanced (but calm) Grand Ferry Park or South Street Seaport. See our full list of great spots below!
What time are the 4th of July fireworks in NYC?
The Macy's 4th of July Fireworks over the East River begin at about 9:20. The Jersey City and Statue of Liberty fireworks start at 9:30. All three fireworks displays last about 30 minutes.
Where are the 4th of July fireworks in NYC?
The Macy's 4th of July Fireworks are set off from barges near Pier 17 and more barges on the East River spread between 23rd St and 37th St. Jersey City will be displaying fireworks both in front of the Statue of Liberty and in front of the Colgate Clock and Goldman Sachs building.
Where to watch 4th of July fireworks in NYC
More fun activities for kids
There are plenty of outdoor activities for kids in New York City—many you'll even love doing as a family! When you're not busy cuddled up with our favorite family movies on Netflix and our list of the best kids movies (come on—it's time to head outside!), you'll love exploring the coolest family attractions and the other amazing outdoor activities this amazing city has to offer. 
Read more