Your guide to Summer Streets for kids in NYC
When Summer Streets come to town, NYC streets become your kids' playground!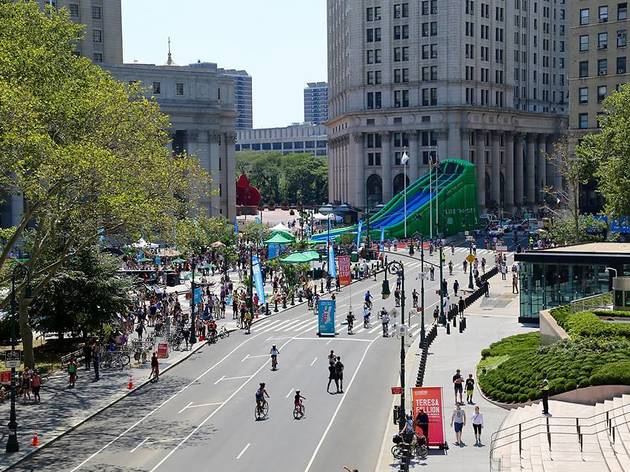 Long-standing family event Summer Streets (a project of the New York City Department of Transportation sponsored by Citi) spans nearly seven miles of NYC streets in total and creates safe places where your kiddos can bike and play without the dangers of city traffic. During select summer mornings and afternoons, specific city streets are blocked off for open play—after all, NYC is your kids' ultimate playground—why not treat it like one? Summer Streets also hosts fun activities for kids (all free of charge). This year's activity schedule is TBA!
NYCDOT will also be be hosting a "shared streets" area in historic lower Manhattan on Saturday, August 13 from 11am–4pm from Broadway to Water Street and Park Row to State Street—here, vehicles will be encouraged to follow a speed limit of 5mph.
When is Summer Streets taking place?
Summer Streets will take place on Saturday, August 6, 13 and 20 between 7am and 1pm in 2016.
Where is Summer Streets held?
Summer Steets extends from Central Park to Brooklyn Bridge Park along Park Ave and several connecting streets, with easy access from all points in NYC.
For more information visit nyc.gov and Summer Streets' Facebook page. To keep busy until Summer Streets NYC rolls in, check out our favorite free activities for kids, cool summer activities for kids and the best free outdoor movies.
More fun things to do
There are plenty of outdoor activities for kids in New York City—many you'll even love doing as a family! When you're not busy cuddled up with our favorite family movies on Netflix and our list of the best kids movies (come on—it's time to head outside!), you'll love exploring the coolest family attractions and the other amazing outdoor activities this amazing city has to offer. 
Read more