Growing pains
By Time Out Kids staff Tue Jul 3 2007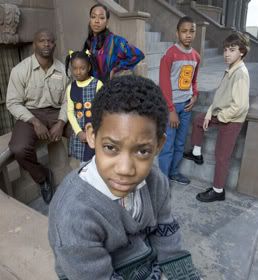 While most other network shows are currently enjoying their summer hiatus, the cast and crew of CW Network's
Everybody Hates Chris
are hard at work. Unlike most adult-driven shows,
Chris
is under a bit of a time crunch; you see, its stars are growing up a tad too fast for the plot lines. Child actors speeding through their awkward years before our eyes is, of course, not an unfamiliar phenomenon. Even the producers of the
Harry Potter
films—which have taken into account its stars' transformation into adults—have been biting their nails. Its three lead players are now lanky17- and 18-year olds, and two more cinematic installments are still due in the child-oriented franchise. For producers relying on their actors' cuteness to lure in viewers, adolescence is an inconvenient obstacle—especially when its arrival is sudden and impossible to schedule. Unlike
Harry Potter
, a series whose fans themselves grow between one film and the next, TV shows often require a more gradual transformation. Thus, the producers of
Everybody Hates Chris
have made a decision to shoot as much as they can before its leading man starts growing noticeable stubble. The show received an early pickup from the network, the
South Bend Tribune
reports, "so we could get more of them as young as opposed to old," said co-executive producer Ali LeRoi. "There's a cute factor that people kind of like to hold on to. So being able to shoot a bit early, I think, helps us," he said. We aren't sure if the CW network should worry too much. After all, it's the pangs of growing up that attracts us to coming-of age stories like
Chris
—and makes us more drawn to the later
Harry Potter
films.
Share your thoughts