Today's fresh links!
By Time Out Kids staff Fri Jul 13 2007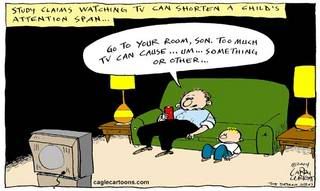 Having problems limiting your kids' TV time? For a serious solution,
there's BOB
. Essentially a timer that lets you turn off the TV at a certain time or block TV viewing during certain hours, BOB is designed to keep arguments at bay. The device offers reporting for every user and is under lock and key, so kids can't adjust it. Naturally, there's a master override so mom and dad can watch whatever they want. We think there's a better solution than BOB, and it's called talking. If you're planning a summer vacation that involves flying, you probably already have a headache. In addition to the schlepping of bags, hours of waiting, and sub-par airport food, you have to entertain your kids while you wait for that delayed flight out. USA Today has compiled a list of the
most kid-friendly airports
; ones that feature play spaces, museums, and even a 3,000-gallon fish tank. Who didn't make the cut? JFK, LaGuardia, and Newark... Thinking about having a baby? If you want your kid to stand tall, consider IVF. A
New Zealand study
shows that children born from in vitro fertilization (IVF) are slightly taller than those who are conceived naturally.
Share your thoughts